War Eagle Gold Spinnerbaits Colorado/Indiana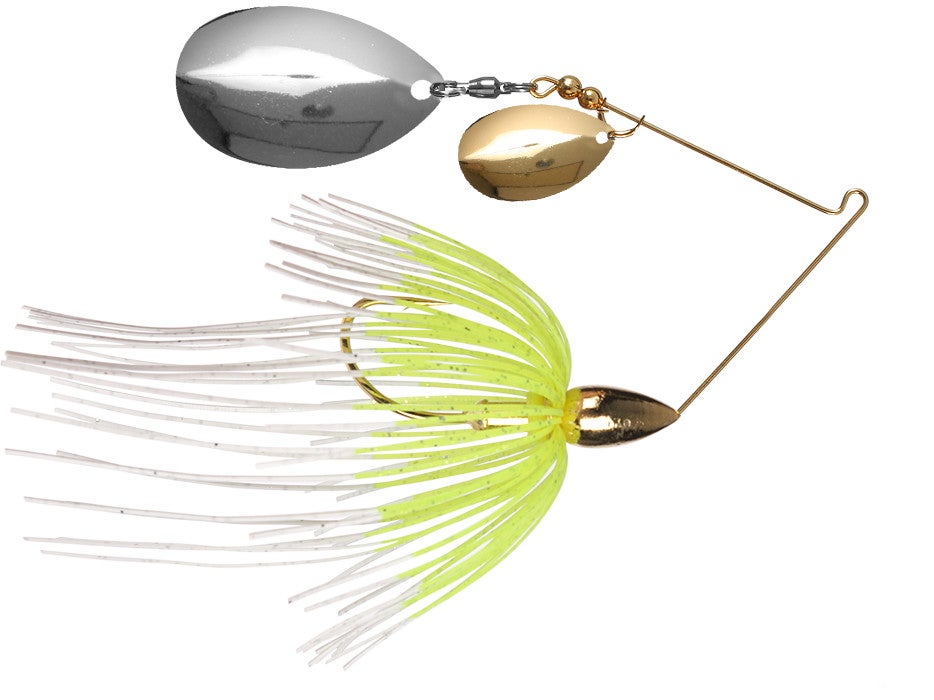 War Eagle Gold Spinnerbaits are balanced to perfection and are ready to perform properly right out of the package. These War Eagle Gold Spinnerbaits feature custom hand tied skirts, a Mustad needlepoint hook, Sampo swivels and a light 24K gold plated piano wire for better vibration. All these quality components are the reason why War Eagle is one of the most productive spinnerbaits on the market.
7 Colors
More From War Eagle Spinnerbaits
Customer Reviews
Comments: i love this spinnerbait! this is the bait i won my first tournament on too. i caught a 7.72lber that also won big bass. only problem i had was the wire being bent, but in the end it didnt really matter all you gotta do is bent it back

From: Griffin: IN

Comments: Nice feedback, the most weedless spinner I've thrown, attracts a serious amount of fish, but here's my one issue: after hooking a 5 lb walleye, the piano wire was bent something awful. Bent it back and it worked fine again, until yesterday when I reeled in a 3 lb largemouth and it was bent badly once again. I tried to bend it back but this time it was a little too warped. I can still throw it, still runs true, but it's not nearly as weedless.. so after a 2 lb largemouth, a 3 lb largemouth and a 5 lb walleye, this spinnerbait was in shambles - but this thing really works wonders. Understand that it will catch you fish, but it's no going to stay in your box for the entire year.

From: Chris: North Haven, CT

Comments:Great spinnerbait, caught some nice bass this weekend. the skirts have nice action in the water I like the unpainted heads.
From:Mike
Comments:this is a great spinnerbait, went to a couple new lakes this weekend and used this spinnerbait to find fish. It did a great job, we caught a lot of bass.
From:Mike: Iowa