War Eagle Mike McClelland Finesse Spinnerbaits - $5.99
The War Eagle Finesse Spinnerbait was designed by pro angler Mike McCelland to catch a quick limit of fish. The compact size of the Finesse Spinnerbait will generate those extra bites during tough fishing conditions. The Finesse Spinnerbait features a dual length Bass Eagle pro series skirt, Mustad Ultra Power Point hook, and Sampo swivels. All these quality components is the reason why War Eagle is one of the most productive spinnerbaits on the market.
Mike McClelland finished 4th in the 2009 Bassmaster Classic while fishing the 3/8-ounce War Eagle Finesse Spinnerbait.
Comments: By far the best spinnerbait on the market. Smallies kill them on the Susquehanna.

From: Dave: Harrisburg, PA

Comments: Fished one these puppies yesterday for the first time and let me just say WOW! I caught 9 bass total on a pressured lake, the biggest was 3.8 pounds. I have fished a lot of different spinner baits but these are a must have in the tackle box. Slow roll them in shallow water along the banks and hang on! Awesome product! Will be buying more!

From: Dave: Jackson Ohio US

Comments: This spinnerbait has caught me many fish. War Eagle spinners are my favorite brand to use. As a previous person commented they can bend out of shape but are very easily bent back to work like new. Slow roll this puppy through the right channels of good type of weeds and you'll get some nice fish usually. I also like Revenge spinners and have caught several fish on those too. Nothin like a spinnerbait strike! Good fishing all.

From: Pat: San Jose, CA

Comments: i throw war eagle spinnerbaits exclusively, and these are awesome. this bait is extremely versatile. from creeks to rivers to ponds and lakes, they put fish in the boat. typical quality product from war eagle.

From: Dan: WV

Comments: Well this spinnerbat is pretty much the best one I've ever used! Fished it while my buddy fished a plastic worm and caught more than him. Haha. But this bait is made to catch fish, not fishermen. It comes through all kinds of cover......including trees on the banks. Bends pretty bad but is easy to bend back and the skirt and hooks are top notch. I like the amount of flash from the blades. The jighead is also very shiny. It casts a mile and runs good. Will buy more!

From: Britt: South Alabama

***Note: If you have questions about this product or need assistance with an order please email your questions to info@tacklewarehouse.com
View Large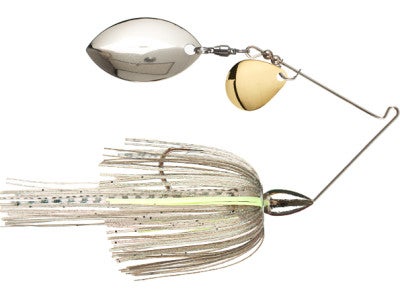 17 Available Colors
More War Eagle Spinnerbaits