War Eagle Nickel Screamin Eagle Spinnerbaits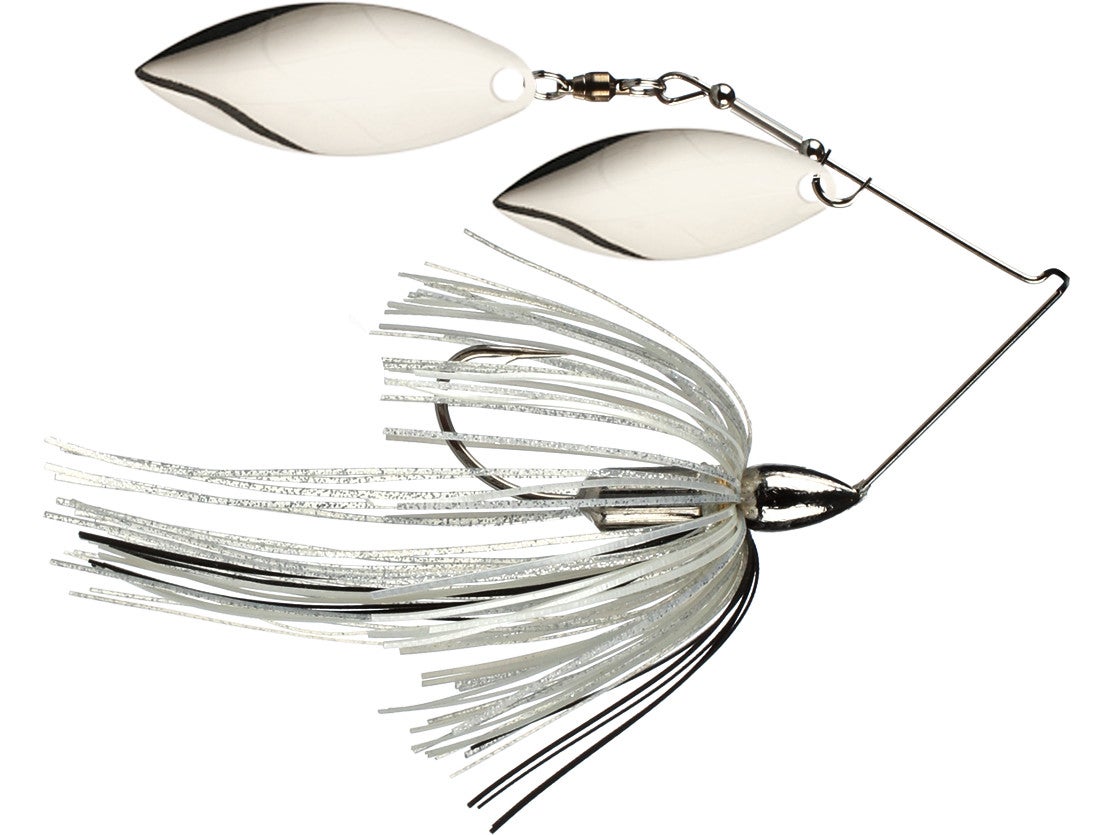 Made for burning back to the boat, the War Eagle Nickel Screamin Eagle Spinnerbaits are the size of a 1/4oz spinnerbait with the weight of a 1/2oz spinnerbait. Balanced to perfection and ready to fish right out of the package, they track true no matter how fast you want to retrieve them. Super sharp Mustad NeedlePoint Hooks help increase your hook up ratio, and premium willow-blades, Sampo swivels, and light piano wire furnish optimal flash and vibration. Also equipped with custom hand-tied skirts in a variety of colors, the War Eagle Nickel Screamin Eagle Spinnerbaits are some of the most productive spinnerbaits on the market.
10 Colors
More From War Eagle Spinnerbaits
Customer Reviews
Comments: Best spinnerbait i've ever used. blue herring was money & the gold plated watermelon was the best.
From: Matthew: Ormond Beach, FL 2/15/16

Comments: Colors: Fantastic, Action & retrieve: excellent, durability: weak. Unfortunately I have burned through too many of these puppies to buy again. As much as I LOVE the colors (& man do they catch fish) the wire does come loose after 1 or 2 days of catching fish. they don't hold up to the use I put them through. Might have to try terminator titaniums. Its a shame because I catch the heck out of bass on these
From: Bobby: Farmville, VA 1/18/16
Comments: Love this spinnerbait. I just love being able to burn it back to the boat. A cool feature because of it being a smaller spinnerbait at the, in my case, 1/2 ounce level is I punch it through light mats and thick grass. I am yet to lose one doing that. It definitely provides a different presentation for the fish. Overall my favorite spinnerbait. I recommend the mouse color and the hot chartreuse
From: Reid: CO 3/15/14
Comments: The Screamin Eagle works all year round...especially in clearer water, but it's THE spinnerbait for fall! Burn it and bang it into shallow cover and hold on.
From: Pete: VA
Comments: I went on a guided trip and caught lots of great fish with these. I ordered one for myself, and from the first cast on I could not get the lure to run true. Every cast, even at different retrieve speeds, the blades stop spinning and the bait rolls over. I'm hoping it's a fluke, but I'm afraid to buy another.
From: Preston: Fort Worth, TX
Comments: The white silver is my most productive spinnerbait with just a trailer hook. It's produced three of the four largest fish I've pulled out of my subdivision pond. I need to stock up on some more War Eagle baits, they can take a beating and still produce.

From: Alex: O'Fallon, MO

Comments: this spinnerbait is the most fun you can have with your pants on. I love that they can be slow rolled or burned over skinny water. I have been trying new baits each season trying to find one that works for me, and this is it

From: Rob: Kingston, Ontario, Canada

Comments: Spot Remover works great on Truman Lake. Switch back and forth for Finesse Spinner to Screamin. You won't be sorry.

From: Mike: OP, KS

Comments: stop reading reviews and buy this blade, skippy. It will catch you fish.

From: waddy meat: meat town

Comments: Great spinner bait for getting a reaction strike by pitching around docks at lake of the ozarks and table rock

From: Chad: Missouri, USA
Comments: Very productive at lake havasu threw it all week and caught a lot of bass- Highly Recommended

From: William: Rialto, CA