War Eagle Nickel Spinnerbaits Double Willow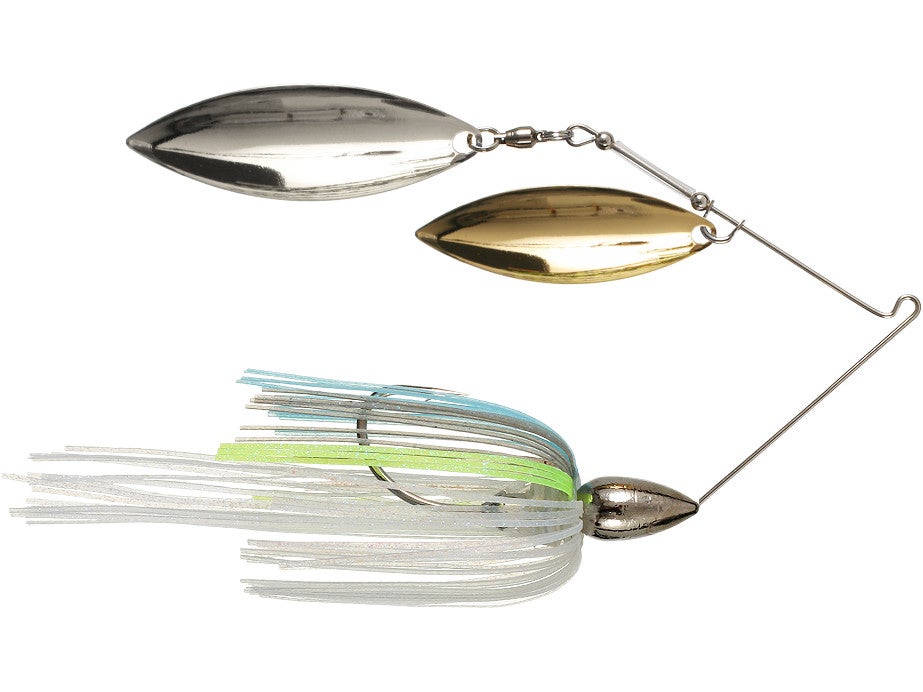 War Eagle Nickel Spinnerbaits are balanced to perfection and are ready to perform properly right out of the package. These War Eagle Nickel Spinnerbaits feature custom hand tied skirts, a Mustad needlepoint hook, Sampo swivels and a light nickel plated piano wire for better vibration. All these quality components are the reason why War Eagle is one of the most productive spinnerbaits on the market.
18 Colors
More From War Eagle Spinnerbaits
Customer Reviews
Comments: I am very picky when it comes to which spinnerbaits i will use. I want one with great skirt action, blades which do not cause too much lift, durability, etc. While not perfect, war eagle is the best spinnerbait i have found. my only complaint is that when you catch a large fish (usually pike) it bends the arm apart, and eventually breaks right at the line tie.

From: Ryan
Comments: The quality of these war eagle baits are superior. I caught a 6lb bass and many smaller bass on the blue pearl shad color. I picked up two more today, one in sexy shad and another blue pearl shad.

From: Curtis: NC

Comments: i wish the end of the weight wouldn't go halfway down the skirt. it makes it hard to put a trailer on.

From: Hatchman: GA

Comments: I was skeptical of War Eagle products because of the cost, but after finally biting the bullet I decided to get one and am kicking myself for having waited so long. I've since gone back and bought many more. If there was a spinner bait that can be considered fool proof it's the War Eagle products!

Comments: The best spinnerbait on the market cacthes fish in all conditions I have caught anything from perch to muskie and everything in between including my personal best crappie 4lbs. 7oz. these are the only spinnerbaits i will use 5 out of 5 stars

From: Seth: VA

Comments: All I can say is ROLL TIDE! haha Great spinnerbaits though.

Comments: Been using war eagle double willow for years now and this is the only brand I use and have just about tried them all, Hot mouse is my fav color even though I don't see it sold here. Tie on a white double willow and keep it in the water they work!

From: Jay: Ca Delta

Comments: best spinnerbait on the market! only one i throw. hot mouse is great also

Comments: One of the top spinnerbaits on the market today.

From: Ryan: Mifflinburg, PA
Comments: Best spinnerbait for the money! Great to fish brush with. Best hook-up of any I've fished

From: Killspot: Flagstaff, AZ
Comments: Great bait. Runs True, totally weedless, add a zoom trailer and you have your ultimate windy weather kicker catcher!

From: Scott: Clemson, SC