War Eagle Wake Spinnerbaits - $6.19

War Eagle Wake spinnerbaits are balanced to perfection and are ready to perform properly right out of the package. The Wake Bait is for BIG FISH, with a big Mustad needle point hook and heavier wire with a twist tie. The 3/8 oz. allows you to retrieve the spinnerbait real slow on top, and the 1/2 oz. allows you to reel a little faster. Both sizes are great for slow rolling also.
Cast the War Eagle Wake spinnerbait to your targeted area and retrieve just fast enough to create a "Wake" just below the surface without actually breaking the surface of the water. This presentation is a good pattern to use around submerged timber, rip-rap, fall-downs, vegetation, edge drops, docks, and just about any type of structure when the bass are active.
View Large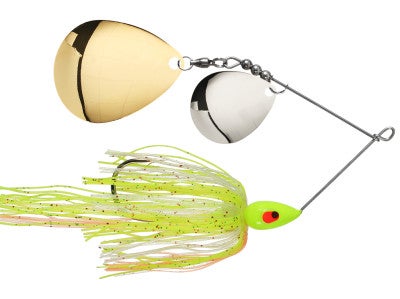 More War Eagle Spinnerbaits
Comments: Have used these recently on 2 different lakes in Wisconsin. Pike go crazy for these. Caught most of my fish on them. Order more than one!!!

From: Brian: Chicago

Comments: I haven't used this version, but the style has been around a long time. If you need a slow, high in the water column presentation, this spinnerbait will do the job very well. The sound profile is like no other spinnerbait, plus the surface disturbance really adds something special. Try it early and late in the year when bass are holding close to cover form warmth. Great on summer mornings and evenings when it is steamy but the fish aren't aggressive. You might try removing one or two of the beads. The blades will clunk together, but you can have some problems if they jam. Anyway, this looks like a fine version of an old standby.

From: Dean: MN
***Note: If you have questions about this product or need assistance with an order please email your questions to info@tacklewarehouse.com