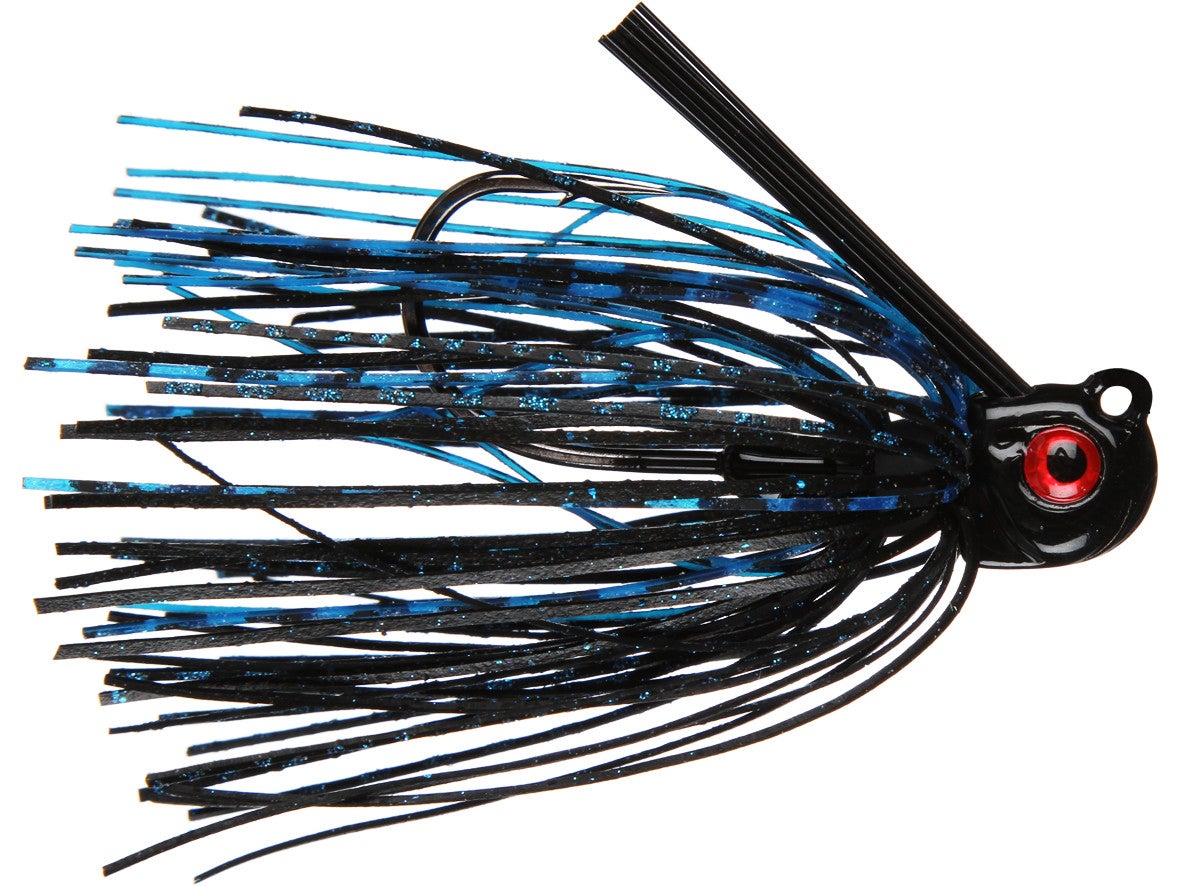 The all-new Warbaits Slayer Swim Jig is equipped with a Mustad UltraPoint three-stage Opti-Angle sharpened saltwater grade hook combined with a spike bait keeper that grips the trailer securely. The streamlined head design and line placement allow the jig to swim through the heavy junk or crawl over rock bottoms with less resistance. The heavy wire hook and flexible weed guard are ideal for hook sets at greater depths, and for pulling big fish out of nasty, heavy cover. All of these features combined with a "match the hatch" 66-strand silicone skirt create a presentation that fish need to eat.
3/8oz - 3/0 hook
1/2oz - 4/0 hook
3/4oz, 1oz - 6/0 hook
1.5oz, 2oz - 7/0 hook
15 Colors
More From Warbaits Jigs
Customer Reviews
Comments: These jigs are killer. They work great around riprap and chunk rock. Slow roll and bump along like a crankbait. I fish the 3/8 - 3/4oz depending on cover, wind, and current. Highly recommend.

From: Brad: AZ

Comments: Awesome jigs. Amazing design. And least we forget, made/tested/developed in the U.S.A. As for the paint chipping, its a jig. Made to fish in cover. If your paint isnt chipping, you might be doing it wrong. Cheers to Warbaits. Quality product time and time again.

From: LC: So Cal

Comments: The jig is built with quality, from the paint to the skirt. The paint doesn't chip as easily as other swimjigs. Some people must be throwing these things on the ground for this paint to chip. The skirts on there jigs are full and ideal to match the hatch.

From: R: San Diego, CA

Comments: The best saltwater Swimjig on the market. The paint is tough, the hooks are strong and I have many of the same Swimjigs from 2 years ago. I've been fishing the 1/4 & 3/8oz in freshwater lately, awesome profile with a Berkley Chigger Craw. I've also hooked big stripers at Diamond Valley Lake on these. When you fish them in the right places they show Normal wear and tear like any other great bait.

From: Seth: San Diego, CA

Comments: As said above, the paint does chip very badly, but lets keep in mind these are made to fish in some what open water. Great jigs though, would be happier if the paint didn't chip as much!

From: Alec: CA

Comments: Don't waste your money....paint will chip off of the head after one trip! Dirty Jigs is where it is at!

From: Jeremy: MO

Comments: Love these! 1/2oz and 3/4. The only issue is that the banding melts or dries out...ive had a few of them where the skirt fell off. i would like to recommend that they band the skirts on the way Reebs does. Til then, i buy the unskirted heads, and put on my own skirt.

From: Mike: Huntington Beach CA

Comments: i love these jig i use them for rock cod fishing in morro bay ca and let me say the ling cod love them i also use them down south for calico bass them eat them like there going out of style thanks tacklewarehouse and warbaits for a great bait and keep rippin lips

From: Kris: bakersfield ca

Comments: I have used the Warbaits jigs with great sucess for pike in the UK and most recently took them to Oman where they accounted for some very big Spangled Emperors, too! I pair them with Big Hammer Sledgehammers or Roboworm Ocean swimbait tails. TW need to stock the Ling Slayers too though, as the pike can bite through the skirts. the Ling Sayers not only use cable ties to eliminate this problem, but they also have rattles, too!

From: Elliott: London, UK

Comments: awesome jigs. Went out last weekend here in ohio and smoke them in the pond! Cant wait to take them on the BFLs with me!

From: Cole: Ohio

Comments: I fished this swimjig in bream pattern with a Yamamoto 5 inch single tail grub....railed'em!

From: Ron: Trabuco Canyon, CA

Comments: Totaly rippin swimjig. Cast and destroy bro!!!

From: Joe: MA

Comments: These jigs are well built and get bit! Been fishing the heavier 3/4 - 1oz with ammonite shads in the deeper water with good success. I caught onto the jig spin as well with the lighter jigs. Attach a willow or colorado blade with a swivel and fish like a spinnerbait. Highly effective baits! Definitely recommend!!

From: Mike: Castaic, CA

Comments: These are the deal!! Got a bunch of em a month ago in all of the colors below. Great finishes, great construction.. Built to take some punishment!! Cast and Destroy!!

From: Paul: Haymarket, VA

Comments: I've been using the Slayer Swimjig for over a month now and it has been a very productive bait. Swimming it through heavy cover it continues to rip right through. A 3/4oz. paired with a Jackall Ammonite Shad this combo definitely slays the big ones. Cast and Destroy!

From: Anthony: Modesto, CA