Wave Away Sonar & GPS Screen Cleaner - $14.95
Using general-purpose cleaners or window cleaners isn't recommended for LCD screens because alcohol or ammonia-based formula cleaners, and harsh detergents strip away the protective surface and scratch your display over time. The Wave Away Sonar and GPS Screen Cleaner is specially formulated to clean and protect LCD screens. Not only is it alcohol and ammonia free, but it is designed to stick where it's sprayed - resisting dripping into sensitive electronics, which can cause permanent damage or failures.
Includes:
*2.7-ounce Liquid Container
*12" x 12" Microfiber Cloth
Comments: the $3 eyeglass cleaner you can get anywhere works just as well as a cleaner. This stuff is thicker and doesn't run, but I would think 5-6 bucks would be a more appropriate price for what it does.

From: Jesse: Detroit, MI, USA

Comments: You spend thousands of dollars to get the top of the line electronics on your boat. Spend the extra 15 and keep it looking good. WaveAway is well worth the 15 you spend on it.

From: Russ: IL

Comments: I was skeptical to pay $13.00 despite the reviews. I bought it anyway and I am very impressed with the quality of this product. I applied two pumps and left it for 30 seconds before wiping off. My Lowrance screen is completely clean and looks brand new. I wasted money on a cheaper product and it did not remove very many of the water spots and left streaks trhat would not come off. Wave Away took the water spots and the streaks left from the other product off in a matter of seconds. I do not usually leave reviews but I should let everyone know this product really does work and to buy this product instead of buying something cheaper that does not work.

From: S: Southwest Missouri

Comments: I have been fishing bass tournaments for 13 years and have a Ranger boat with four GPS units. Wave Away got the job done. My used units now look like new. Don't mess around get the best Wave Away!! jigpro

From: Dereck: Cicero, NY

Comments: Worked as advertised! Also, this product goes a long way, don't over use it, one or two pumps will clean most sonar units. It also works on computer screens as well!

From: Mike: Springfield, MO

Comments: I you value your electronics as I do...you'll use nothing else. I wear glasses and have tried everything in the book, Wave Away is without a doubt the absolute best product on the market from removing any water spots, finger prints and in some case bug juice from glasses and LCD Screens. As a Professional Guide, I depend upon my elecronics and glass's, you won't find any other screen cleaner in my boat.

From: Capt Jake Davis: Winchester, TN

Comments: Without a doubt, this cleaner from Wave Away is the most efficient and product friendly on the market. It will remove all debris, fingerprints, and most importantly those hardened water spots. Wave Away is specifically designed for use on sensitive marine electronics. Its ammonia and alcohol-free solution will not remove protective coatings on LCD screens. One bottle will last over 200 applications.

From: Todd: Sam Rayburn, TX

Comments: This stuff is the BEST!!! When I got my new boat the two graphs installed were covered in water spots. I tried glass cleaner, and other cleaners wouldn't do a thing. Two pumps of Wave Away and wiped it off with the provided microfiber cloth and it was spotless. Don't hesitate to buy.

From: Adam: Bowdon, GA
Comments:Awesome!
From:Sonny: Durham
Comments:I'm very picky about the conditions of my electronic screens. This stuff exceeds my expectations. No more worry about if what you are using will hurt your screens or will do the job. The search is over!
From:Don: Pasco, WA
Comments:This is a great product!!
From:Jon: Sumner, WA
***Note: If you have questions about this product or need assistance with an order please email your questions to info@tacklewarehouse.com
View Large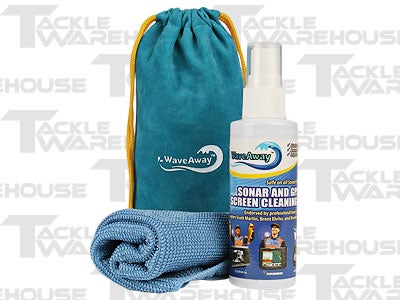 Place Your Order
More Wave Away Accessories