Wave Worm Tiki Bamboo Stick 5" 7pk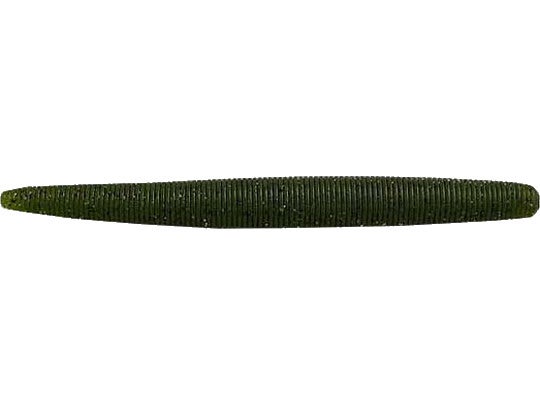 More than just another variation on the Senko style soft stick bait, the Tiki Bamboo Stick will give jaded bass a new swimming action and different shape than standard baits. The design difference in the Bamboo Sticks is that while the ends taper to about the same diameter as other soft stick baits, the center has a lot more mass and is about 50% thicker. This makes the bait tougher and more resistant to tears than standard baits, causing a more violent wiggle and side-to-side action and slower fall for a different presentation. The Bamboo Stick features multiple, tiny rings around the entire bait for an irresistible texture that bass will hold on to longer. Add this to Tiki's great anise scent, and Tiki's awesome colors and you have a winning combination. If you like throwing Senko style baits, try the Bamboo Stick for a different look.
6 Colors
More From Wave Worm Soft Plastics
Customer Reviews
Comments: The best thing about Wave Worm Tiki Bamboo Stick baits is that they are so easy to use. Wacky rig them and you're ready to go. They cast a mile & have great action. Simply put, I have caught more bass on this bait than any other bait I own & I spend my entire winter ordering baits & lures so I have over 60 Plano 3700 series cases & a huge cabinet of options. I always go back to my Bamboo Sticks!
From: Dino: Swamp Hollow, MI 8/23/16

Comments: These are awesome! I have been using these for several years now and have built up a confidence in them more than any other stick bait. I bought 15 packs of these last spring and just ran out. I placed an order of 12 more packs tonight. I have caught many bass over 5 pounds on these and my best was a 7 pound 2 oz. I catch a lot in Toledo Bend on these during the spawn. Definitely my go to stick bait.
From: Trey: LA 3/4/14
Comments: love these baits! i've caught more bass on these than any other stick bait & i've used nearly all of them. the senko's led the way (thank you gary) and may be the best of the bunch,but wave is a close 2nd. & the price is super for the quality of the bait. the xmas tree color rocks!

From: Wes: Salinas, CA

Comments: : Good bait. I've caught a lot of fish on these. They make them in a bunch of different colors - most of which have worked well for me. You can rig these in a shaky head fashion, but I tend to have more success with them when I fish them wacky style, Gamakatsu 3 ought circle hook through the middle, no weight. They are nice when situation demands a slightly heavier wacky worm - casts further, falls a little quicker, or when the bass seem to be keyed on bigger baits. Surprisingly enough, they move through vegetation fairly well, not snagging nearly as much as you'd think they would when wacky rigged. They don't work all the time, but they do work most of the time. Good and cheap bait to have in your arsenal.

From: Shawn: Tampa, FL