Wave Worm Tiki Monkey 10pk - $3.49
The Wave Worm Tiki Monkey is a smaller version of the popular Tiki Gorilla. Perfect for those times when down-sizing your bait is the key to getting bit, the Tiki Monkey has a total of six moving parts, including four moving legs and a twin tail. The flappers on each appendage provides the Tiki Monkey with tremendous water displacement and thumping action. Available in a range of proven colors and loaded with Wave Worm's MoLoPo scent for added fish attraction, the Wave Worm Tiki Monkey is a proven performer for flipping, pitching, and punching applications.
| | |
| --- | --- |
| Length | Quantity |
| 4" | 8 |
| 3" | 10 |
Comments: not sure why some of you are complaining about the size. it tells you the size and these catch fish...at least on Potomac river and Lake Anna..nice fish and smaller bass

From: John: Stafford, VA

Comments: A waste of 1.50. Even the 4 inch is way too small. I need a big bait to catch big fish. Just dont bother with it really.

From: Scotty: VA

Comments: I picked up 2 packages of these on clearance, 3" & 4" in Grasshopper and Watermelon copper. I was surprised at the size when they came, they are smaller than you think, mostly because the rear appendages are pretty long. The 4" might work for Texas rig, but I had the best luck on a dropshop rig with the VMC spinshot #1 dropshot hook, caught 3 decent bass in a few hours. Due to the size I caught a buncha panfish too, so if you like panfish they seem to love these.

From: Chad: Yakima, WA

Comments: As mentioned the 3" should be a 3cm size as it is VERY small and not really useable for LMB - may work dropshot and very finesse presentations but not to texas rig.

From: Dustin: Salt Lake City, UT

Comments: The 3" tiki monkey. It is small want to throw them texas rig? Use a 1 hook. Good action though. Used them to catch blue gill, and bass. I have used them texas, drop shot, topwater. My favorite way of using these little guys is using them in a trailor. Spinnerbaits and jigs, look great.

From: CassT'one: Fayetteville, NC

Comments: 3 inch is really small almost to small

From: Bob
Comments: Great bait on a split shot rig!

From: Sam
***Note: If you have questions about this product or need assistance with an order please email your questions to info@tacklewarehouse.com
View Large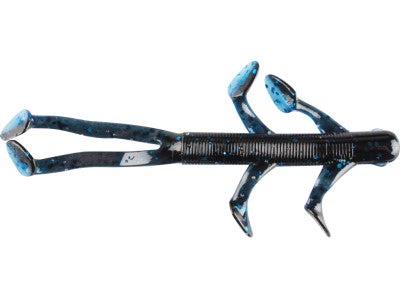 8 Available Colors
More Wave Worms Creatures