Wave Worm Tiki Stick 10pk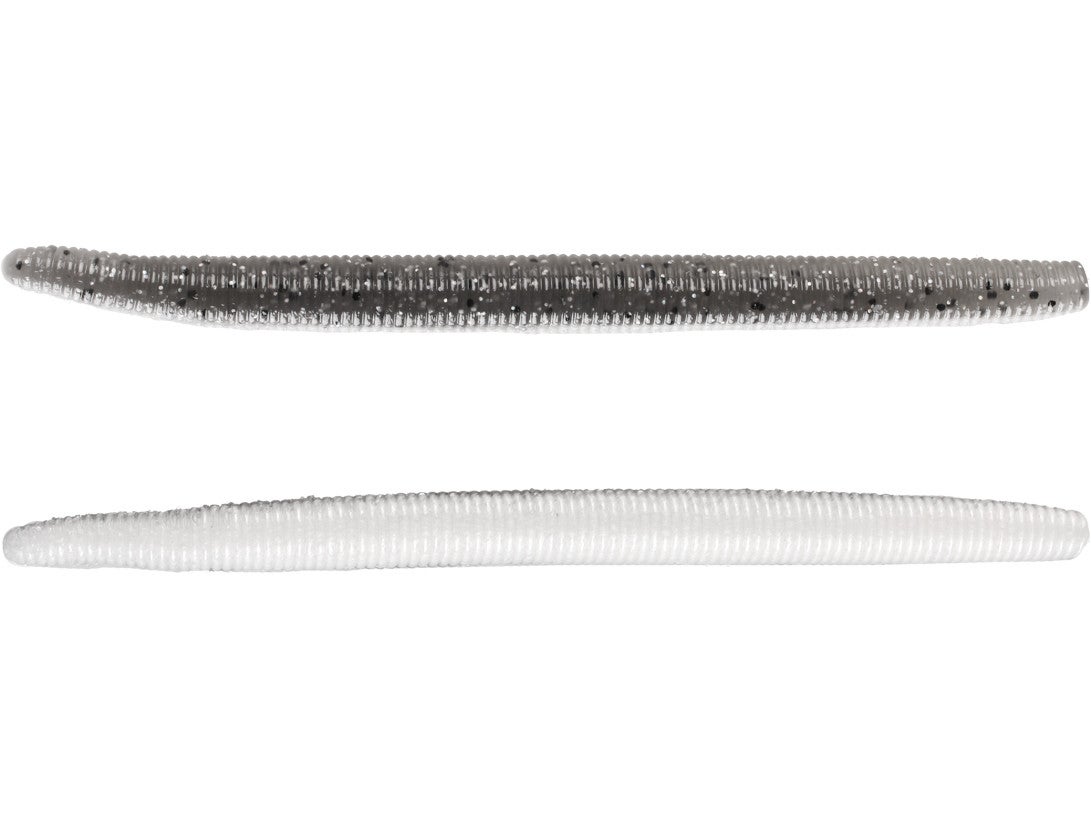 The Wave Worm Tiki Stick is similar in design to many other soft stickbaits, but there are also some distinct differences. The TIki Sticks have a slower fall rate than comparable soft stickbaits and have less tail movement. These two features make for a very straight horizontal fall. The durability of the Tiki Sticks is excellent, but these baits still have exceptional movement, especially when rigged weightless wacky style. Like all Tiki baits they are scent enhanced with Wave Worm's special Molopo scent. The fall rate gives fish extra time to check out the bait, and even the most finicky fish will have a hard time resisting the Molopo scent.
Wave gives you four color types to choose from: original, laminate, dip and swirl. If you need a solid color then try an original. Laminate colors give a two tone look to the bait. The dip baits have different colored tails. The swirl colors are two toned but in a swirl pattern throughout the bait. With this wide range of colors you can find a bait that will work in any situation.
| | |
| --- | --- |
| Length | Quantity |
| 4" | 10 |
| 5" | 10 |
10 Colors
More From Wave Worm Soft Plastics
Customer Reviews
Comments: great senko style bait that is just as good if not better than the gary yamamoto senko. more action and can catch a ton of bass with the o-ring wacky tool thing. highly recommend this for people that like senkos. ill take this any day over any other senko. it is also 2.50$ less than the yamamato
From: Miller: USA 5/14/16

Comments: These are the best stick baits. They are way more durable then their competitors. You'd be surprised at how many of the strange colors that they carry will help load up the live well.
4/19/16

Comments: IF there is any stickbait that can contend w/ the consistent/easy/year-round fish(catch)ability of the Original Gary Yamamoto Custom Baits 5" Senko...THEN this may just be the one. One some days this outfishes the senko and gets bit when even the senko isnt rly producing. A tad more subtle may be why? A slightly slower fall? Or maybe it's the lack of the mid-section portion like on all other stickbaits resembling the senko (as far as i know Wave Baits is the only one withOUT the middle beefy piece)? It is one continuous "stick" with a great Anise scent and plenty of salt for weightless fishing. I highly reccomend these...great baits.

From: Tanner: S.E., Massachusetts

Comments: I HATE senko knock offs. I have a ton of these. Why? B/c they freakin WORK. And I'm spent.

From: meatwad
Comments: The 4 inch works great on a stand-up head for post-spawn smallies. It's almost all I could get them to hit.

From: Bradley: Montreal, Canada

Comments: caught a 12lber on the watermellon. A decent durable bait.i still like the strike king perfect plastics

From: Bobby: Miami, FL

Comments: My go to bait! Glad Tackle Warehouse carries this product. Just ordered your last 6 bags of pumpkin / blk flk. Hope you get more in, I may need them before this upcoming season is over.

From: Bill: Brockton, MA

Comments: Good stick baits. A little trivia for you - MoLoPo = Motion Lotion Potion = Anise.

From: Scott
Comments: These are great stick worms. Where'd the brown/purple go? That was a killer color. I have caught a ton of largemouth on these as well wacky rigging for smallmouth. The price is great and you get 10 in a package. They are pretty durable to. Highly recommend.

From: Adam: Ontario, Canada

Comments: THESE THINGS R AMAZING!!!!!!!!!!! The scent on them is awesome and it won't wear off after one cast. THESE THINGS WORK!!!!!!!!!!

Comments: Son these baits WORK! Amazing fall and the bass just engulf them. I love these baits!

From: Big J and the twins: Texas

Comments: Awesome worms. I can't tell you how many bass, especially BIG BASS, that I've caught with these worms. They are my go to worms! I love their scent and their seductive fall rate. My most productive colors are black with blue tip and the watermelon red. I wish Walmart carried these worms again but I'll just have to order them from Tackle Warehouse. These are, by far, the best "senko" style baits on the market!

Comments:Last year I was able to buy a 5" tiki stick that was light green and silver. It worked all summer on bass. I went back to Walmart to get them this year and there were none.
From:Sarah: Freeport, ME
Comments:Black and Blue Flake work FANTIKITASTICK in Florida. Bass LOVE 'em!
From:Stephen: Keystone Heights, FL
Comments:I first pick these bait up at Academy. I was just trying them out and all of a sudden Academy stopped carrying the junebug and watermelon. I've won two tournaments on this bait, I love the smell and the bass can't refuse them. I caught 10 bass off the junebug color. Fantastic!!!!!
From:Gabriel: Augusta, GA