XCalibur Zell-Pop - $9.99
What's the quickest way to become a master of poppin' and chuggin'? Fish a bait designed by the world's finest topwater master and professional angler, Zell Rowland. Zell hand-carved the prototype that became the XCalibur Zell Pop. XCalibur's performance engineering and Hi-Tek design developed a popper that will sit tail down and create the optimum spitting action. Zell is not afraid to use this spitting fishing lure all season long and at various time of the day, but the best time to walk and spit a Zell Pop on the surface is during a cool, beautiful sunrise and when the heat begins to subside in the cool breeze of the evening. Because Zell knows not all poppers are created equal.
XCalibur
Length
Weight
Hooks
Xz2 Zell Pop
2.3"
1/4oz
#4
Xz3 Zell Pop
2-3/4"
3/8oz
Comments: I have never fished top water before kind of new to it i bought the z-shad fished it in the morning and by my 3rd cast i caught my very first fish on top water and continued to catch 6 more in the morning hours.

From: Brandon: Hueytown, AL

Comments: This is by far the best popper for the money

From: Joey
Comments: I purchased the Pearl Melon & Z-Shad colors in the Xz2 size. I am very impressed with the action of these baits. Very well made and balanced. Incredibly easy to walk, pop, and spit. I used Pop-R's for years and these Zell Pops don't even compare! Post-spawn is coming up and if I don't catch fish w/ these it will be ME and not the bait to blame! Highly recommended, worth the money!

From: Mike: Jackson, MI

Comments: Before I never got it. Why would anyone pay $10 for a popper when I can get 3 poppers for only like 2$ more. Then one morning on a small local lake I was fishing with a friend who has one of these and I had a regular Pop-R, my go-to at the time, he absolutely spanked me. 27 bass to my 2. As soon as we got home I ordered 3 of these and have never looked back. Simply awesome poppers, their action is like none other and fish simply can't resist. Quality - over 300 bass later, she's still lookin good. Buy one - you won't regret it!

From: Cobi: MI

Comments: Just an awesome popper. Quality and finish of this bait is 1st class. I throw the small size most often and it cast a mile.

From: Len: Grosse Ile, MI

Comments: This is the only popper i will throw. They cast well, and really spit when worked properly. 10$ a piece, but you forget about that when you're rod is bent in half. Hitch is my go-to color.

From: Dan: WV

Comments: pop-r's became obsolete to me when I began using these. This is my go to lure in the morning and can catch them all day long, by far the BEST topwater lure

From: Patrick: Chapin, SC

Comments: This is a very good bait. I fished the regular old Pop-R with replaced hooks and hand tied feathers; problem was that the baits all had their own different action, some just did not work like others. Have ben using Zell Pops since they came out; more consisted with the action, lure to lure. Fav is Bone-Chart: Nothing wrong with a $15 popper excpt the extra $5

From: Rob: Langhorne, PA

Comments: Bought it in foxy shad. bass annihilate it. my favorite topwater lure!

From: Doyle: Boston, MA

Comments: Catches bass when the bit is tough!

From: Sonny: East Wareham, MA

Comments: I bought a Foxy Shad, and have caught nothing but big Largemouth Bass with it! Definitely worth the money!

From: Phil: Quantico, VA

Comments: This bait is the real deal. I prefer the 2 size. Biggest issue you will have is the scratches from all the bass teeth.

From: Clint: DS, LA

Comments: I fish topwater most of the time, and haved tried them all. This lure is by far the best.

From: Paul: Indiana, USA

Comments: I can remember asking why anyone would spend this kind of money on Pop-Rs. But once the fish quit hitting my Rebel, I had to make a change. The glitter and just the quality of the bait have made all the difference in the world. This is now one of my go to baits, it just seems like they will not pass up on this thing.

From: Steve: Chesapeake, VA
***Note: If you have questions about this product or need assistance with an order please email your questions to info@tacklewarehouse.com
View Large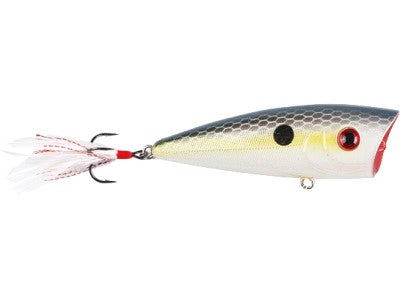 8 Available Colors
More XCalibur Topwater Baits