Xcite Baits XB-1 Squarebill Crankbaits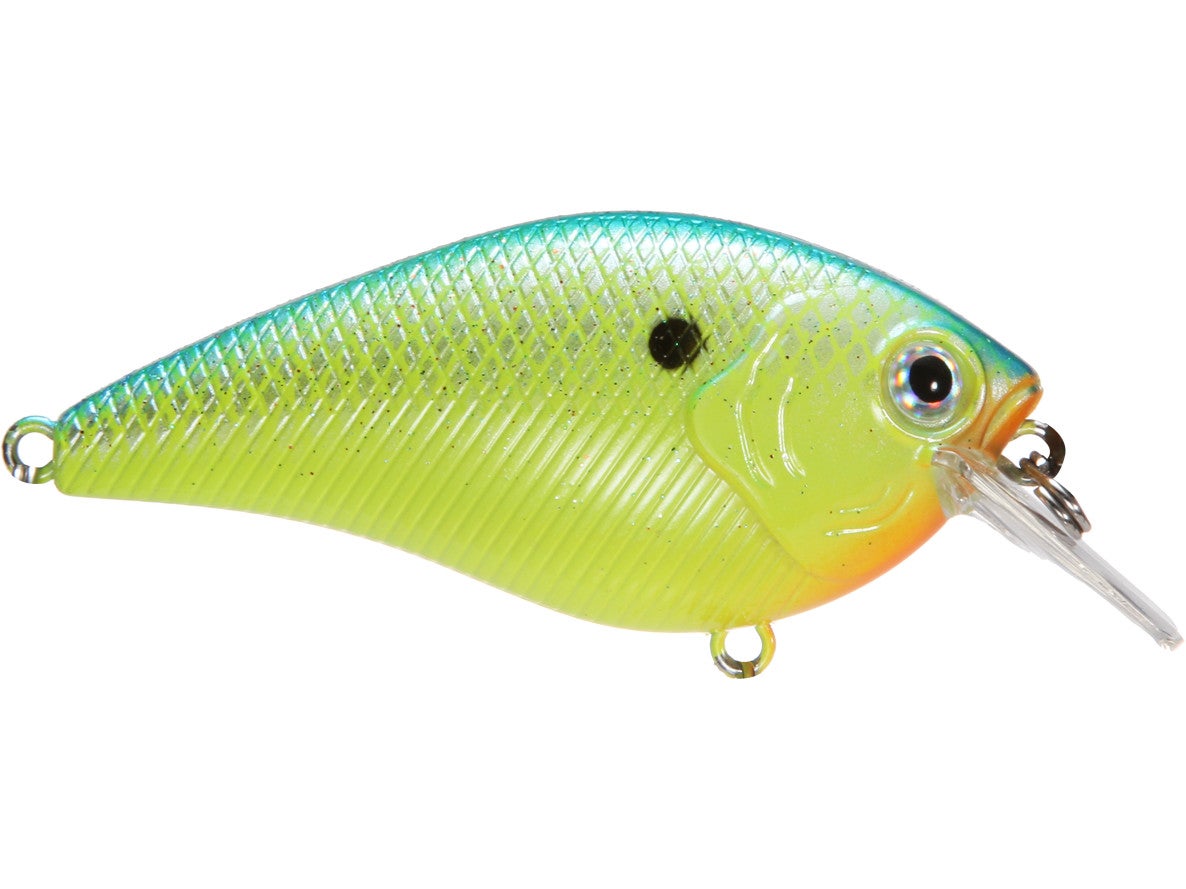 Effectively cover all of your favorite shallow water haunts with the help of the Xcite Baits XB-1 Squarebill Crankbait. The inventive design of the Xcite XB-1 Squarebill Crankbait utilizes a tungsten ball bearing rattle to create a distinct acoustic pitch throughout the water. In addition, the Xcite Baits XB-1 Squarebill Crankbait also features an internal weight transfer system, which generates long-distance, bullet-like casts. Each Xcite Baits XB-1 Squarebill Crankbait is hand-tuned and tested before leaving the factory, so it's ready for competition straight out of the package. And if that wasn't enough, the Xcite Baits XB-1 Squarebill Crankbait is also covered in an exquisitely detailed scaling pattern, 3D eyes, and 3D gills. Available in a wide range of fish-catching colors, the Xcite Baits XB-1 Squarebill Crankbait has all of the attributes to become your new go-to shallow water workhorse.
| | | | | |
| --- | --- | --- | --- | --- |
| Xcite Baits | Length | Weight | Class | Depth |
| XB-1 Squarebill | 2-1/4" | 3/8oz | Floating | 2-5ft |
14 Colors
More From Xcite Hardbaits
Customer Reviews
Comments: Can't say enough good things about these baits. From the quality paint jobs and hooks to the loud rattle these baits simply catch fish. If you aren't throwing an XB-1 you are putting yourself at a disadvantage
From: Chandler: Texas 1/14/17
Comments: I'm not a big believer in crankbaits until, I used this one I got out of a MTB in bluegill color ,and have caught multiple 3lbers on this, and one five so this has given me confidence in crankbaits.
From: Ricky: North Carolina 12/19/16
Comments: Not many square bills in these price range have a tungsten weight transfer system that I can think of. Has a very small one knocker type rattles, which I think is good that it doesn't spook off the fish nearby. Overall, I'm very pleased and impressed with Xcite XB-1.
From: Chuong: San Jose, CA 12/11/14

Comments: I had a 34 lbs 5 fish limit on the XB-1 silent last week here in south texas! Big bass eat this bait. Blue Char or ghost minnow are the best colors for me. I put #4 bronze round bend gamakatsu hooks on and get to slinging it. Best square bill I've ever used.
From: James: Euless, TX 9/1/14

Comments: I purchased 4 of these during a tw sale and the first time i used them was on a short pre-spawn trip on the ca delta where i hooked and landed a 8.0lber and a 6lb 14oz fish. The next time i went out i caught a 6lb 8oz fish. This bait accounts for my top 3 biggest bass. The paint does wear where the front hook makes contact with the body, however they still catch fish, very durable bill as well and is the only crankbait brand i own where i have not broken the bill. The hooks are super sharp and the 8lber i caught was hooked just barely outside the mouth but these hooks held on for the minute it took to land him. I think what makes these baits unique is the tungsten knocker witch helps casting and makes a nice loud knock on the retrieve. Pick some up and you wont regret it.
From: Simon: Delta, CA 5/12/14

Comments: Xcite Baits did it again. The weight transfer system and the available colour range makes these my new favourite square-bills. With the advantage of the tungsten weight these babies cast a country mile, even in the toughest wind!
From: Brent: South Africa 3/28/14
Comments: The detail on these baits are just as good as a Lucky Craft but half the cost, and they flat out catch fish! The weight transfer system lets you cast it a mile and also make perfect pitches. Try one and you won't be disappointed
From: Unknown: USA
Comments: Scooped one up to try. Hooks are pimp, knock from inside the bait is killer, and the bluegill color is dy-no-mite. Already have caught some fish on it and ITS EARLY JANUARY. Sorry for yelling but these things Xcite me. HAHA...get it? I spelled EXCITE like the name of the bait co. I'm rad.
From: Jay6: USA
Comments: These have worked great for me!!! The weight transfer is awesome! Let the bait hit the water give it a split second for weight to roll forward and fish away! I was hitting bottom in 4' of water with 15 pound test.

From: Tim: TX

Comments: I bought 3 of these in different colors to give these a try and I'll be honest they are good crankbaits. Their sound profile is not the same as some of the other square bills out there. Other than that they catch fish just like any other square bill in my box. I don't have anything negative to say about these because they are all around good baits with a good color selection. I have a wide selction of H2O Express crankbaits from Academy that cost half what these baits cost and they catch fish just as much as these do..Good baits if you don't mind the price.

From: Oscar: Mesquite,TX

Comments: I picked up one of these from a local tackle shop that stock's all the latest lures and gear. I picked up the shad color and was immediately impressed with the detail and color. That's where the love affair stopped. While this bait does cast good I found it to not run very great. Also fishing in water 5ft and less and I have never felt the bottom with this crank! It like it dive to around 2 maybe 3 ft and stops. Just not my cup of tea. I wouldn't say these are the best square bills on the market. Not even close.

From: Nathan: Fort Worth, Tx.

Comments: TW is up to date!! they just put this up and these are the best squarebills on the market!!!!

From: Joe: MI