Yamamoto 3.75" Flappin' Hog II 7pk - $7.19
The Yamamoto Flappin' Hog was originally only available in Asia and has now officially made its way to the States. The Flappin' Hog has three distinct types of appendages. The appendages closest to the tail section are the longest and have the most weight of the appendages. The riveted body of these appendages will create vibration and action during the fall and when shaking this bait.
Yamamoto has incorporated new designs and characteristics but, they have also stuck with some of the characteristics of their proven baits. The appendages on the Flappin' Hog are close to the body so it can get in and out of tight cover with ease. Yamamoto has also incorporated a hollow section close to the tail to allow easy hook penetration through the bait. The design of the Yamamoto Flappin' Hog makes it an ideal bait for flipping and pitching.
| | |
| --- | --- |
| Length | Quantity |
| 3.75" | 7 |
Comments: might as well throw a bar of soap on your hook. this thing has no movement at all, swims like crap. . yamamoto makes so many good soft plastics that every once in a while they can just let some piece of junk slip to the market..this is that piece of junk.

From: Mike: Mass

Comments: Great bait,picked up two keepers this weekend to help us win my local tournament. Sorry tackle warehouse I get these for free so I didn't get them from here. They do tear up easy but mend it glue does its job. Again great bait.

From: Jonathon: TN

Comments: ric roc, no need to go through a whole pack ok? i got these baits today for 2.99 =] great bait very durable like i said i fished one bait all day and hard no need to go through a whole pack.

Comments: This bait is awesome. Someone gave me one to try and now i'm hooked. Great bait!

From: Chet: London, KY

Comments: I went through a whole pack today at the California Delta. Green Pumpkin Bk Flk. Great bait! Texas rig for sure!

From: RicRoc: Tracy, CA

Comments: I absolutely love this bait, because I find that it has the actions not many others do. I picked these up a while back, and have had no bad luck. Awesome lure that has not failed to bring in fish yet. I throw it every time I fish and it always has given me success. Yamamoto knows what they are doing.

From: Derek

Comments: cool bait i like dragging it along the botom on a carolina or texas rig in lakes with little or no vegetation for both largemouth and smallmouth but i find it is hard to flip in heavy cover because of all the appendages

From: Nick: Canada
***Note: If you have questions about this product or need assistance with an order please email your questions to info@tacklewarehouse.com
View Large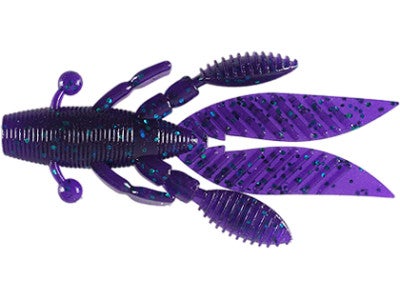 11 Available Colors