Yamamoto Double Tail Hula Grubs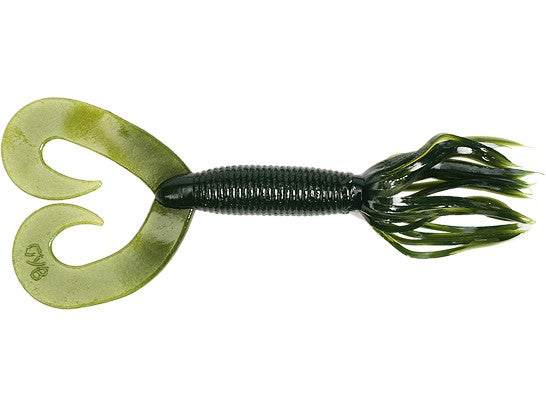 The Yamamoto Hula Grub is one of the greatest soft baits ever poured. And, not coincidentally, one of the greatest soft bait manufacturers is Yamamoto Baits. The Yamamoto Double Tail Hula Grubs catch fish 12 months out of the year - deep and shallow. It comes loaded with salt, and features a double tail grub configuration at one end combined with a Senko-style body in the middle, and free flowing rubber tentacles at the opposite end. Carolina-rig it, Texas-rig it, flip and pitch it, or throw it on a football head. The Yamamoto Hula Grub is an action packed bait that can be fished any way you want.
| | |
| --- | --- |
| Length | Quantity |
| 4" | 10 |
| 5" | 10 |
40 Colors
More From Yamamoto Softbaits
Customer Reviews
Comments: Rigged with 1/2 oz football head last week at Lake St Clair. The fishing was tough but these hula grubs saved the day! Smallies up to 4 pounds were choking it!
From: KY Fisher: USA 10/12/15

Comments: I love these things, thrown them on a football head and drag for spots, one of the best baits out there. Can't beat Yamamoto, but if they could find a way to drop the price into the 5$ range though they'd get a lot more of my business.
From: Greg: Lake Nacimiento, CA 12/21/14

Comments: One of the the best plastics of all time. Rig it on a jighead for smallies, or peg a light weight to it and a 1/0 EWG hook as a finesse pitching/flipping bait. Flat out lethal for numbers of bass and some big ones too.
From: Tyler: Grand Junction, CO 5/13/14

Comments: I just started using these this season on the Susquehanna river in PA for river smallmouth and I don't fish anything else now. Fish them on a shakey head jig and u can rig them weedless that way.I haven't fished a jerkbait or crank or spinnerbait since. The only color u need is green pumpkin...duh...tightlines

From: Tyler: Susquehanna River, PA

Comments: When the bite gets tuff hook this up drop shot with a 4/0 Ewg and they will start biting.great soft bait hands down

From: Jon: Alton, OH

Comments: i love these baits took em out on lake lanier love the action. Im 13 if i can afford them and not complain then you can too.

From: Dawsonville, GA

Comments: I like rigging the cinnamon colors with a brown Megastrike Shake2 Pro Model Shaky Head. Solid results!

From: Brian: Los Gatos, CA

Comments: Very versitale bait, yet i am only 15. The money is an issue and this is the only yamamoto bait I still buy. Caught a 6 lbs. bass, In northern michigan. During my first tournament, winning me almost a 150 bucks for big bass. And another 220 for Second. This bait got me hooked to tournament fishing. Not trying this bait could cost you a tournament!

From: Nick: Kalamazoo, MI

Comments: This bait is awsome I have put fish in the boat almost everytime I have threw it. It has become my go to bait for sure even when the bite gets tough.... I throw it on a shakey head it works great!

From: Lance: Keavy, KY

Comments: All the reviews about this grub mentions price. Get over it! These are well worth the extra coin. They are so heavy in salt content, you can cast them a great distance even weightless. Weightless is my preferred presentation. It's a three count fer foot, but works great above the grass. Works well with a belly weighted swimbait hook too. applications are endless, very versatile! So, price it not the issue, money in the boat is!

From: Bob: Ft. Hood, TX

Comments: I bought these grubs a couple of years ago for fishing in a pond in Kentucky. It worked FANTASTIC. Now that I'm moving back to northern Indiana, I was showing my buddy what kind of action it had. I only cast it about 8 foot off the side of the boat, twitched it twice so he could see what it looked like, and a bass flew out of the lily pads and almost jerked the pole out of my hands!! Needless to say, he was VERY impressed! I will also say that I have another color (smoke w/red flake) that only does about half as good as the white. I wouldn't want to be without my white double tail hula grubs!!!!

From: Wade: Logansport, IN

Comments: THIS IS A MUST HAVE! I tried this bait cause it looked unique. I got to the lake with high hope around dusk. I tossed this bait in the Smoke Bk & Pr Flk color and it didn't disappoint. I landed a nice 8lb Largemouth, Lost a 2lber, and landed another 3lb Largemouth!!! Best creature bait on the market!!

From: Jacob: Apache Junction, AZ

Comments: Very nice presentation bait for all types of fish. I have caught smallies, largemouth, MUSKY, and spotted bass on these. I like the 5" on a 3/0 worm hook with a small 1/8 bullet weight. Love the action and like every other Yamamoto I've used it DOES catch fish. If you don't like paying alot for baits then don't complain just buy a different brand. If you like catching fih then buy Yamamoto cause they work, I hate paying so much for bags of plastic too but man does Gary make some good stuff. From the Senko to the Hula these baits work and I will buy them.

From: Bill: West Virginia

Comments: Awesome lure! I use the watermelon and green pumpkin colors on a 1/8 oz. Owner bullet weight hook to fish with a slow swimming action around weedlines. This bait also works docks like nothing I've ever seen. Sure they are pretty pricey but these things are WELL worth it.

From: Kevin: Kalamazoo, MI

Comments: these catch smallies alllll day. if u think about it, when these are rigged on plain jig heads they look like a crawdad. they are amazing! worth the money for sure. I used watermelon red flake

From: Joe: WI

Comments: A great product. Caught a ton of fat LM bass in Northwestern Wisconsin this spring. Rigged with bullet weight, plastic bead, off set hook, and this grub and absolutely slayed the lakes. The price is higher than most but great action when hopped along the bottom. Wish they would sell these in bulk packaging because when the plastics bite is on, they tear these up, but in a good way.

Comments: I love these things they are like money

From: Wills: Grand Rapids

Comments: These may seem a little pricey, but they're worth it. You can just thread these directly onto a plain jighead skirt side first and you'll have yourself a skirted jig with a double tail trailer. Considering how much cheaper plain jigheads are when compared to finished skirted jigs, it all balances out.

From: James: Illinois, USA
Comments: My dad turned me on to these grubs. He has been a fishing guide on the Shenendoah and Potomac Rivers near Harpers Ferry West Virginia for the past twenty years. He guides through Harpers Ferry River Riders. Smallmouth bass love these things {especially the big ones}. We both carry these grubs with us at all times. It is almost as important as your life jacket! A day of fishing without them would not be a good day.
From: Paul, Hedgesville, WV GODS COUNTRY