Yamamoto Kreature 7pk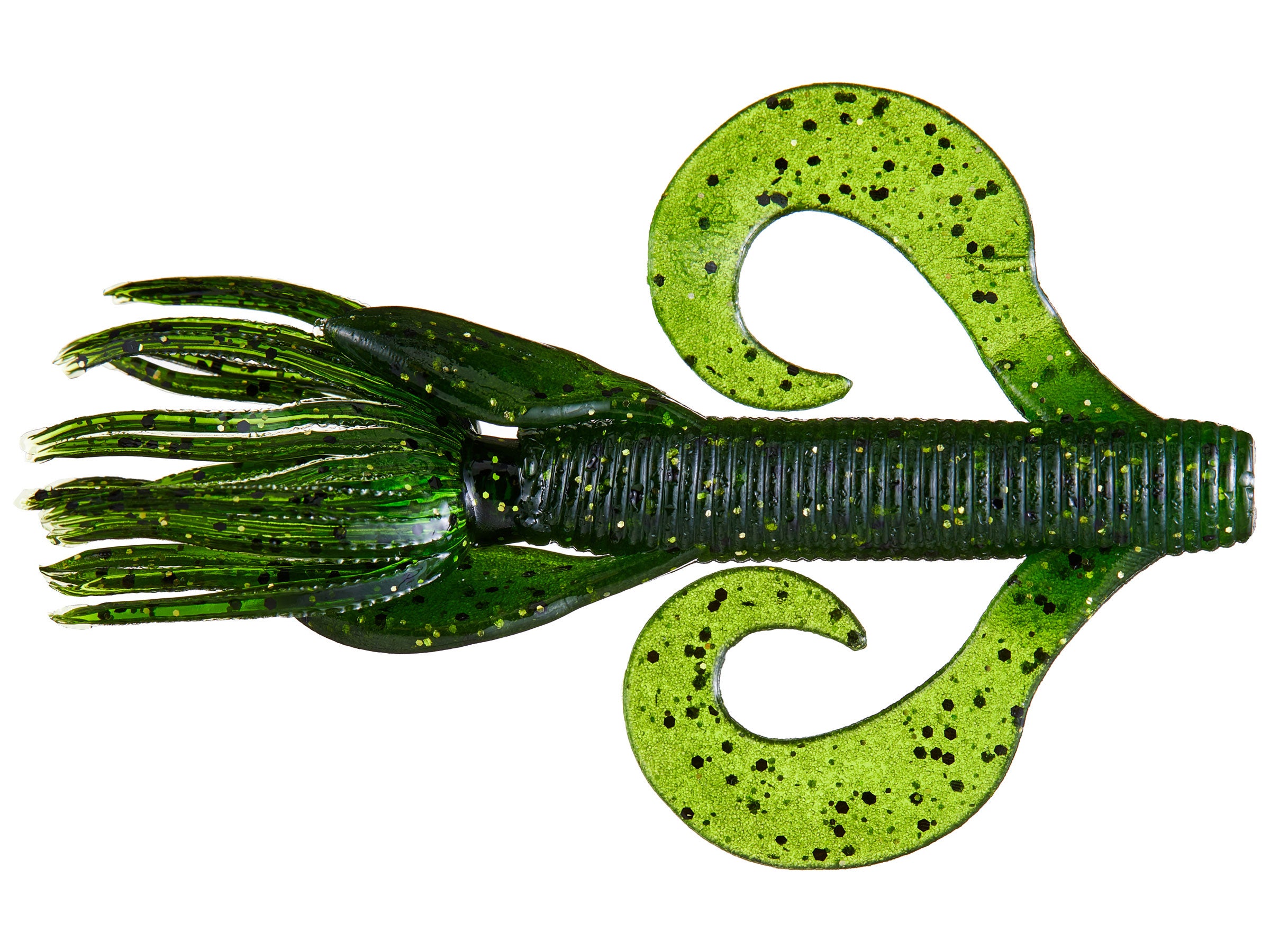 The Yamamoto Kreature is all business. Like all baits from Yamamoto, the Kreature is loaded with salt and available in time tested fish-catching colors that will fill up the livewell in a hurry. The Yamamoto Kreature bait also produces a potent action that drives fish wild. The front 'arms' start right at the top of the bait, and the end of the bait is nothing but free flowing tentacles that will attract plenty of attention. The Yamamoto Kreature also features flaps along the sides for more water movement. These Yamamoto Kreature baits are great for flipping and pitching on a Texas-rig or weightless on a big hook. Need a BIG trailer for a jig? Try the Yamamoto Kreature. Want a BIG bait to shake on a Texas-rig? The Kreature from Yamamoto will do the trick. The Yamamoto Kreature is already a proven fish catcher, tested and proven by Yamamoto's pro staff. For best results try using a shorter shank hook like the Owner Rig-N-Hook or the Gamakatsu G-Lock Hook in 2/0 or 3/0 sizes.

Click the logo to view their review.
15 Colors
More From Yamamoto Craws And Creatures
Customer Reviews
Comments: Nice bait. Fragile, but all of the GYCB stuff is. When they get tired of brush hogs, put this guy in, coach.
From: Jay6: USA 9/24/14

Comments: Had the 7'6'' heavy pitching heavy lily pads. Hooked up with a 6 pounder and it snapped right in half. But all around a great rod. Very sensitive and great backbone. Must have just had a weak spot in my rod. But what a steal.
From: Parker: Vandalia, MO 6/21/14

Comments: I still think that this is one of the best flipping baits ever produced. The mass of the lure just seems to trigger strikes when brush hogs fail?? The only knock on these baits is their durability. The plastic will tear easily near the neck of bait near the hook eye after pulling the baits through heavy cover. I have caught largemouth on these baits when all other creature baits failed.
From: John: Knoxville, TN 6/21/14

Comments: seriously the best bait alive, so versatile I never leave the boat fully stocked with them

From: Derrik: IL

Comments: This bait is awesome the bass are on there beds right now and i have the bait Texas rigged with a gambler rattling bullet weight and in just twichin it on there beds and they are slamming it i caught three four pound bass and a 10.14 pound bass! Try them they work.

From: Lane: CA

Comments: best smallmouth bait or there

From: TN
Comments: Texis-rig this bait, swim or crawl it through weeds or open water and it's money.

From: Pete: MN

Comments: This bait is great. They do tear easy but worth buying. Having a lot of success pegging a 3/4 oz tungsten weight and swimming these in scattered grass and wood.

Comments: Works great in southern California lakes on large mouth bass

From: Stanley: Riverside, CA

Comments: Used this lure in Central California Lakes and it drives the bass out and nuts... the salt makes all yamamoto lures move like no other wonderful products

From: Qel: Fresno, CA

Comments: One of THE best baits i have ever used.... black/chart. kills them.... tears quite easily but worth it over and over......

From: Ben: South Africa