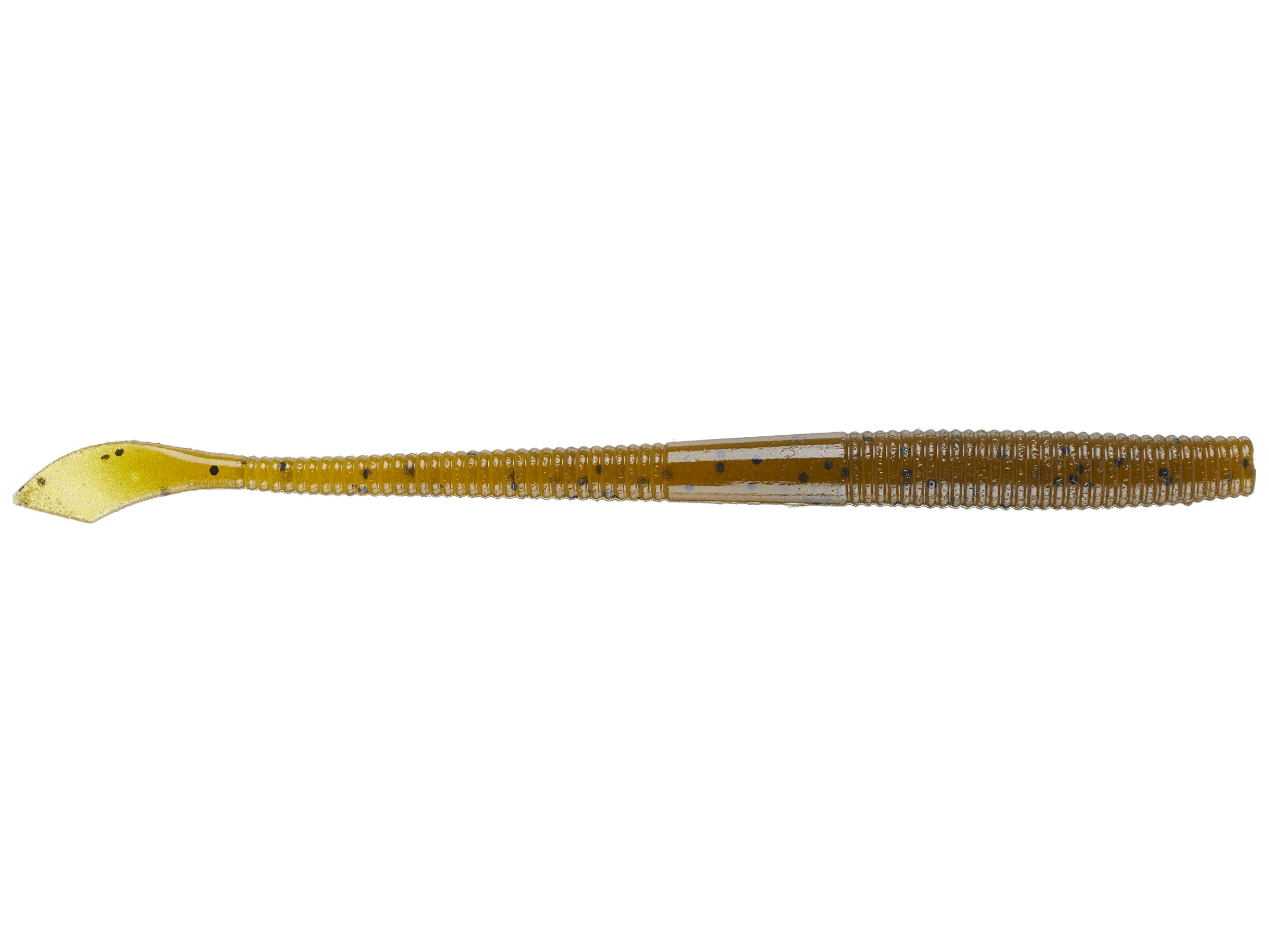 When it comes to finesse baits the Yamamoto Kut Tail worm, a.k.a. Cut Tail, has all the features you need to fool those finicky fish. The unique tail design produces a subtle action perfect for finesse fishing techniques like drop-shotting. The tapered body design provides maximum action and durability. With a wide range of colors to choose from you can find the right color to match any finesse situation.
| | |
| --- | --- |
| Length | Quantity |
| 4" | 20 |
| 5" | 10 |
| 5.75" | 10 |
| 6.5" | 10 |
| 7.5" | 5 |
| 10" | 5 |
19 Colors
More From Yamamoto Worms
Customer Reviews
Comments: The 10" is KILLER. You don't need much weight when you Tx rig it. Cast it out, eat a sandwhich, and reel in that 6 that ate it while it sat there on the bottom.
From: Jay6: USA 5/9/16

Comments: tried these after reading about Gary's "chicken rig" with good success. Just noticed where these were used on a drop shot at bass fest on Kentucky Lake and was curious as to how they as well as the ones commenting on here about dropshot ting the Kut Tail worm are hooking them? Nose hook or Texas rigging on a worm hook? We have a lot of success dropshot ting year round but this is a go to for our night tournaments all summer long sometimes 30 foot deep or even more and I am wanting to give these a try. I had bought the 7.5" but am curios as to what size others are using for drop shotting. Thanks and tight lines!
From: Dewey: Collinsville, VA 6/28/15

Comments: Kut tails are money year round! No need for weights or anything else. I NEVER leave home without them!!!
From: Team Hitters: CA 6/25/14

Comments: Been using the 6.5 green pump with purp/ green flakes and catching 3+lbers! Waiting to try the 10"! I bet u get nothing but 5+lbers to hit those!
From: Yang: Cali
Comments: Love the 5 inch green pumpkin blk flk, they are beast for drop shotting. Can't wait to try the other colors and sizes. Great price too.

From: Mac: LBC, CA

Comments: Threw these on a drop shot on the chicago river and smashed em! 1st time i ever used them and i was thuroughly impressed! somewhat expensivefor my taste but hey if they work thats worth it in my book!

From: Bass Assasin: OH

Comments: Great lure, very smooth action I normally rig these on a weightless Texas Rig. I've used soft baits by company's like Yum and Strike King but I honestly keep coming back to these.

From: Joshua: Salem, VA

Comments: These are the best. There is so much action in the tail on the fall. i would throw a black/blue 6.5" kut tail worm all the time if i wasnt addicted to buying soft plastic baits.

From: Bubba: NJ

Comments: In Europa, the 4 inch green pumpkin kuttail worm is a perch killer. Fishing texas rig or dropshot.

From: Marcel: Duebendorf, CH, Switzerland

Comments: I bought two packages of these on sale in Texas. I brought them home to Michigan took them north and was bank fishing, caught numerous bass and also a pike.. I bought the black ones and I guess they thought it was a very large leach but fish actually followed it for a bit then bit and held on!! These baits since they have the cut tail produce a different vibration in the water than a regular curly tail worm does seems to drive fish crazy. I rigged my worm texas using a 3/0 offset ewg worm hook.. these worms can be rigged carolina or wacky I am sure. They are loaded with salt and cast and sink very well. The method I used was just dragging it along and giving it a few small twitches with the rod tip.

From: Fishing Fanatic: Battle Creek, MI