Yamamoto Laminate Senko 10pk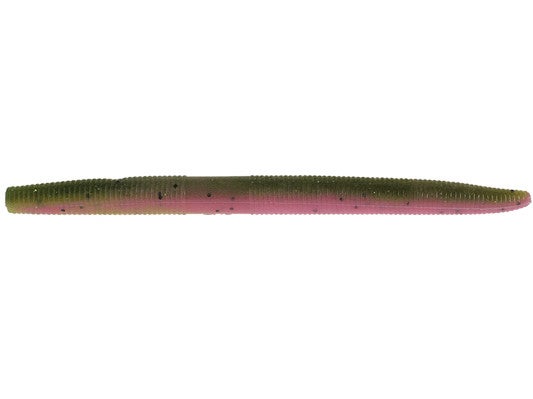 The Yamamoto Laminate Senko provides anglers with a bait that has multiple colors throughout the entire body of the bait. It can be rigged so one color is on the bottom side and the other on the top, giving the illusion of a lateral line and natural coloring found on fish. The laminate composition gives the bait a multi-dimensional look. The Yamamoto Laminate Senko's rate of fall created from the large amount of salt impregnated in the body drives bass crazy just like the original Senko. When rigged weightless the Senko falls horizontally with a seductive side to side tail action. Try wacky rigging or texas rigging the Yamamoto Laminate Senko and experience the versatility this bait provides.
| | |
| --- | --- |
| Length | Quantity |
| 3" | 10 |
| 4" | 10 |
| 5" | 10 |
| 6" | 5 |
25 Colors
More From Yamamoto Worms
Customer Reviews
Comments: I love tackle warehouse but I went to walmart and they had senkos for 6.49 not 7.49 so I'd rather go to walmart instead of paying a dollar extra + shipping and tax

From: Brandon: Sonora, CA

Comments: Budget breaker but the work amazing

From: Brandon

Comments: Horrible baits, can't stop catching fish on them.

From: Brian: San Francisco

Comments: Hear me out here, I once had a love affair with the Senko, when the price was 6 dollars a pack. 7.49 is high, no matter what your logic is. These are great baits, don't get me wrong, and they do catch fish. I used to buy these in large quantity, and looking back I regret buying so many. I went over to zoom ol monster route, and glad I did, works just as well, while eliminating those small bass that will often tear an expensive Senko. Do you know what's reasonable for a pack of 5" Senko Mr. Gary? How about 4.99. I have nothing but love for your bait, but you need to lower your price. P.S Yamamoto company needs to learn something from Zoom baits i.e keep your price reasonable, while still offering quality baits for the masses.

From: David: Murrieta, CA

Comments: Everytime I buy another package of senkos I'm tempted to enclose an extra dollar for Gary. This bait out fishes every bait/lure I've ever owned. By 3-4 to 1 at least! To complain about the price is nuts! There wouldn't be a wave..tiki..etc. To buy if not for senko. First and the most!!

From: David: TX

Comments: FOR SOME REASON THESE BABIES WORK REAL GOOD ON A WAKY RIG WEIGHTLESS WITH A GAMAKATSU FINESSE WIDE GAP HOOK.NO OTHER SENKO SEEMS TO WOORK AS WELL AS THESE,AND I SAY THIS BECAUSE MY PARTNEI VERY USES ANOTHER BRAND AND HE DOESN'T CATCHES NEARLY AS MUCH AS I DO. I HAVE BEEN CHECKING THE WAY THEY SINK AND TO MY SURPRISE THEY DO HAVE A VERY DISTINCTIVE WAVING MOVEMENT ON THE FALL AS THE OTHER BRANDS I CHECKED. ALSO THE BASS SEEM TO HOLD THEM LONGER GIVING YOU A CHANCE TO DO AN EFFECTIVE HOOK SET. IT IS VERY PRODUCTIVE FISHED THIS WAY, BUT YOU ALLWAYS LOOSE THE SENKOS WHEN THE BASS STARS HIS FIGHT. THEY ARE VERY SOFT AND LIMP BUT THEY BREAK EASYLY(ONE FISH PER SENKO AND ONE SENKO PER FISH). I FISH IN EL CUCHILLO LAKE IN MEXICO AND I FISH IT ON RIVER WALLS AND STEEP DROP OFFS AS WELL AS TREE TRUNKS.... I ONLY WISH THEY WERE LESS EXPENSIVE. GIVE THEM A TRY AND YOU WILL FIND OUT FOR YOURSELF HOW GOOD THEY WORK.

From: Alvaro: Monterrey N.L. Mexico

Comments: Over all catches fish. But i no longer use them due to, duribility, and price! Stick baits that i have found to replace them are, yum, wave worm tiki sticks, and the the bass pro shops stiko. Do yourself a faver, save some money for other fishing tackle instead of wasting your money on these!

From: Andrew: MA

Comments: The Laminate Senkos with darker upper colors and contrasting, lighter lower colors simulate bait fish better than solid colors. I have done extremely well fishing for lagermouth bass with the 5" worm in both Watermelon Cream and Smoke Holo/Blue Pearl Silver in the stained water, blue gill forage lake that I regularly fish. I mainly work them weightless, wacky style in 2 to 5 feet of water, or weightless, Texas style, pulling them over heavy grass, flipping them into cover, or casting them in front of submerged wood or grass lines. This is the only stick-bait worm that I use anymore for those presentations since it has been a consistent producer for years now.

From: Vince: Tucson, AZ

Comments: I ordrerd the Laminate Senkos last may and my partener and I won two turnaments with them. The first one was on lake Neely Henery on the Coosa River and the second was on Logan Martan on the same River. Seemes to me that I Neeeeed More Senkos don't you think ? Call ya for my next order real soon.
From: Phil, Albertville, AL 11/04