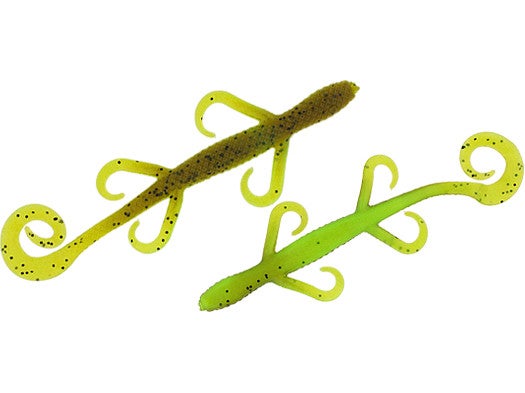 The Yamamoto Lizard has a profile and action that prespawn and spawning bass just can't resist. No one really knows why, but every spring bass love to gobble up lizards and the Yamamoto Lizard will fool them a lot of the time. As summer rolls around and bass move to deeper water, the Yamamoto Lizard is still effective. One of the most popular ways to fish the Lizard is with a Carolina rig. You can swim it or punch it through thick cover, coaxing out those hungry bass. The Yamamoto Lizard comes in a variety of colors to help you match your local forage or vary your presentation.
4 Colors
More From Yamamoto Softbaits
Customer Reviews
Comments: These lizards are great & they aren't just for bed fishing! They work great on a carolina rig or a a texas rig. Great for smallies!
From: Jacob: Austin, TX 8/9/16

Comments: This bait brings them to the boat without fail! Large Mouth, Smallies, they all seem to want to crunch these lizards. Its a go to bait for me!!

From: Kristian: Toronto, Ontario, Canada

Comments: Worked this little beauty on the local CA ponds during the bedding season. Drove 'em nuts! 2 or 3 males would huff and puff at it till one would take it. Pick a color that will stand out against the bed structure. Gary makes the best soft baits bar none.

From: Steve: LA, CA