Yamamoto Pencil Tate - $7.99
Tate is the Japanese word for "dance," and as it suggests, the Yamamoto Pencil Tate delivers a graceful walk-the-dog action that makes it appear to be "dancing" across the surface. The Yamamoto Pencil Tate is very easy to manipulate, so much so that even novice anglers can make it sashay in place. In the hands of an experienced angler, the Yamamoto Pencil Tate is incredibly lethal and capable of calling bass up from the depths.
Additionally, the Yamamoto Pencil Tate also employs a hard-knocking internal rattle chamber to grab the attention of nearby fish. As a testament to Yamamoto's extreme attention-to-detail, the Yamamoto Pencil Tate is built with a highly visible 3D holographic chamber and a distinct Yamamoto logo imprinted into the eye. Equipped with Mustad Triple Grip Treble Hooks, the Yamamoto Pencil Tate is sure to help you write the next chapter in your fishing saga.
| | | | |
| --- | --- | --- | --- |
| Gary Yamamoto | Length | Weight | Class |
| Pencil Tate 76 | 3" | 7/16 | Topwater |
| Pencil Tate 100 | 4" | 9/16 | Topwater |
Comments: I've never been a top water walk-the-dog fisherman, but I picked up one in the 76 size at my local Dick's S.G. 1st time throwing it, this thing cast awesome, and I felt like an immediate pro at the walk-the-dog presentation! great hardware and finish and would recommend this lure to anybody!
From: Greg: Butler, PA
***Note: If you have questions about this product or need assistance with an order please email your questions to info@tacklewarehouse.com
Color:
Baby Bass
View Large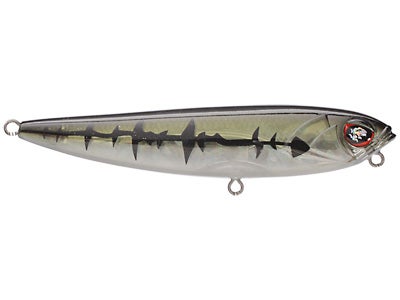 8 Available Colors
More Yamamoto Hardbaits