Yamamoto Senko - $4.99 to $7.69
If there's been one lure that has changed the face of fishing over the years, it's the Yamamoto Senko. With its wide range of uses and subtle natural action, the Yamamoto Senko has quickly become a favorite with anglers all over the world. The beauty of the Senko is in it's simplicity. The Yamamoto Senko may just look like a thick round plastic worm but the fall rate created from the large amount of salt impregnated in the body drives fish mad. When rigged weightless the Yamamoto Senko falls horizontally with a seductive side to side tail action. Try wacky rigging or texas rigging the Yamamoto Senko and experience the versatility and effectiveness it provides.
| | |
| --- | --- |
| Length | Quantity |
| 3" | 10 |
| 4" | 10 |
| 5" | 10 |
| 6" | 5 |
| 7" | 5 |
Comments: Great worm but not durable. Fortunate to get one fish per worm. I really believe Yamamoto is intentionally making these softer so that you will have to buy more for $0.75 a piece. I pretty much only buy two colors I can't get anywhere else - 912 and 925. They need to make a new worm called the senko Duralast!
From: Mark: Conyers, GA 9/25/14

Comments: AWESOME! let me spell it out for you. A W E S O M E !This lure is amazing. first cast BOOM! I fist thought the thing I caught was a weed but it was a bass.
From: Max: FL 9/14/14

Comments: I use 3/0 EWG hooks for the 4" and 4/0 EWG hooks for the 5". Always texas-rigged. Let it fall on slack line, work it slow, and keep your eyes on your line. If you are fishing it right, you won't be able to feel the bite on your rod until you've reeled up the slack.
From: Kevin: NJ 7/28/14

Comments: These are my favorite senko worms to use hands down. They straight up produce strikes when no other worm will. My only complaint is the durability of the bait. 1-2 fish on it and it's done.
From: Trip: Simpsonville, SC 7/16/14

Comments: I must admit I have bought these worms several times but never could bring myself to use them. I finally decided to this past weekend and wow I cleaned house with them. Its now my dirty little secret. I will be stocking up on these for sure.
From: Brian: Akron, OH 7/5/14

Comments: No other stick-bait will ever out perform the Senko. When nothing else works in my arsenal these always prevail. Green pumpkin with any color flake seems to do justice for me. Definitely worth the money.
From: Juskivel: Delta, CA 3/29/14
Comments: Straight up WINNER!!!!!! they cost $$$ but no other soft plastic stick bait out performs the Senko.

From: Dave: Chicago

Comments: This is just such a good bait. It is worth the cost because they catch so many fish. I fished this along side a yum dinger and this caught fish when the dinger failed. I noticed that the yum dinger had lighter green pumpkin color than the Yamamoto senko that was a little darker which made a huge difference in the lake that I was fishing.

From: Mike: Northern IL

Comments: great bait fished I through it on top of grass weightless and popped it ounce then I saw my line go out BOOM set the hook fish on 4lbs and 3 followers

Comments: YOU MUST BUY THESE. Im telling u to. I have had amazing results with these. IT'S A MUST BUY

From: Jacksonville Florida USA
Comments: This bait catches fish no arguing that but it costs way to much for so little when there are cheaper options that are the same or might even catch more fish!!!! Like the big bite baits trick stick they are amazingly better than these. do yourself a favor buy these and see that in a pack of 10 youll catch 5 fish and on a trick stick a pack of 10 will catch you 25 fish

From: Luc: sharon pa

Comments: Believe these reviews! I am generally super-wary of any hype, but I can't believe the difference the Senko has made in my action rate. I go thru a bag per trip easy, and that's way more from fish than basic wear and tear. I wish I had a dollar for every time I used another brand, got nothing, then threw the Senko right in the exact same places and yarded out nice bass. The 4" straight worm gave me my personal best this summer - a 12lb bass that was my only touch of the night.

From: Eric: Charleston, SC

Comments: First of all, these things catch fish! Hard to explain but they seriously out fish every other bait in my arsenal. I love the top water and crankbait action and for some reason I've always stayed away from the finesse(or boring) type of fishing because it, well, seemed boring. But catching a lot of fish is not boring! It's awesome! These freakin things rule the water! They are not very durable and somewhat expensive but who cares they make fishing fun!

From: MRH: SB,CA

Comments: no doubt this bait is great but there is another stick bait that for sure outperforms the senkos hands down. I am a scuba diver and have tested all of the stick bait imatators since the senkos inception. the main worm that totally outperforms the senko is the pro super soft wave worm. when you rig them both on a zappu or eco pro 1/16 oz waky jig the wave worm has 3 times the action on the fall and when bounced on the bottom It actually shimmers in all directions unlike the senko when scuba diving you can really tell the action compared to when your looking down from a boat. as far as fishing catching ability the wave worm caught aleast 4 times more fish then the senko when fished with 4 tournament bass guys. so don't kid yourself there are better products out there that catch more fish then the senko. I have the professional proof. also the megastike worm was also better and the strike king shimmy stick was a better bait for half the price. I have the proof!!!!!!!

From: Jim: lake tomahawk wisconsin

Comments: Love the 4" senkos! Cinnamon brown no flake is my favorite color! Texas rigged on a 4/0 offset hook, the bass just go crazy! Definitely buying more of these soon!

From: Parker: TX

Comments: AMAZING! I grew up with the senko it is the bait that got me into fishing. its so easy and it works so well! i have caught bass off of this bait all year around. I always have one rod hooked up with it. I rig it texas rigged but with no weight in my opinion its effective in water 12 feet and below. i have caught bass in less than 2 foot off of this bait

From: Jacob: Virginia, USA

Comments: Durability solved! Forget the O-rings and find yourself a clear milkshake straw. Cut about a 1/4" off it. Slit it open then wrap it around the center of the worm for wacky rigging. Now hook through the straw and the worm. And its invisible. You'll get 5 times the fish per worm, if not more. These are the real deal, Thanks Gary!

From: WildBill: Cortland, NY

Comments: As a first time Yamamoto buyer, I went with the 3" Pumpkin w/black and green, not really sure what to expect. I let them sit around in my bag for awhile until recently I decided to change it up a bit and threw one of these weightless on a 1/0 wide gap. 1st cast I felt some bumps, 2nd cast fish inhaled it. Where I live there is high pressure and little action. To get a response that fast turned another slow day into an exciting one. Probably going to be throwing Yamamoto before anything else from now on.

From: TSMF: Salem, OR

Comments: Best stick bait on the market nothing else even comes close. You can fish your little dingers and other stick baits to try and save a buck and ill be catching fish with my Yamamotos. This bait is not a big fish bait but more of a numbers bait. I catch 1-2lbs LMB on this bait wacky style using a gamakatsu octopus 3/0 but its fun with a spinning reel throwing 6lb sunline sniper. Don't let all these colors get a novice angler confused, clear to slightly stained water stick with your green pumpkin and watermelon colors and for muddy water stick with black/blue darker senkos. My all time favorite colors are plum apple, june bug, and of course green pumpkin blk flake. This bait is great for sight fishing. Good luck and tight lines!!

From: CJ: PA

Comments: the best summertime bait there is. when the bite is on, its on with garys. You will have 20 fish days and most definitely will run into a lunker or two when fishing these right off the banks.. tackle warehouse also carries the elusive, and by far my go to, motoroil red flake.

From: Mike: Mass

Comments: Everybody knows that these things aren't all that durbale... but they do have an awsome action texas or wacky rigged, and i feel that they have a slightly faster sink rate then the other soft stick baits.All in all a awesome fish cathing bait. Cant go wrong with using one of these.

From: Mike: NJ

Comments: great bait for getting those shallow water strikes, also very light in weight, but catches tons of bass.

From: Matt: Austin, TX

Comments: This bait is amazing if your in shallow water or at a pond and u use it weightless. Its heavy enough to cast and it sinks slowly. you just cast it out and bring it in slow. This is my go to bait.

From: Tyler: Fort Worth,TX

Comments: For those wacky rigging you MUST use an O-ring. With the O-rings these things will last for ever. And a someone else pointed out try Mend it to make last longer. So with that said please no more rubbish about how expensive they are. These things flat out catch fish! Also here's a tip for the O-rings, you don't need to buy the tool. Take a small needle nose plier and load the O-ring on it. Once you do, slightly open the plier to create enough room to pull the senko thru.

From: Armando, NJ

Comments: Bass fishing at its best great action rig it weedless with a 3/0 offset and burn on the top looks like a snake use smaller hooks to get more tail action.

From: Darren: Bellingham WA U.S.

Comments: Theese are the best senko, and there is no doubt in my mind about it. theese are great for wacky riggin but theese tear easily so the o rings are a great idea for theese senkos. but if you are goin to texas rig i dont reccomend theese senkos i usually use dingers for texas riggin

From: Mack: Canada

Comments: There are mucher cheaper baits out there than this, and mre durable too. With this bait you'll be lucky to get 2 fish over a pound before it rips off. This lure is a fish catching machine dont get me wrong, but you may as well toss some butter on your hook and use that. An the price is ridiculous, i can go out and buy fish for cheaper.

From: Josh: Canada

Comments: After taking many beatings from a buddy using the 5in. Red Shad i highly recommend it. Yea the price is high but so is boat gas.

From: Russ: Marshall, TX

Comments: there just isn't anything like a senko. people will try to convince you to getting a bunch of other cheap baits that look and feel like a senko but just dont get the same reaction. The best thing about these baits is the way they fall; and when you're flippin and punchin thats what matters. ask anyone and they'll tell you. Senkos will catch fish

From: Jeremy: Silicon Valley, CA

Comments: Absolutely the best stick bait on the PLANET!!! I've tried the others that claim they out fish SENKO and they don't,PERIOD!!!!!There are a couple that are close to SENKO but that's it,just close..This is the GO-TO bait for most every fisherman. Keep one tied on at all times.

From: Tony: West Chester, PA

Comments: The best! The End! Get em while they're on daily special!!

From: hmongbass: Madison, WI

Comments: Let it never be said that these things don't catch. Learn to texas rig them with a 4/0 EWG hook and no weight and you're good to go. Perfect bait for just about any condition and for every level of fishing experience, especially beginners. Though you can get them in damn near any color under the sun, you'll probably settle on a few. If you're looking to try them out for the first time, I'd recommend three colors: Black/Blue Flake for dirty water or low light conditions, Baby Bass for super clear and/or sunny days, and Green Pumpkin/Black Flake for everything in between. You won't be disappointed! Throw them near or right into cover for best results

From: Mark: South Michigan

Comments: You can't beat a 4" black senko for catching smallies. These are not durable, but like the man said, I'd rather have 5 smallmouth in my livewell than 5 senko's in their bag.

From: Greg: AL

Comments: what has not been already said about the senko? they just flat-out catch fish. wacky, dropshot, T-rigged, carolina rig......anything you think of, the senko does it. its just the most versatile, fish-catching bait i have ever used. if you have not used senkos yet, you owe it to yourself to get a pack...............or ten.

From: Cullen: Ashburn, VA

Comments: The water was pretty cold so I got the 3 in. version in cinnamon brown color...WOW.I used a weedless Gamy spit/drop shot hook(in my mind the best wacky hook ever) wacky riged it and threw it out weightless. I probebly got 20 strikes and missed most of them until I learned when to set the hook. You got set the hook IF YOU FEEL ANYTHING! As the McDonald's logo says..."I'm lovin' it!" God bless!

From: Elijah: Mystic, CT

Comments: Best bait in the business hands down. A little pricey but I guess you get what you pay for. My favorite colors are junebug, bama bug and black and blue fleck in the 6".

From: Jason: Boynton Beach, FL

Comments: Senkos are expensive, but so is gas, engine oil, and Starbucks coffee. There wouldn't be 1000 ripoffs of the Senko if it wasnt so damn good at catching fish. I hate fishing them...its a boring type of fishing. But if you don't own a couple packs, you arent really in the game. You don't need every color...find 3 or 4 that cover a lot of bases. The best thing you can do is buy a few packs of Senkos, and a few packs of your favorite cheap imitation. 90% of the time a Senko catches more fish, but when the fish are really chewing stickbaits, you can save your Senkos by using the cheaper versions.

From: Chris
Comments: this is great bait, gary please make rainbow trout, bluegill, and perch colors for guys soon! guys needs those colors in their favorite places to catch big ones. The colors are excellent but I like more coming to give more wide selection. God bless gary and TW forever!

From: Alex
Comments: I bought this in a 5 inch baby bass color and took it out on a trip to a local lake that i fish often but don't normally catch any. About ten minutes in i caught a good 3 pounder. This bait is good for pros as well as beginners. I rig it on a 2/0 gamakatsu offset round bend hook weightless with bang scent and it works great. My little brother of 6 years old even cathches em on these things. the action when it falls is awesome and really catches fish. Even though they are a little bit pricey, its what gets the fish in the boat. I cant wait to fish these in a tournament. Tight lines.

From: Dennis: Orange County, CA

Comments: This bait works wonders. I have been using the wacky o tool and the senko usually last about 4-5 fish. My fav colors are June bug and baby bass . Tried white and not work at all

From: Josh: Fresno, CA

Comments: This bait is phenomenal. It is good for pros as well as beginners. I put my buddy on one of these senkos, taught him how to fish them wacky style and now he catches big ones left and right. The best thing you can do is go out and buy a couple of Owner, 2/0 hooks, that are no bigger than your thumb. Rig it whaky style and i can promise you, youll be ripping them out left and right. If that dosent work for you then nothnig will. Caught my biggest bass(8lb.) off of this!! Watermelon Magic will work wonders!

From: Grant: SC

Comments: the five inch works good but the durability sucks. Sometimes I'll catch a dink and the worm is no good already. For eight bucks I expect it to last a little longer.

From: FireTiger: Cali Delta

Comments: The Senko is the greatest lure ever.I've won thousands using them.It consistantly outfishes all my other lures combined.I keep one tied on at all times.It can be used in any water condition or color.I see where others complain about breakage,but what the hell nothing can compare to itCatch 1 or 2 then pop another on.I've tried Wave worm,Yum dinger,Hyper stick and all the others,they just don't catch fish like the Senko does,Period....

From: Tony: West Chester, PA

Comments: Best bait in my tackle box caught bass after bass. Best color is watermelon red and green.

From: Grant: Oshkosh, WI

Comments: Ive used the 5in, 4in and 3in senko wacky or texas rigged all catch fish. Although it breaks easily u can still catch about two fish one the same worm. So far the 5in caught me my biggest fish of the summer. Also great for smallmouth is the 4in senko.

From: Kenny: Philadelphia, PA

Comments: Very new to bass fishing, pretty much only been fishing since about May 2012 and have been trying a little bit of everything from jigs to spinnerbaits and crankbaits and nothing has given me the kind of success in a single day that a wacky rigged Bama bug senko has. Caught 9 bass in about two hours including a couple 2 lbers and a nice 3lber which is about as big as the fish get in my pond.

From: Alex: O'Fallon, MO

Comments: Glad someone else noticed!! These Senkos do catch Bass, but are not durable at all. Wave carries a cheaper, much more durable brand..These are so soft,they will break when you cast them..At $5.99 a pack, Mr. Gary needs to refine his product,and make it more durable..Wave hands down is the better product..Senkos are my Go To bait..But i vowed to never buy these again..Luckily,my local bait and tackle carries wave!!

From: Dexter: Temple, TX

Comments: These are clearly the best stick baits on the market. There is a reason why they sell for this price and people still keep buying them... Its because they PRODUCE FISH!! If there was one lure that every angler needs, Its a pack of Yamasenko!!

Comments: Originals are always they best. I have fished alot of other stick baits, Yum Dingers, SK Ochos, Wave Worm Tiki Sticks, Netbait Salt licks, a buddys custom homemade, and the Senko blows them all away. No more knockoffs for me anymore. You can't beat GYCB size, and color selection. They just put good fish in the boat, even if every other boat in the tournament is tossing them. Durability? Not GYCB strong suit.......but who cares, I want to catch fish, if they only last one fish per bait I am fine with it. Fish in the boat/livewell is wait counts, not how many fish I can catch on a bait.

From: Brad: NY

Comments: If you could only fish one bait...here you go, skippy. Texas rig? BOOYAH. Weightless? MONEY! Wacky? HELL TO THA YEAH! Izzy? YUP! Dropshot? WORD! And on and on till the like, break of dawn. If you dont have any, please invest 200 bucks and get a good stockpile, and spend the rest of the night surfing the web on how to fish em.

From: Meatwad: Makin Gary Rich

Comments: I use to be a very versatile angler but I have found these to GRD 100% of the time. ItÕs all I use anymore. No other plastic worm comes close.

From: Kevin

Comments: Often imitated, never duplicated. No, they aren't the most durable stick baits out there. If you want durability, try the Dingers or any of the other hundreds of brands that try to imitate the Senko. But, I have yet to run across any other stick bait that exhibits as much of action as the original Senko. The action is what separates the original from the imitators. When money's on the line, I can't settle for less. Get bit or go home!

From: Pistol Pete: North Coast

Comments: Works but there are others that works just as good and are cheaper.

From: FireTiger: California Delta

Comments: yea their pricey but who cares. Theres no other worm that can outfish the yamamoto senko. If your complaing about how expensive they are nd if ur catching fish with them theres something wrong with you lol.long live the yamasenko a proven bass catcher.

From: Abran: Double L, CA

Comments: Yes it catches fish, Texas rig and wacky, but durability may not be there. I can probably get one to two bass per worm and at 6-7 dollars a pack I use the YUM dingers. Check them out.

From: CassT'one
Comments: awesome bait! Get you an o-ring tool use the o-rings and you can catch many fish on one worm.

From: Tyler: East Coast

Comments: Can't go wrong with a natural colored senko, only thing better is an IKA!!!

Comments: This bait works great but will tear every first of second fish. Overall the Yum dingers are a better deal because they last much longer and catch almost as many fish.

From: Bradley: Montreal, Canada

Comments: wow... talk about a bait that will catch fish when nothing else will. Wacky rigged amazing action and flutter. worth the price
Comments: the price on these and all yamamoto's r simply out of this world im not spending 7 bucks on plastics that simply wont catch anymore bass then yum dingers or strike king shimmie sticks

Comments: These things simply catch bass. I had been having trouble getting anything to bite in the pond i fish in. So i did some research on a lot of different baits and decided to try the 5" in green pumpkin red flake. Rigged it weightless texas style and fished it real slow. The bass loved it. Caught 5 that day ranging from a pound to 4 pounds. Even had a bream go after one. Not bad considering my last 4 outings produced 0 fish of any type. If you're having trouble catching fish, want to catch more, or need a bait to go to on a bad day, THIS is the bait you want

From: Zach: VA

Comments: There is no better bait for catching largemouth bass, period! Anytime the fish aren't biting everything you're throwing at them, rig up a senko. ALWAYS gets bit.

From: Kyle: MI

Comments: Best stick bait out there. Competed with my brother using my zoom & gulp worm (on the same boat).. and he came out on top.. including numerous events where this bait was more dominant whether t-riggin, c-riggin, or wacky rig than any other worm in my tackle.. Breaks easily and pricey, but is it worth it...? YES!!!

From: Hmongbass: Madison, WI

Comments: This is the BEST stick bait on the market hands down. who cares if its expensive it catches fish. its the only stick bait I use.

Comments: Ok so this bait like everyone says is the best soft worm on the market and I would have to agree with that seeing as I have probably about 40 bags of various colors. They definitely have the best wiggle on the fall and the bass can't stand it and have to kill it. That's what sets Gary's senkos apart from all the other imitations. I've tried them all and none compare. Yes they are more expensive but I would rather catch more fish than settle for less and catch nothing. Now, after reading all the reviews about being expensive and only lasting a few fish per worm, I can't believe no one has even mentioned the word Mend-It glue. I don't know if all these guys that know about it want to keep it a big secret or just don't know. This soft drying glue is the best invention next to the senko for soft plastic baits. It will repair your worm to like new condition and will be just as strong as when you pulled it out of the bag the first time. The glue dries soft in under 3 minutes. The senkos I've fixed with Mend-It have the same exact action as a new one and catch fish after fish. I can't even tell you how many hundreds of dollars I've saved with this miracle glue on soft plastic baits. Your worms will last you season after season. No, I'm not getting paid by Mend-It! I wish. And you can even buy it from tackle warehouse too!

From: Paul: Akron, OH

Comments: This bait is a game changer! Hands down the only thing in your tackle box that is guaranteed to land a bass. I have probably around 40 different colors of the 4 in Senko in my bag at all times. People think I'm crazy when they see my selection then they witness my domination and beg me for just one so they can catch a fish! Sure they only last a few fish but that's what makes them so deadly, the unique soft plastic gives it an action like no other. My favorite color's are black w/ no flake, baby bass, green pumpkin anything, natural shad, and firetiger texas rigged weightless with a red Lazer Sharp 2/0 Wide Gap Worm Hook. You can also buy the kinami flash baits made by Yamamoto that are a little cheaper (exact same worm) but you only get 7 instead of 10 so basically it's the same value. Either way you can't go wrong with any of the Yamamoto bait's! Try them and you'll become a believer!!

From: Bill: WV

Comments: I caught my PB Largmouth Bass on this bait in 5" Green Pumpkin. They are great baits but are too pricey so I switched to Yum Dingers and BPS Stick-O's.

From: Kieran: Howell, MI

Comments: I LLove and Hate this bait =) Starters its one of the best soft plastics ever created and no matter what i always come back to this brand. But the price sucks ***. mean come on i have to work an hour to buy these and they hardly last 2 fish. If the price was lowered people would have no reason to even try other brands and they would get more business .

From: Big Rob: So Cal

Comments: A strike king ocho could never have the same natural action that a yamamoto senko has. In my opinion the senko is the most versatile bait on the market. Ive been carolina rigging the watermelon black flake color and fishing 15-20 feet and catching good bass regularly.

From: Jack: KY

Comments: Excellent baits that undeniably pull in the strikes! However, they are overpriced for the bag count and durability. If they came in 20 count bags then they would be closer to the value vs. price.

From: Bill: Flatwoods, KY

Comments: Way overated for the price. I will put a Strike King Ocho against it any day.

From: Brett: IL

Comments: These are the real deal. Seem to sink a little faster then other senkos rigged weightless and have an amazing action on the fall. Killer for both largemouth and smallmouth.

From: Caleb
Comments: This bait is amazing i have spent over 1,500 dollars on these. I love this bait Thank u Yamamoto.

From: Kyle
Comments: all i can say is these baits are legit! these baits always get me bit when its hard to get bit on other baits. there worth every penny!

From: Hunter: VA

Comments: These baits get bit. There's no denying it. Just don't let them become a crutch that prevents you from progressing as an angler as it does to many novices because while they do work, a wacky rigged senko can be quite limiting in it's applications and they are not always the best for getting the biggest fish in the area.

From: Cheech: Canada
Comments: Great bait! Has the best action out there, but they are pricey. I highly suggest you also invest in the Wacky O ring tool.

From: Joe: International
Comments: Tried many different brands and keep coming back to Gary. They're worth the bit more they cost. Come in so many colours, and also different styles.

From: Mike: Toronto, Ontario
Comments: I have a little pond near my house and i tried everything to catch the bass in there, crankbaits, buzzbaits, spinnerbaits, and everything else you can think of... i could not catch anything until i purchased these, wacky rigging these WILL produce fish. these are great. a little pricey but well worth it 5*

From: Bobby
Comments: Tried all other plastic worms. But this Senko worm "6inch" from Gary Yamamoto Custom baits rigged wacky style with the O ring is the best. It's a little pricer than other brands but well worth it. This is my goto bag when bass are hitting plastic worms.

From: Chue: Minneapolis, MN
Comments: Simply ///the Most Versatile And Best Bait In The World(:

From: Eric: Glendale, AZ
Comments: I have been fishing Yamamoto Senco's since the spring of 2004. My log books show that I have caught 2,406 bass on Senco's. It's a fact that I never go fishing without several bags of Senco's and always in watermelon with black flake. It's the only color I use and it works in all conditions. I purchase them here at Tackle Warehouse 10+ bags at a time. If you want to teach someone new to fishing how to fish a plastic worm...this is your bait. I've taught young and old alike how to fish these miracle baits. Even my wife and daughters are experts at catching bass after bass with the Senco. In my 30+ years of bass fishing, I've never found a lure that was a sure thing...until now.

From: Tom: St. Louis, MO
Comments: I love these baits,I have done great in tournaments using them and Ive caught my biggest bass on these too. My boats is loaded with these baits I love them for wacky rigging and texas rigging these are the best bait in my boat!!!

From: Jack: New Hampshire, USA
Comments: LOVE IT!!!!!! I have the Watermelon and cream color. It look great and also performs good. It is very versital bait by all the ways you can rig them. If you are questioning this bait I suggest you get it.

From: Thomas: Texas, USA
Comments: THIS BAIT ROCKS!!!!! I have fished all kinds of soft plastic baits and this is the best. They are expensive and not very durable but i have caught a 9 lb 4 oz bass on these. Watermelon seed is the best color.

From: Hunter: Blacksburg, VA
Comments: These baits are by far the best worms ive ever used. I have fished bass for only about 8 months now and my biggest came off a senko. When the bass are hitten em, man theres nothin like it!

From: Josh: DVL, California
Comments:This is a fantastic bait. Used it yesterday in a tournament and caught three nice bass in just a few minutes. Hadn't been eating anything else and tied this on wacky style and ripped em. Thanks again Gary Yamamoto.
From:
Comments:I DO believe that these specific baits out-produce most other brands. However, they are pricey. I think it's a better idea to use these in the Winter, Spring and Fall when you really need the extra action to get bit. Otherwise, I like Dingers or Shim-E-Stiks
From:Hayden: USA
Comments:What more is there to say? These stickbaits really work. If you're not using them yet, you're probably missing out on a lot of bass.
From:Pete: MN, USA
***Note: If you have questions about this product or need assistance with an order please email your questions to info@tacklewarehouse.com
View Large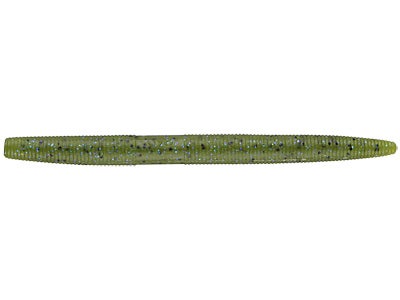 78 Available Colors