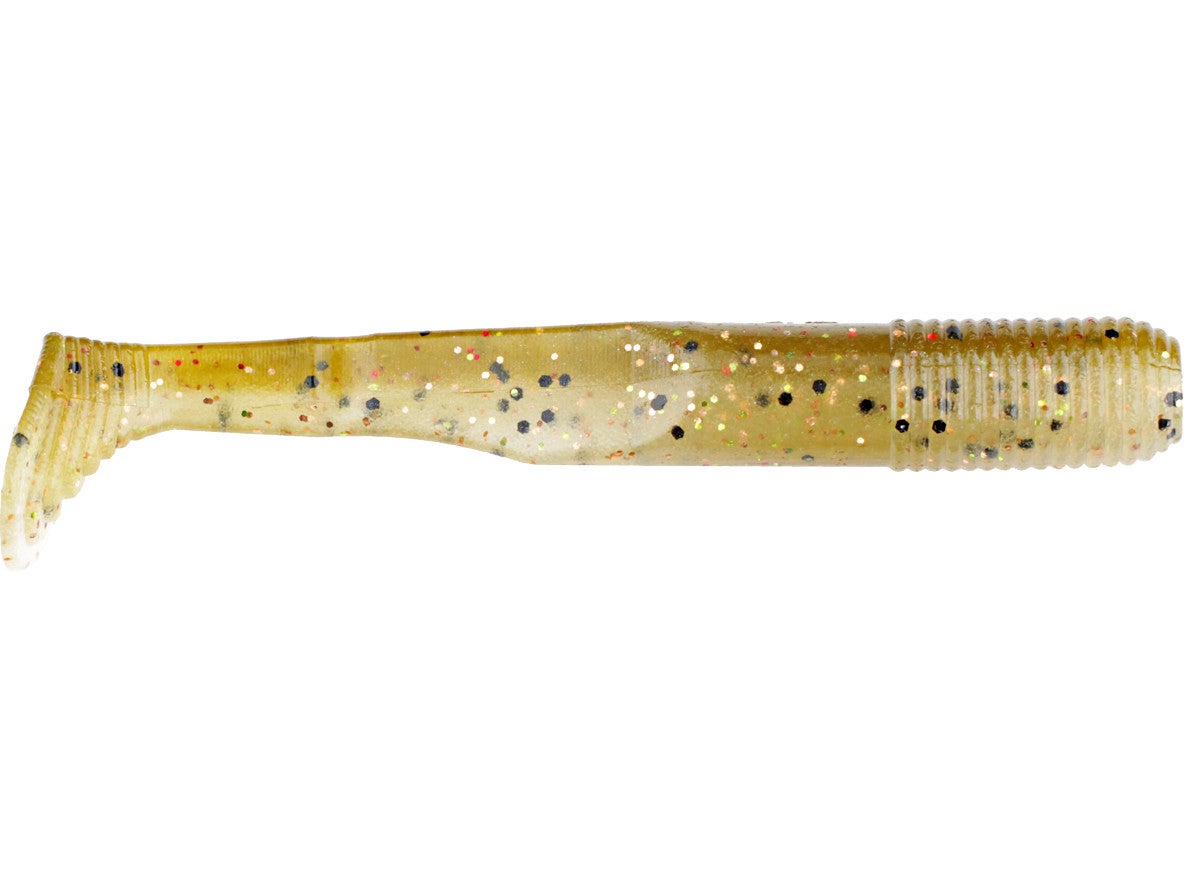 If there's been one lure that has changed the face of fishing over the years, it's the Senko. With its wide range of uses and subtle natural action, the Senko has quickly become a favorite with anglers all over the world. The beauty of the Senko is in its simplicity. The Swimming Senko brings a whole new dimension to Senko fishing. When rigged weightless, the Swimming Senko falls horizontally with a seductive side to side tail action, the tail action of the swimming senko has more vibration and movement than its brother, which can be extremely productive in stained water situations. The subtleness of the original Senko is still prevalent, but the Swimming Senko has more kick in the tail section. The Swimming Senko also works great when pitched or flipped when rigged Texas-rigged. The Yamamoto Swimming Senko is another deadly version of a proven winner.
| | |
| --- | --- |
| Length | Quantity |
| 3.5" | 7 |
| 4" | 10 |
| 4.5" | 10 |
| 5" | 10 |
| 5.5" | 7 |
28 Colors
More From Yamamoto Swimbaits
Customer Reviews
Comments: These are dynamite for suspended bass rigged on a split shot or mojo rig! Try it you will thank me later!
From: Chris King: Shepherd, MI 1/12/17
Comments: I rigged one of these on a C-rig and caught of 4 lb. largemouth on the third cast. Later, something unexpected happened. I found that fish regularly followed the bait back to the boat, then struck causing me to miss a good one. Great action, great bait.
From: Doc: Columbia, SC 2/15/15

Comments: I bought a pack of the 5" green pumpkin & red flake after seeing these discussed on numerous shows on the NBC Sports Network. I caught 3 4lb+ largemouth in less then 2 hours on these! 2 of them were open-water casts from a dock! Well worth the $7.50 I paid for them, but as others have said, they do tear easy if you get caught on vegetation/the fish strikes aggressively.

From: Scott: Washington, NJ

Comments: Reading reviews you'll often see someone mention "this works when nothing else will." Swim senkos are the closest I have to that. True, they're not cheap + tear easily. But many times they have caught fish when nothing else was even getting a tap. both sizes have worked. I just wish the pickerel didn't like them as much as the bass.

From: sb: northeast U.S.

Comments: I really really love these baits.....but DANG they are expensive!!!!!!!!!!

From: Drew: Panama City, Fl

Comments: I have used the swim senko and I loved it me and my friend tore'em up on the swim senko its awesome so go get some today you won't be disappointed!

From: Landon: Groves, TX

Comments: Great bait to flip to beds, or fan cast in anywhere! caught a nice 4lber off it today

From: Connor: Atlanta, GA

Comments: Picked up a pack for a morning trip to the lake. I just thought they looked pretty cool. I bought the Green and Red Flake an used it weightless texas rig. Second cast and I had a hit. Sadly i missed it. Next cast another bite. Didnt land that one either. Decided to use a 7' rod and finally got it. Nearly 3 lb. Pretty good for the first try. Late october trip.

From: Joseph: Thousand Oaks, CA

Comments: these baits have caught me more in fish than any other bait i throw. Rigged weightless with a 1/0 EWG hook i can skip under docks and trees and i can swim it across the surface like a subtle buzz bait. Some of my bigger fish have come just reeling back in for antoher cast and they crush it on top with that tail going crazy. Its very good when the fish are sluggish and even better when they are aggresive. Its like a super senko. Only downside is they tear easily and its hard to find the 4 inch size. I hate the 5 inch because only the tail is longer. its not proportioned correctly. Overall great bait!

From: Chris: Branchburg, NJ

Comments: Paired with an Owner 5/0, 1/8 oz Twist Lock hook, this is a virtually weedless way to fish through weeds that works where lipped or lipless crankbaits are useless. The shank weighted hook keeps it swimming true. Bass strike it with a fury in the post-spawn period.

From: Vince: Tucson, AZ

Comments: Bass go crazy for these!

From: Matt: Glen Burnie, MD

Comments: These catch fish, plain and simple.

From: Chad: Blythe, CA
Comments: great trailer for chatter baits!!!!!!!!!!!

From: Jose: Torrance, CA