Yo-Zuri Hybrid Ultra Soft Fishing Line Mist Green -
$7.99
Specifically made for spinning gear because of its supple, low-memory properties, Yo-Zuri Hybrid Ultra Soft Fishing Line still has all of the great advantages of the regular Yo-Zuri Hybrid. Other lines claim to have little memory, but one look at Hybrid Ultra Soft lying straight down off the spool and there's no room for doubt. Combing the best features of fluorocarbon and super resins, the line is extremely abrasion resistant, 100% waterproof, UV-resistant, and it has less stretch than monofilaments with superior wet knot strength. Tested to last up to 10-times longer than ordinary nylon fishing lines, the super supple Yo-Zuri Hybrid Ultra Soft with little-to-no memory delivers more accurate presentations, fewer line management issues and longer lasting performance.
| | | | | | | |
| --- | --- | --- | --- | --- | --- | --- |
| Line Diameter | 6lb | 8lb | 10lb | 12lb | 15lb | 20lb |
| Inches | .010 | .011 | .012 | .013 | .016 | .017 |
| Millimeters | .263 | .283 | .308 | .338 | .405 | .460 |
View Large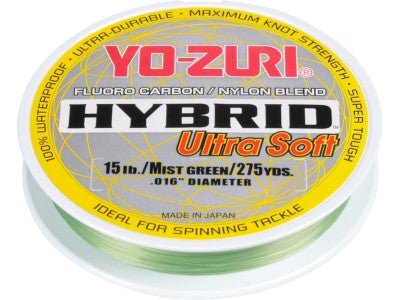 More Yo-Zuri Fishing Line
Comments: I would have to agree with Jon from Bedford. I had no break-off problems with this line when fishing around light cover, but it is not very good for jigging - too soft, abrades easily. I used 12# for crankbaits. Memory was low, but even as a crankbait line you have to test line strength often and watch for abrasion. For that reason, I would not buy again. The Yo-zuri hybrid, on the other hand, is excellent. Resists abrasion and has good strength.

From: Ed: Champaign

Comments: This is a really good line. Not sure about everyones else's negative feedback on this product. I've been using this line for two years now and have no complaints. Don't overfill your spool and check for line twist.

From: Jess: WV

Comments: This line is terrible. Snapped off some nice fish.

From: Alex: FL

Comments: got awful line don't get it

From: Dylan: FL

Comments: not sure why everyone is hating on this line. i've used the 8lb for 3 years on various spinning reels. i find it has a breaking point way beyond its rating and is very abrasive resistant. it will coil but all line does on a spinning reel. i use the KVD line conditioner the night before a tourney or a few hours before i go out and it works wonders. i would recommend.

From: Jon: Bedford, IN

Comments: nver buy this line... please for the love of god dont do it.

Comments: so bad it made me cry a little. god bless

Comments: horrible... you could use twine and it would be better... please dont get this it will make you wana punch everyone from yo-zuri in the face.

Comments: Worst line in the history of co-polomer... it loves to back lash and will not ever let you undo it. do your self a favor and dont get this abomination of a line... i got a 1# spool of 15# test and ended up putting it in the christmas bin to use to hang up decorathions... just avoid this line if you know whats good for you.

Comments: I use 15# for swim jigs. Excellent for these violent Coosa River spots and portly largemouths here in Bama. I am considering using Ultrasoft on all 10 of my Lew's setups!!

From: Angel: Calera, AL

Comments: Junk. I was a big fan on the original hybrid for deep water dragging. I gave the ultra soft a try in the ten pound for senkos on a spinning reel, but had multiple wind knots on my first outing.

From: Mike: Central, FL

Comments: tried the 8# test broke 2 fish off, I use the other hybrid on everything and thought I would try this one. I respooled my spinning reel with the orginal hybrid, tossed this one

Comments: stay away from this awful line!

From: Sticauz: Indiana

Comments: Really good line. It's breaking strength is way in excess of the rating in my experience. I routinely use 8 lb test for 10 and 6 lb test for 8 and have had no problems with break offs and always felt confident in it. Very manageable on spinning gear and durable regarding abrasion resistance. I've used this line in the green cranking for walleye and never had any line issues. Make sure you use the Ultra Soft on spinning gear. It also works well on baitcasters.

From: Ray: Carmel, NY

Comments: My father spooled a few of his reels with this line at the start of last season and I was curious as to how well it would perform. After a few months I had heard lots of good things about it from him. One trip that started with me breaking the tip off one of my only two baitcasting rods. The other rod was for flipping so I resorted to spinning tackle for most of the trip. One particular area we found that was a fairly steep bank going into 15ft of water with a few large submerged trees. I grabbed his baitcaster and tied a crankbait to toss along the side of the tree. I hooked up first cast with what I presumed was a 5lb+ smallmouth. I played the fish as hard as I could with what I thought the line coudl take. I got pulled into the trees and hung up as the fish got off. I couldn't free the lure and had to put so much straight on pressure on the line that my thumb coudl barely keep the spool from spinning before the line broke. I later found that the line I was using was the 10 lb test. I would expect a 20lb line to handle what this line did. Extremely tough line at and exceptional price point.

From: Matt: Greenfield, MA

Comments: line with one ounce weights and dragging it everywhere with no breakoffs!!! The other is on a spinning rod, 12lb test, fishing for small mouths in creeks; I can cast into any rocks or trees, or brush without being scared to tear up the line, after I hook em, I can swing 2 and 3 pounders 10 feet up the bank!!!. It is a very stiff line though. So light lures could cause problems on baitcasters.

From: Robert: Davenpott
***Note: If you have questions about this product or need assistance with an order please email your questions to info@tacklewarehouse.com