The Yo Zuri Sashimi Crank features Yo Zuri's patented wave motion and color changing technologies for a whole new level of fish attraction. The Sashimi ribs create a unique wave motion and vibration that bass can sense with their lateral lines and hone in on even in muddy or stained water. The ribs also accentuate the Sashimi Crank's color changing characteristics, accurately imitating an excited, fleeing bait fish. The bait's colors actually change with different points of view, actions, and lighting. Its large round body also helps it produce a wobbling and rolling action on the retrieve, and its durable hard plastic lip allows it to deflect off of all types of cover and structure. Available in a range of deadly color combinations, the Yo Zuri Sashimi Crank offers innovative crankbait performance.
| | | | | |
| --- | --- | --- | --- | --- |
| Yo Zuri Sashimi | Length | Weight | Depth | Class |
| Crank - Shallow | 2-3/4" | 1/2oz | 2-4ft | Floating |
| Crank - Mid | 2-3/4" | 1/2oz | 4-6ft | Floating |
| Crank - Deep | 2-3/4" | 5/8oz | 7-10ft | Floating |
View Large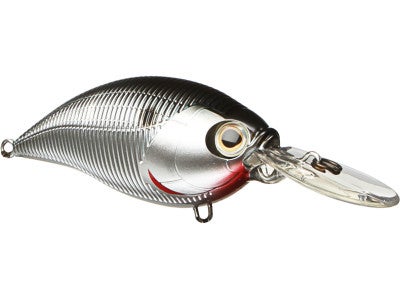 More Yo-Zuri Crankbaits
Comments: The pictures don't do these baits justice. They really do have a strong color changing difference from front to back. They have a great wobble, cast well, and are built very well. Even the split rings are high quality.
From: J: NV 9/10/14

Comments: This is a very high quality crankbait. I got both the fire tiger and gizzard shad and I love there color changing qualities.....I can tell that the fire tiger is going to catch alot of fish. They cast and swim great too with nice rattles. If you have the extra cash to this crankbait I recommend it. Next on my list is the baby bass color =)

From: Steven: Fort Knox, KY

Comments: Could'nt be more happy, The colors sold me! I got the Chameleon Bluegill!!!

From: TJ: CA Delta

***Note: If you have questions about this product or need assistance with an order please email your questions to info@tacklewarehouse.com