Yum F2 Crawbug - $4.99

Ideal for clear water and targeting finicky bass, the Yum F2 CrawBug is a finesse craw that offers an incredibly realistic profile and action. YUM F2 Ferocity Attractant is also infused into each bait during the molding process, so it constantly and consistently releases a strong, strike-inducing scent. The massive underwater enzyme release makes the F2 Crawbug 30% more attractive to fish than the competition. Available in a variety of colors, the Yum F2 CrawBug also has a hollow body so you can easily rig it in a variety of different ways.
| | |
| --- | --- |
| Length | Quantity |
| 2.5" | 10 |
| 3.25" | 8 |
Comments: I love these craws. I match them up with Don Iovino Hand Tied Starburst finesse jigs. The claws give just enough wiggle on the fall. I boated 2 6lbers and a number of large fish just yesterday on them. So don't think they are just a little fish bait. Great for throwing in high pressure fishing areas.
From: Kevin: Austin, TX 3/26/14
Comments: Had a bag of the Crawdad color around for ages, then last year decided to give them a shot. Got tons of hits and some pretty good largemouth on the 2.5" ones. Only complaint is some pickerel wanted in on the action and shredded most of them with their teeth so I need more. Will definitely experiment more with rigging them this year. A definite buy.
From: Robert: MA 3/12/14
Comments: Great bait, used it for years rigged Texas style, 1/8 oz tungsten slip sinker w/ glass bead, big Largemouth love it. Go to a 1/16 oz slip sinker when fishing rocks on Susquehanna for great Smallmouth action.
From: Mark: Middle River, MD
Comments: great bait ,I used 2.5" size on susquehenna river in shallow ultra clear water and smallmouth just crushed it . insert 1/16 jighead and jig it along the bottom ,they will absolutely smash it.

From: Radek: NY

Comments: I slay the small mouth with these. One of the rivers I fish is very shallow and crystal clear so the bass get a really really good look at this bait before they take it. I use the crawdad color on a similar colored football or stand up style jig and work it across the bottom and they can't resist. This is my go to bait all the time for small mouth in shallow clear rivers if I'm not power fishing or if I see a good spot I really want to pick apart.

From: Cameron: VA

Comments: I destroy 5+ lb bass with this plastic in the 3.25 size. When its hot and slow, high sun, put a tube head in it and head out to the depths where the weed edge breaks (12 to 15 feet). Keep it on the bottom (if it makes it there) and move it slowly with long pauses. Keep it within 10 or so feet from the weed edge if it is clearly defined. My brother puts a z hook in it and does really well shallow around lillys.

From: SkoobaSteve: MI
Comments: i have had amazing luck for everything from smallmouth bass, muskies, northern pike, largemouth bass, and not to menchen more then a few walleyes by riging them with just a wide gap worm hook and just letting the ccraw slowly float down along logs and standing timber. these are always my go to bait

From: Cody: Dayton: IA

Comments: great bait if your fishing shallow put a bobber on to keep it out of the rocks you can catch smallmouth all day

From: Jayden: IA

Comments: best bait for smallmouth

Comments: I've used these baits on a chompers stand-up jig and they really work great, and that's a fact! Get some now;you won't regret it!

From: Glenn: Indy, IN

Comments: terrible bait. i used this for about an hour and caught nothin then i switched to a 4 inch stick bait and caught a 4 lb smallmouth a few casts later do not get

From: Matt: IL

Comments: awesome bait. I rigged it with 1/8 ounce tube jig head and works awesome. cast it a mile and let it sit and slowly reel to make it crawl and every once in a while lift it up to make it look like it is trying to get away. I love this bait because of the realistic movemnt and verstility. I have caught some big 5lbs bass and the bait is still fully intact. BUY THIS BAIT!!!!!!!!!!!!!!!!!!

From: Austin: Monroe, MI

Comments: super realistic bait, great for clear h2o fishing. when the water is stained you can shove a rattle in the hollow cavity

From: John: Smallie Haven, NH

Comments: Decent smallie bait, works well when you troll slowly or drag it slowly on the bottom.

From: Bradley: Montreal, Canada

Comments: Smallmouth crack in the shape of a crawdad.

From: Alex: River Falls, WI

Comments: This is one of the most amazing baits I have ever used. I will keep these in my tacklebox. Simply cast it or flip it near weeds or structure and hold on for something special. Use heavy line and a med to heavy action rod. They are very durable. I use Gamakatsu Spring lock hooks to rig them for great action. Since using these I have caught 3lb bass regularly and my largest of the summer a nice 5lb bass. I hope you enjoy these as much as I do.

***Note: If you have questions about this product or need assistance with an order please email your questions to info@tacklewarehouse.com
View Large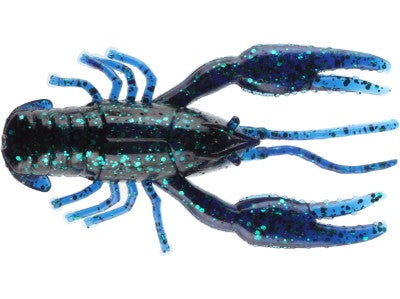 4 Available Colors
More Yum Soft Baits