Yum F2 Dinger - $4.99
The original Yum Dinger became an instant classic when it was introduced, and now the F2 Dinger takes things to a whole new level. It now features Yum's F2 Attractant infused into every bait. This highly potent formula was clinically tested by Mississippi State University, and it was shown that bass prefer it by 30% over other leading attractants. The F2 Yum Dinger catches bass no matter how it's rigged or retrieved, whether its weightless, wacky rigged, Texas-rigged, etc. - and its also available in a variety of proven colors and sizes to target a variety of conditions.
| | |
| --- | --- |
| Length | Quantity |
| 4" | 15 |
| 5" | 12 |
| 6" | 7 |
| 7" | 7 |
Comments: Holy Crap these baits work...8 bass in a pond with no structure or pattern and a cold front. wacky rigged 2/0 hook. they smash it!!!nuff said

From: Mitch: WI

Comments: Again Great bait, catches loads of fish but the quality of them are going down. getting them shaped wrong and then they wont move nice in the water

From: Dave: S.A.

Comments: I prefer these over yamamoto senkos because they are cheaper and have f 2 scent and have the same wibble wobble action

From: Bryce: orange county ca

Comments: used a yum dinger today at a slow fishing hole. caught a nice 2 pounder and got one other hit.like it better than the senko cause it's a lot tougher and the way it falls is pretty enticing to the fish.

From: Bob: Kerrville, TX

Comments: This is my fave soft stick bait.Yum should make a shad pattern.And what happened to the forked-tail dingers? I'm almost out!

From: Durt: VA

Comments: Been using these since they released them..only one problem with the new F2 dingers...were in the heck is my watermelon gold flake?? Haven't been to any impoundment in the southeast this color doesn't work! I beg of you yum bring it back I'm almost out of my stick pile!

From: Ricky: Chattanooga, TN

Comments: My favorite bait used to be the fluke. I saw these one day and had to try them. First day, everytime I casted I caught a fish but, unlike other soft baits its very durable and you can flip it around or wacky rig it. It blows flukes out of the water. Great product.

From: Hunter: Dacula, GA

Comments: Deadly lure, out performs senkos in my opinion.

From: Adam: Nassau County, NY

Comments: awesome bait caught 16 fish in two hours i was throwing everything thing i had jigs squarebills spinnerbaits picked this up weightless texas rig awesome.

From: Nick: OH

Comments: Best bait out there! Caught a 6.2 lb and a 5.5 in one day. Black and blue flake is the best

From: Andrew: IN

Comments: best bait ever!!!was fishing in a park by my house and after a slow day of fishing decided to do 1 more cast at 8:00 and BOOM!!!landed a 5 pounder in green pumpkin color!will be getting more.

From: Mike: Menomonee Falls, WI

Comments: Love Dingers! I just wish Tackle Warehouse HAD MORE COLORS!!! Please get at least a few more, I fish this bait more than almost any other bait, but only use one color TW carries. Greenpumpkin Chartreuse tail is great good.

From: Sam: WI

Comments: won big fish and came in 3rd at the junior TBF at New Johnsonville June 2nd using it on a shaky head

From: Lawson: Covington, TN

Comments: Amazing bait, works well for many different species and almost all season long. If I had to choose one bait for bass fishing it would definitively be this one!

From: Bradley: Montreal, Canada

Comments: Yum F2 Dinger=Yamamoto Senko The only thing they need to do is come up with the Watermelon Laminate Cream

Comments: These baits are awesome wacky rigged the best color is green pumpkin neon which Cajun neon is basically the same but I also have chartreuse pepper but TW doesn't carry it :(

Comments: These are our goto baits in South Africa. Problem is we have different bait fish to the US and need the old colours like Mardi Gras and Watermelon Gold. Come on Yum bring back some of the old colours in the F2 Package

From: Barry: PMB, South Africa

Comments: Best colors are the bama magic and melon pie the bass love these colors bama magic in the fall when the crawfish in the pond molting and the melon pie in the summer that what works for me also the bream color would be good to but will buy more maybe going to try out some green pumpkin later on . best rig I like to use is the wacky style 1/0 gamakatsu wicked wacky hook and a strictly bass keeper aka Twh doesn't carry them but I just ordered it off there website , I wish they would carry them thoubut they would better then an O -ring .

From: Erik: IL

Comments: I love these things. When eveybody in my club is throwing Senkos, I'm throwing Dingers and catching plenty of fish. Largies and Smallies pound these things. I haven't found a color that doesn't work. The only thing I see is they sink a touch slow than GY's Senkos. Wacky rigged, Texas, with or with out weight you can't go wrong.

Comments: dingers are great. caught my PB largemouth, 8 lbs 9 oz in ontario canada on these. the F2 stuff sounds like a gimmick to get people to keep buying the stuff, but im guna be honest it works wayyy better. i was fishing with my dad at a lake in canada and the bite slowed, and i had a YUM orginal dinger in half bama bug, and my dad was using the YUM F2 dinger in the same color and he pulled in 4 bass (4 lbs 2 oz was biggest) in 15-20 minutes and i had none.

From: Kurt: NJ

Comments: Great bait! I caught my PB with a GY Senko but these work just as good and are economical.

From: Kieran: Howell, MI

Comments: ive used ytamamto strike king and bass pros stick baits and i love the fishing style so i figured i would use yum because ive used other f2 products and im glad i did i got the junebug color and i caught 2 6lbers 1 8 and tons of 1 or 2 lbers

From: Ben

Comments: Love this bait! caught so many largemouths wacky rigging this bait with a small gamakatsu. great alternative for you senko guys cause they work just as well, have great action, and are a lot less expensive! i promise these wont let ya down.

From: Bass Nightmare: OH

Comments: these are an awesome alternative to senkos and in my opinion a bit better the senkos can get very costly

From: Candlewood, CT

Comments: very very good i love the dinger texas rigged

From: Charlie: Kansas City, MO
***Note: If you have questions about this product or need assistance with an order please email your questions to info@tacklewarehouse.com
View Large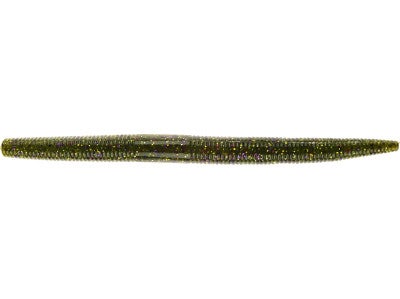 17 Available Colors