Yum F2 Shakalicious Worm 8pk - $4.99
A finesse fishing dream - the Yum F2 Shakalicious Worm features a small-diameter ringed, tapered body with soft plastic tentacles forming a sort of skirt at the top of the worm. Rig it on a round ball head jig and you get the best of both worlds - the action of a finesse worm and the bulk of a small jig. Its also loaded with Yum's F2 Attractant. This highly potent formula was clinically tested by Mississippi State University, and it was shown that bass prefer it by 30% over other leading attractants. Available in multiple colors, the Yum F2 Shakalicious Worm is a great choice for clear water and tough fishing conditions.
Comments: Sick bait! Caught a 5lb Bass up at the Delta on this worm in watermelon red flake, rigged on an Owner shaky head on 6lb test. Im sold!!!

From: Ricky: Los Angeles, CA

Comments: this thing is awesome.. what i did was tore of the skirt part and used it to drop shot and caught a lot of bass doing that. i got watermelon red fleck,,, beast color

Comments: this lure is a fantastic for a shakeyhead. The skirt up front does a great job of hiding the lead head and adding action. If the skirt doesnt work dor you, you can always pull it off. the tail is very thin and quivers exceptionally. it doesnt last long but you can tell that just by looking at it.

Comments: This bait is an awesome finesse presentation. Rig them upside down for an awesome flair affect. Worms are super skinny so they don't hold up for more than 1 fish, but the action makes them well worth it.

From: Erik: Tucson, AZ
***Note: If you have questions about this product or need assistance with an order please email your questions to info@tacklewarehouse.com
View Large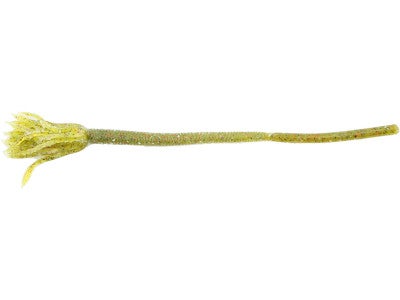 10 Available Colors