Yum F2 Spray Attractant 8 fl oz.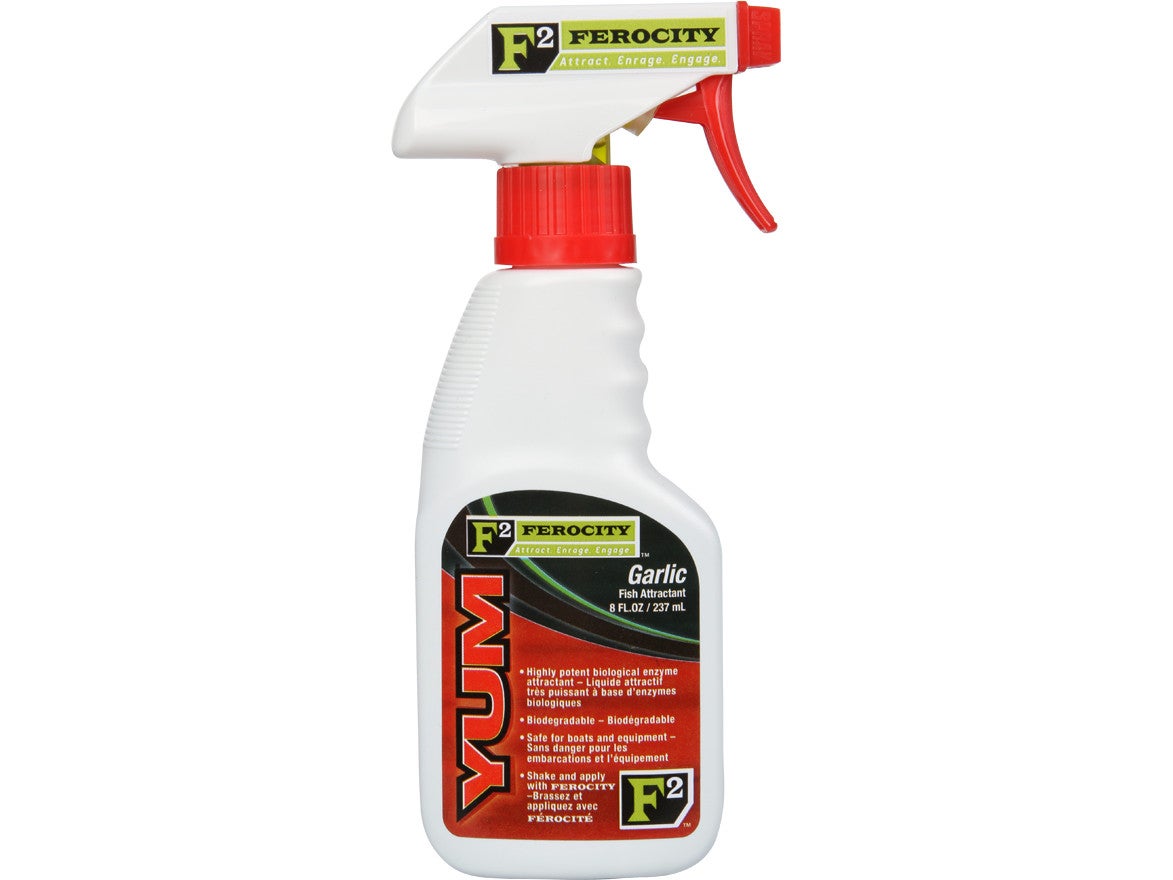 Independently tested by Mississippi State University to be more than 30% more effective than other leading attractants, Yum F2 Spray is an all natural, highly concentrated attractant available in several potent flavors. Its big 8-oz spray bottle also helps you cover only your baits with scents, not your hands, boat and everything else. Attract. Enrage. Engage. Yum's F2 (Ferocity Squared) Spray is one of the most effective attractants on the market.
Place Your Order
More From Yum Scents
Customer Reviews
Comments: I used the F2 for years and I have to say is a good spray, just a few squeezes on each end of the soft plastic and watch the magic happen.
From: Joseph: FL 4/7/16

Comments: Yum F2 works.I have been using Bang for years with what i thought was good results.I just started using Yum F2 recently and am very impressed.Catching 4 to 1 over bang.

From: Kevin: yorba linda,ca,usa

Comments: I had tested the precedent Yum attractant with no more success than using nothing on my lures. But I have to recognize that this F2 spray is really effective when the nite is slow or the fish are finicky. Bass and walleye react very well on that stuff !! Try it !

From: France

Comments: If they make something better I would buy it, but they don't, tested it myself and had others in my boat and I have made belivers out of them. I use it on all my lures and it does make a difference.

From: Vince: Jamestown, TN

Comments: Dude I totally believe in this stuff. Too many times I have sprayed some on, cast and got hit right away. Awesome if you have to deadstick your bait.

From: Meatwad: Stankonia

Comments: the first time i sprayed it on my lure i caught a fish on my first cast its the best fish attractant ever and it helps you get more fish in the boat when you need it

From: Greg: Mission Viejo, CA

Comments: frogs are weedless,easy, and productive,but they have hook up problems. many people think it's the frog, but it's the bass. when you're in heavy cover, you have only 2 seconds to set the hook before the fish dives into logs or lillies. you miss some, because they don't take the frog in. with F2 spray, you will get more bites and they will try to eat the frog, no matter how big! this attractant isn't smelly,sticky,thick, or staining. it is clear, and it is one of the best scents available.

From: Alex: Port Barre, LA

Comments: This stuff will help you have the fish hit hard and hold on much longer to your baits , I was fishing a 4" yum f2 dinger in bama magic sprayed the crawfish scent on it and the bass won't let go he killed it . Using the crawfish scent mostly because in my pond I have alot of crawfish in it .

From: Erik: IL