Yum Money Minnow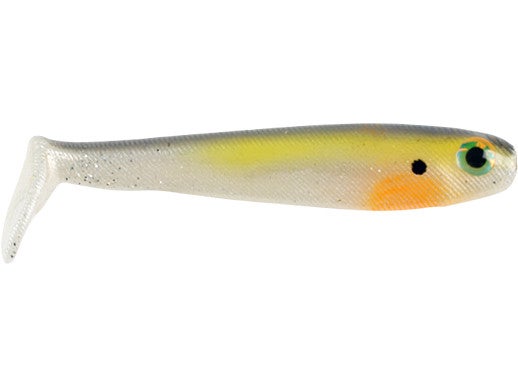 The Yum Money Minnow is becoming the go-to bait of serious bass fisherman across the country. The Money Minnow is an extremely versatile bait. You can fish the Yum Money Minnow through heavy cover, over grass, in open water and the Money Minnow is an awesome choice for fish suspended under free floating as well as pillared docks.
Tapering from a broad head section down to a thin tail section the Money Minnow has a natural swimming action that will be sure to attract bites from hesitant bass. This swimbait features a belly slit covered in a thin layer of plastic that adds buoyancy making the money minnow ideal for slow retrieves. Most anglers prefer to rig this bait on a weighted super line extra wide gap 4/0 to 6/0 hook and swim it back to the boat. Don't be afraid to experiment with this bait. Flip it or pitch it to heavy cover or rig the Money Minnow behind an under-spin or carolina rig.
| | |
| --- | --- |
| Length | Quantity |
| 2.5" | 8 |
| 3.5" | 5 |
| 5" | 4 |
| 6.5" | 3 |
10 Colors
More From Yum Swimbaits
Customer Reviews
Comments: I use the 5 inch size baits on the dirty jigs swim jigs as a trailer and catches big fish. It has a good all around size & helps give the jig good action.
From: Brendon: USA 9/5/16
Comments: Saw them on sale for $.68 where I live so I picked up 3 packs to try them out. The 5" pearl color has been smashing them lately. Even the small ones are choking it down. Caught around 15 at a local pond just throwing this on a 7/0 savage gear weighted hook, slow rolling it down the bank at a 45 degree angle. Only used two the whole time. The first one got the tail nearly ripped off so I had to use a second because it wasn't swimming right. Definitely works.
From: Chris: Forth Worth, TX 5/2/16

Comments: Started rigging these on swimbait jig heads & have yet to have an issue with bad hook ups & baits being thrown. this bait also skips very well.
From: Bryan: NC 11/22/15
Comments: Great swim-jig trailers! I only fish the DirtyJigs Cali swim jig and these are a great trailer and really make the jig rock back and forth to eliminate the need for shaking the rod! Durable bait especially when a Northern hits it, nothing a little glue can't fix, great product. Have tried other swim jig trailers but none of them produce the action of the Money Minnow!
From: Patrick: WI 5/5/14
Comments: Caught a 17 pound striped bass on the 5 inch pearl chartcheuse in the ca delta fishng for largemouths. This swimbait hits!!!!

From: Steven: san francisco, ca

Comments: I would have to agree with everyone claiming that these are great baits. I target redfish and speckled trout, and they love em!!! My only compaint, unlike others, is that they do not hold up very well. a few hits and they are destroyed. That is my experience with them. Always have several packs on the boat!!!

From: Robert: Harlingen, Texas

Comments: This is the best soft plastic swim bait I have tried so far they are very durable as one has lasted me 15 fish.The bait I was using was a 3.5 inch pearl with a 3 oct size gama weighted hook 1/8 oz don't expect to cast this into the middle of the lake and expect bites.Remember bass are ambush predators these baits are weedless so throw them around cover such as logs and isolated hydrilla with a slow retrieve works best.Really good cold front bait as I've caught fish in 50 degree air temp.

From: Antonio: Gaithersburg,MD

Comments: These things are deadly on redfish in the Louisiana marsh and its flats...tennesee shad and hitch work wonderfully. Looks alot like a mullet fingerling.

From: John: Mandeville, La., USA

Comments: These are great baits. I have only used the 3.5" version in Foxy Shad and Hitch but every time I use them I catch fish. They are surprisingly durable as well. I Picked up two more packages today. Very nice product YUM!

From: Jeff: Hot Springs, AR

Comments: caught my biggest bass on this in pearl black on lake oconee

Comments: great bait

From: Koty: Cedar Rapids, IA

Comments: Best Swimbait Period!! Big daddy loves it Bluegll is my favorite

From: Tyler: GA

Comments: this bait is a pretty great bait!!! No tellin how many bass ive caught off of these things!! good job YUM!!

From: Bill: USA

Comments: This bait continues to blow my mind away.

From: Joe: Tucson, AZ
Comments: great lure i like the bluegill color best but i like to dye the tail portion chartreuse with spike it i have gotten alot more strike with the chartreuse tipped tail

From: Nick
Comments:I've caught over 7 bass on a foxy shad color and 4 pike on a clown color multiply those #s by 4 and thats a lot of fish for the money.
From: Wisconsin, USA
Comments:First time to use a swimbait and caught a 9.60lb bass on the pearl/chart minnow. Great action and produces as well. I won't waste my time trying to hunt down basstrix anymore.
From:Randy: San Angelo, TX