Yum Yumbrella Flash Mob Jr. - $12.99
Please Note: Baits and Jigheads not included.
The Yumbrella Flash Mob Jr. is a compact, flashy, finesse-style umbrella rig equipped with four spinnerbait blades to help it further simulate a small school of baitfish. The little brother of the Yumbrella Flash Mob, it has all same the same great features - just with a smaller profile. Equipped with five super-strong, heat-treated stainless steel wires to ensure strength and flexibility, the Flash Mob Jr. also features high quality super strong snaps and swivels to ensure flawless performance when hooking multiple fish at the same time.
The Yumbrella Flash Mob Jr. is available with your choice of willow or Colorado blades. Willow blades offer increased flash with limited vibration, and are great for clearer water conditions. The Colorado blades on the other hand put off increased vibration, and are ideal for dirty and stained water conditions when bass rely more on their lateral line to hone in on prey. Perfect for targeting suspended bass, as well as other gamefish feeding on baitfish, you can rig the Yumbrella Flash Mob Jr. with a variety of lures, including soft plastic swim-baits, grubs, jig heads, etc. Multiple hook ups are always possibility, so hold on tight.
Length: 5.5" (tip of head to end of middle wire)
**Don't forget to check your State's fish and game rules and regulations - a fully rigged Yum Ultralight Flash Mob Jr. Rig is illegal in some States.
Comments: Recently fished a 2 day tournament on Table Rock Lake, Missouri and landed several fish over 4 lbs including one 6 pounder with no issues with the snaps as others have described. It was our money bait, finished 2nd overall and every fish we weighed in was caught on this bait. I threw this thing for 6 days straight on that trip and caught about 60 fish without an issue. Ordered more!
From: Mike: Grand Rapids, MI 4/12/14
Comments: these are awesome I have caught so many bass on these things and have had absolutely no problems with snaps or wires breaking.I'm deffinently buying more!
From: Denver: DeRidder, LA
Comments: I haven't had any of the issues others have talked about with this rig. Works well for me, did have one of the wires finally break after lots of use and catching....probably fatigued from being bent back into place too many times. I'm still not sure how you straighten a 45lb snap out but then I only fish these on 20-30lb braid and a 10ft leader of 20lb mono. I guess if you're using 65-80lb braid you can pretty much straighten any hook out. I'm fishing bass, not tuna, groupers, or amberjacks in the Gulf, so I won't be needing the 65-80lb braid.

From: William: LB Ca USA

Comments: great rig have caught 9 bass from 3-5 ibs did have one of the snaps break at the swivel but otherwise it has held up well works well with small swim baits and light hooks and weight

From: Glenn: jackson MI USA

Comments: Bought a few of the newer ones and the new design that attaches the blades to the arms totally sucks..really disapointed in YUM for not just sticking to the original design with the tiny crimps. On the new ones the blades sometimes bind up and don't trail straight back like they should. Also I think their new source for their willow blades is sub-par because they seemed to tarnish real quick.. All YUM had to do was keep it the same or just use better snaps.

From: Ceasar: So Cal

Comments: Great rig, pulled in a few @ Quachita (ultra clear water) in mid-Feb. Thanks for the other posts, swapped the snaps out before using, otherwise it is made very well.

From: Bailey: Beebe, AR

Comments: Lost two big largemouth in a tournament on Lake Amistad due to the snaps failing. Replaced them with stronger snaps and didn't have any more problems. Looks awesome in the water.

From: Tony: Mont Belvieu, TX

Comments: these could use stronger snaps, but I would give them a high grade. I caught several big rockfish(stripers) the biggest was 15 lbs and it held up well.

From: Dave: Columbia, MD

***Note: If you have questions about this product or need assistance with an order please email your questions to info@tacklewarehouse.com
Color:
Willow
View Large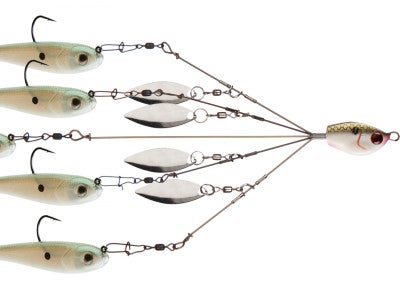 1 Available Colors
More Yum Swimbaits