Z Man Crawdadz 6pk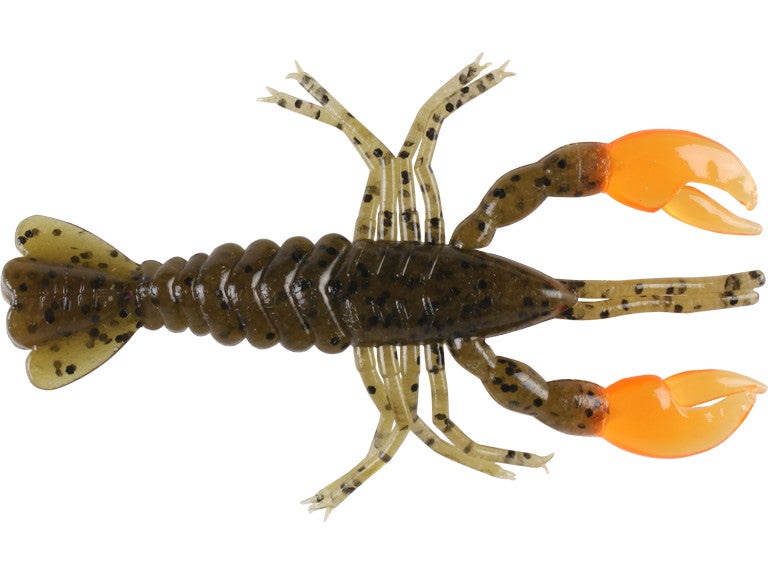 The Z Man Crawdadz deliver an incredibly realistic crawdad imitation, complete with an anatomically correct profile and appendages. The Z Man Crawdadz are also made from Elaztech soft plastic, which provides a life-like action, natural buoyancy and unmatched durability. Elaztech baits not only look great but they are also up to 10X tougher than other plastics. They resist nicks, cuts and tears, and that means you're likely to catch a lot more fish an Elaztech bait before having to replace it. Available in a variety of proven colors, the Z Man Crawdadz are a great choice on a shakey head or as a jig trailer.
For some On the Water Pro Tipz from Bassmaster Elite Series pro, David Walker on fishing the Z-Man CrawdadZ - click on the Product Video icon below the main image.
8 Colors
More From Z Man Craws
Customer Reviews
Comments: The BEST Craw on the market - the buoyancy keeps the claws up, where they should be. These last way longer due to the material & look more realistic. Not sure why people complain that you can't store them with other soft plastics? Who cares, keep them in their package.
From: Matthew: Fox Lake, WI 8/5/16

Comments: fished these baits in the salt, kelp and jetty. amazing baits. pain in the butt to rig. I use a keep spring. rigg them weedless and bounce them down the slope on the breakwall at dusk. Bass and rockfish SLAM them hard!
dead-stick them in the kelp, add some scent to it, and watch the rod load up. Cabezon seem to really target these especially. Brown w orange claws is my go too.
From: RC: Venice, CA 12/20/14

Comments: Best craw on the market, a true game changer. They stand up giving enticing action, very durable, and good hookup ratio! Try these baits and you'll understand why Z-man is the best
From: Jacob: 4/30/14
Comments: loved these thing punch them with a 1/2 oz bullet weight and bass kill them btu i put them in a hard tackle case because the bag ripped and when i got them out on the water they melted into the box and ruined the box

From: Dillon: central pennsylvania

Comments: I love these things. VERY soft, and that causes some issues getting them to stay on the hook. I use trailer keepers bait hitch and these things will last forever. Wish there were more colors. They do last forever if you can get them to stay on your hook.

From: Peter: Cleveland, Ohio

Comments: One of the best lures i have ever used! black/blue is my go to bait.1/4oz. jig head and your set. fish weeds or bounce it off rock points.

From: Greg
Comments: These things look good but i hate the elaztech which can be annoying cause you can't put them with other soft plastics or they will melt

From: Brandan: USA

Comments: High buoyancy, very very soft and stretchy, long lasting... Wow ! This has been the lure of the year for my shaky or texas applications...They outfished my other "go to baits" for several times. And you can unrig them and put them back to the pack like they were new !!! I caught a 36" pike with one, and after have change the hook which was bent, I rigged it back on the new hook and fished with it for the rest of the day...!!

From: Fab: France