Z Man Original Chatterbait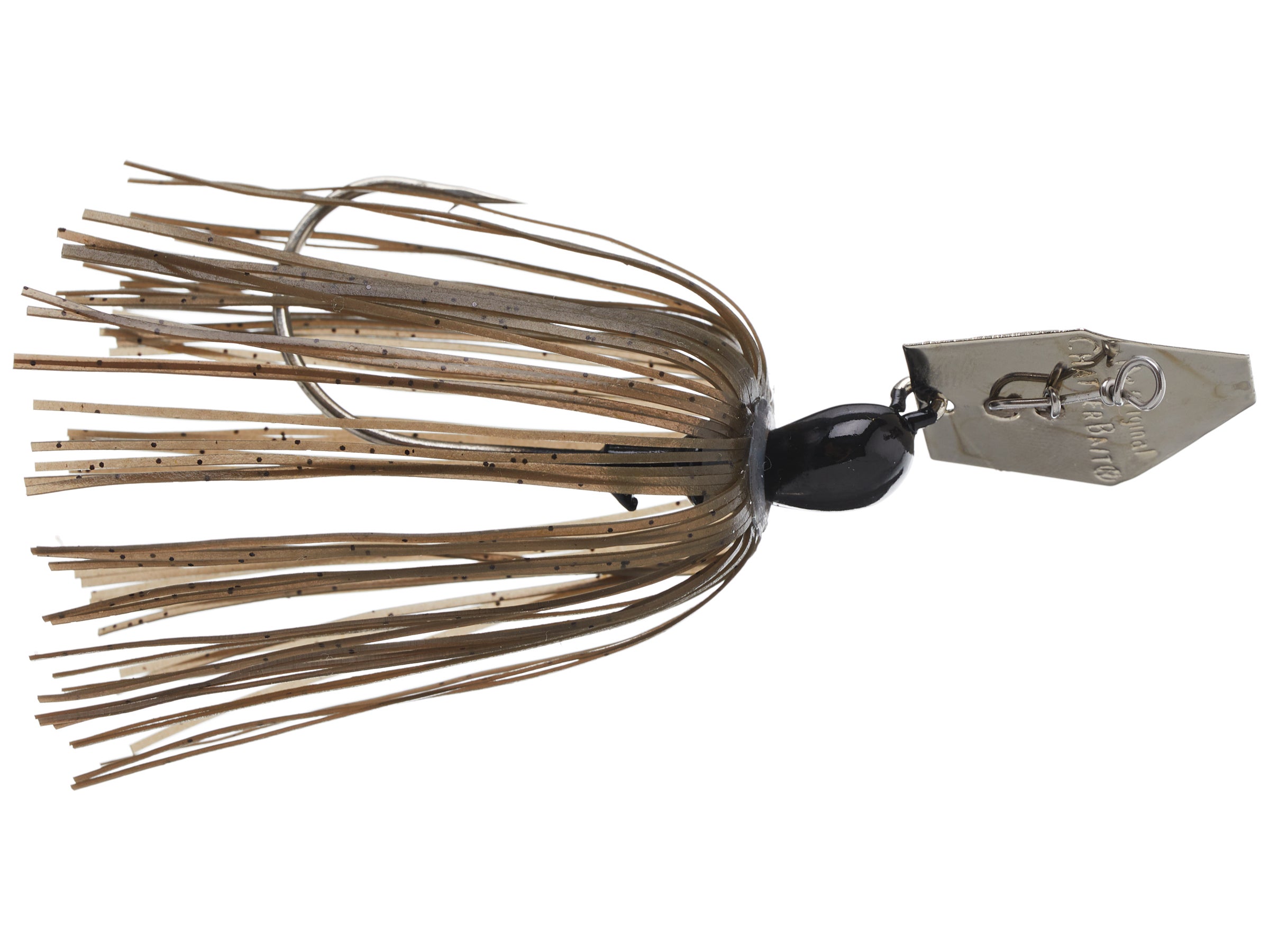 Perch & Sexy Shad are a Tackle Warehouse Special Run Colors!
This is the original bait that started it all! The Z Man Chatterbait combines the flash of a spinnerbait, the vibration of a crankbait and the snag resistance of a jig. The patent-pending blade design creates an intense vibrating action, which is the key to this incredible bait and the reason it consistently entices explosive reaction bites. The Z Man Chatterbait is also extremely weedless because the hook always remains in an upright position. This allows you to put the bait in heavy cover where fish live.
The Z Man Chatterbait is a versatile weapon. It can be worked shallow or deep, and in a variety of different ways. Remove the skirt and trailer and try a soft plastic jerkbait. This combination works great on schooling fish. When fish are holding close to the bottom, try adding a spider jig or creature bait. Hop, bounce and swim this bait around deep cover for a vibrating, deep water assault.
The Z-Man Original Chatterbait is quickly becoming a must-have in every pro's tackle box. It is the beginning of a whole new bait genre and not just another fad lure.
For some On the Water Pro Tipz from Bassmaster Elite Series pro, Stephen Browning on fishing the Z-Man Original Chatterbait - click on the Product Video icon below main image.

Z Man Chatterbait Replacement Skirts
29 Colors
More From Z Man Jigs
Customer Reviews
Comments: Went out to a pond after a warm front moved in during winter and wasn't getting a thing. Tied this on and ended up catching 4 bass at least 4 pounds each. This bait provides a good flash and a hard thumping action in the water. Don't underestimate it for crappie either, as I have caught some monster slabs on it.
From: Jeremy: Dallas, TX 1/10/17
Comments: First time ever using one of these. I had in mine in the chartreuse color with a trailer hook. I decided to throw it on after the soft plastic bait died down. The very first cast I hooked my biggest bass ever. It was 5+ (didn't have a scale) it help up perfectly I now love these baits.
From: Zane: WV 6/7/16

Comments: Caught 20 lbs five fish stringer on this, bait I got 10 bites put 9 in the boat. Spinnerbaits get. More bites but by no way put solid fish in numbers in the boat.
From: Phillip: TX 4/3/16

Comments: love every type of the chatterbait from Zman. Even though the original dosent have a keeper for the skirt or trailer, it catches fish. I've caught my biggest bass in a pond, (7.6lb) on a Zman chartreuse original. Didn't bend the the hook, snap didn't open, I've caught 17 bass in 3 days in my pond & still don't need to sharpen the hook. Love these things. Started with 1 & I now own 12 Zman chatterbaits. All different series.
From: Brandon: NC 1/27/16

Comments: These are great lures, they straight up Catch fish. I bought 3 more of these in different colors I didn't have already & every single one that I had a fish on last weekend I lost because the blade came right off the jig.
From: Cody: Charleston, WV 8/17/15

Comments: really like this chatterbait.its been helping me catch some pretty heavy fish lately. Been using just a lil paddle tail swim bait as a trailer and it's been producing fish for me.
From: Zach: TX 5/16/15

Comments: I catch more big bass each year on this bait than any others. I like to stick to white, green pumpkin, and black and blue you can't go wrong with those three colors. I would also add a different trailer because there is many better ones out there than the one it comes with. Since I added my "secret trailer" I have been getting double the bites I usually would and my hook- up ratio is 100 percent plus the choke the bait.
From: Zach: KY 10/27/14

Comments: This is a great bait- get you some- sharpen up the hook- try different type trailers-great action and lots of big bites !!
From: Johnnie: KY 6/22/14

Comments: I've tried other brands. I came back to these because, well, they work. Yes, sharpen the hook, modify it to hold your trailer, replace the snap, heck, add a new skirt.
From: Jay6: USA 6/13/14

Comments: Got a 3.5 pounder the first time i used it and a 6.5 the next day, and 6.5 is a very nice bass in CT. Haven't had and problems with the snap or the hook, but then again i haven't had it for long. Green pumpkin is the way to go.
From: Jake: Amston, CT 6/7/14

Comments: I have never tried any other blade bait and I there is no reason to. I have landed many pike and bass with these lures with NO problems. match it with an arkie twin tail grub and you're good to go
From: Nick: Lake St. Clair, MI 5/1/14
Comments: The cheap "skirts" keep falling off on these, I can't keep a trailer on without a keeper, the hook dulls, and the snap occasionally comes unbuttoned as well.
From: Frustrated Consumer: OK 3/19/14
Comments: I don't know if Z Man reads these reviews but they should. The hooks and snaps on these baits are AWFUL. I do feel the Z Man chatterbaits have better action than other brands but that's almost completely negated by the fact I have zero confidence in landing quality fish on them. Sure, you will bring in a couple but virtually every one I've owned has ended its life shortly with a bent/broken snap. With as many of these things that Z Man has sold and now especially with Hite winning the opening Elite series tourney with one there is simply no excuse for this poor quality.
From: Hydrilla: Lake Seminole, FL 3/17/14