Z Man Original Chatterbait - $4.99
Perch & Sexy Shad are a Tackle Warehouse Special Run Colors!
This is the original bait that started it all! The Z Man Chatterbait combines the flash of a spinnerbait, the vibration of a crankbait and the snag resistance of a jig. The patent-pending blade design creates an intense vibrating action, which is the key to this incredible bait and the reason it consistently entices explosive reaction bites. The Z Man Chatterbait is also extremely weedless because the hook always remains in an upright position. This allows you to put the bait in heavy cover where fish live.
The Z Man Chatterbait is a versatile weapon. It can be worked shallow or deep, and in a variety of different ways. Remove the skirt and trailer and try a soft plastic jerkbait. This combination works great on schooling fish. When fish are holding close to the bottom, try adding a spider jig or creature bait. Hop, bounce and swim this bait around deep cover for a vibrating, deep water assault.
The Z-Man Original Chatterbait is quickly becoming a must-have in every pro's tackle box. It is the beginning of a whole new bait genre and not just another fad lure.
For some On the Water Pro Tipz from Bassmaster Elite Series pro, Stephen Browning on fishing the Z-Man Original Chatterbait - click on the Product Video icon below main image.

Z Man Chatterbait Replacement Skirts
Comments: You get what you pay for with these. But when there mass produced over seas what can you expect. Save your money and get a quality chatterbait like D&M.
From: Bryson: WV 9/12/14

Comments: This is a great bait- get you some- sharpen up the hook- try different type trailers-great action and lots of big bites !!
From: Johnnie: KY 6/22/14

Comments: I've tried other brands. I came back to these because, well, they work. Yes, sharpen the hook, modify it to hold your trailer, replace the snap, heck, add a new skirt.
From: Jay6: USA 6/13/14

Comments: Got a 3.5 pounder the first time i used it and a 6.5 the next day, and 6.5 is a very nice bass in CT. Haven't had and problems with the snap or the hook, but then again i haven't had it for long. Green pumpkin is the way to go.
From: Jake: Amston, CT 6/7/14

Comments: I have never tried any other blade bait and I there is no reason to. I have landed many pike and bass with these lures with NO problems. match it with an arkie twin tail grub and you're good to go
From: Nick: Lake St. Clair, MI 5/1/14
Comments: A Phenix will blitz one of these any day of the week. The cheap "skirts" keep falling off on these, I can't keep a trailer on without a keeper, the hook dulls, and the snap occasionally comes unbuttoned as well. Basically the same chatterbaits, but the components on these absolutely suck when compared to the Phenix version. If you still have any Phenix chatters, hold onto them, as they'll only increase in value as the market gets inundated with cheap, poorly-manufactured baits.
From: Frustrated Consumer: OK 3/19/14
Comments: I don't know if Z Man reads these reviews but they should. The hooks and snaps on these baits are AWFUL. I do feel the Z Man chatterbaits have better action than other brands but that's almost completely negated by the fact I have zero confidence in landing quality fish on them. Sure, you will bring in a couple but virtually every one I've owned has ended its life shortly with a bent/broken snap. With as many of these things that Z Man has sold and now especially with Hite winning the opening Elite series tourney with one there is simply no excuse for this poor quality.
From: Hydrilla: Lake Seminole, FL 3/17/14
Comments: Bad Shad with a juvy bass vibragrub trailer is hard to beat for smallmouth and river largemouth around structure. Great bait.

From: Tony: NY

Comments: Great bait! I hammer the smallmouth with this thing. Great action, puts out a ton of vibration, which works well when fishing muddy river water. White/Chartreuse and plain white work the best for me. I throw them on a crank bait rod, because the do have quite a bit of resistance and the lower gears on my Lews BB1 really does a nice job with them. Get some, they catch fish!

From: Keegan: Iowa

Comments: Throw an evolve vibra grub on the back of one of these and you have an unreal combination for putting out vibration and looking like bait. These are deadly alone also. 5/5

From: Cory: MN

Comments: Caught a 6,5,and a 4 pounder tonight in a California craw color with a hand poured crawdad trailer. Very sharp hooks and aot of vibration

From: Austin: WV

Comments: ummm...its good for predator fish...and it is 5 stars chatterbait. : )

From: Zul: Brunei

Comments: Only problems I have had are the swivels snapping or coming undone. other than that I have never lost a fish due to "poor hooks" and have caught fisdh up to 12lbs (catfish haha)

From: Jack: norcal

Comments: I had my first experience with this bait today, i was fishing another brand of chatterbait with great results until a bad break from a 4lb.bass left me with the "original". my strikes went down, hook ups went down, and no bait keeper made for a frustrating morning.

From: D: NC

Comments: I never really quite understood why so many people were knocking on this bait. I have fished many chatterbaits and this one is rock solid. My only gripe is that it doesn't have a trailer keeper. The skirt holds up to multiple fish and the hook out of the package is sharp, maybe not sticky gamakastu sharp but it does the job just fine. The only chatterbaits better than this one is the nutech lures crazy jig check them out. Tight lines

From: CJ: PA

Comments: Good baits, caught a 7 pounder on one this last weekend held up just fine. Have caught multiple fish on this.

From: Clint: Wichita, KS

Comments: sweet loved and enjoy z mans chatter bait. I modify with my preference and I love them. Thanks guys

From: Duke: Riverside, CA

Comments: they catch fish and work great. The hook isn't the greatest but i still get good hook ups with it.

From: Clay: Iowa

Comments: Who ever says these baits suck dont know to much so many different color options and styles they are great

From: Cody: Oneida Lake

Comments: Vey cheaply made bait, hook is terrible. While all hooks need shapening from time to time, you think "Z-Man" baits could have tried at the factory. Snap stinks. If I want I'll set a hook through a brick wall but really you shouldn't have to. Don't listen to these other clowns talkin about 'nancies" and "man up". try pay up and get a decent product. D&M makes a great vibrating jig and even the Booyah boogee bait is better.

From: Will: Waltham, MA

Comments: The best blade jig bait. I agree with meatwad sharp the and man up. Use a stiff rod and braid. Also have never had a problem with the snap. This is the best bladed jig I have ever used and I have fished a ton. Also my biggest is 6lb

From: Ryan: Chitown, IL Merica

Comments: I love this bait! I fished my first tournament a few weeks ago, and after not having a hit the first three hours I decided to run out and fish scattered lily pads. This bait was the only thing that worked and I won by over 9 lbs! As for the hook, SWING HARDER.

From: Mike: TX

Comments: You ladies need to man up. I have been fishing these since they were hard to get. Yeah, the hook sucks. Pull up your skirt, Nancy, and sharpen it. The snap opens, you say? NEVER has happened to me, but I do ALWAYS look at my bait every minute or two, you know, just being a good angler and checking his presentation. So if you did this, you would catch an open snap, and fix it. Ive fished many copy cats and they just dont compare. Keep hating on this, and I will just keep on being a better bladed jig fisherman than you. I have gone thru at least 40 of these, catching fish up to 6, so I just don't see some of your gripes y'all have.

From: Meatwad: sick of Nancies

Comments: This is a great bait that will get you big bites but Z-Man seriously has to do something about their crappy hooks. Thats the only complaint I have about it but its a big enough deal that I will buy other brands with better hooks, they are that bad. I use J-Wills Rocker.

From: Cory: Midwest, USA

Comments: flat out Sucks! Phenix rules i wish there was some way to rise up and stick it to the z-man so they could let phenix produce their quality product and put this peice of junk to shame...JUNK!

From: Todd: Akron, Ohio

Comments: This bait catches em! They make a day on Champlain lots of fun!

From: Nick: Colchester, VT

Comments: Cheap hook and the skirt fell off the second time using it, actually bent the hook out of shape too easily. Had great vibrating action but not worth 5 bucks.

From: Zach: IN

Comments: Email Address/Contact Info:Best Blade on the market. Used all Different kinds and homeade one and cant get one to bang like this. Just needs sharper hooks buit i use a stiff rod and have no issues.

From: Kyle: OH

Comments: This is a good looking bait and does get bites BUT the hook sucks so bad you can't get a quality hookset. I shouldn't have to add a trailer hook too a five dollar bait. Never the less I do always use a trailer hook in tournaments. But I don't like to rely on it souly as the connection between bait-fish. I would buy a box full of these if the hook was gamy or trokar status.

From: Jonathon: TN

Comments: I'll start by saying I'm a chatterbait fishing fool, always got it tied on and throw whenever I can. I think Z-man's patent on this is complete bs and it's the only reason they can still get away with selling these. But the design works, best blade shape and you need the blade attached to the head like this to get the right action. You can still find the Phenix Vibrator Jig online but it's not much better and has kind of a finesse hook on it. I started making my own with an owner hook and quality skirt. You should do the same or find someone to make em for you, this is really the only bait worth doing this for. Buy the Phenix replacement blades on here, they're the same size and shape and have better finishes. I'll add that their pro series is a little bit better, still poor quality though.

From: VA
Comments: These are garbage. Bring back the Revenge Viberator! I hop someone holds the patent for the jig or that silly twin-tail trailer and sues Z Man. Don't sue the competition and monopolize the market with low-quality product.

From: Steez: CA

Comments: ok the skirts falls back on hook when u skip it i had to glue skirt on after that it was fine

Comments: i'm just like everyone else here.. i hate the puny hooks they put on these, but the original chatterbait has the best blades.. so i pour my own on a 5/8ths round head and put these blades on them.. these spots here in bama can;t stand it!!!

From: Jared: Pell City, AL

Comments: Hooks are garbage, and the snap ring is useless. A couple of tiny MI bass will have it bent up. I've had them come completely undone after a 3 pounder bites. Luckily haven't lost any, but it's a scary sight to see your snap hanging on by a thread. Skirts are okay, but there isn't much holding them on. Sometimes just pulling the bait thru cover makes it slide down. There's no bait holder for a trailer either, which is a major selling point for other brands. They catch fish, but there are much higher quality vibrating jigs out there.

From: Marc: MI

Comments: My Go to lure haven't caught any pigs on it yet but it catches them

Comments: they rust way to easy but other then that great bait

From: Shawn

Comments: I wish they would put a better hook on this bait. For five bucks you would expect that. The skirt leaves a lot to be desired also. They will catch fish though and I have had no problems with the action.

From: J: AL

Comments: I love this bait so much I caught a six and half pounder and two other five pounders on it. I have the black and blue color.

From: Coleton

Comments: The bait works great but the hook is terrible. Every bait you buy has a different type hook and most are so dull, the will not penetrate anything. I ordered 10 of them and only about 2 of them are water ready. Zman sues everyone that tries to make one with a quality hook like fisherman want. Zman should be embarrassed of the quality of their bait. I am done buying them until they make one with a reliable hook

From: Brady: TX

Comments: From the first cast and the vibration told me that this was a bass catching machine! Many 5lbs and many larger bass 9.6lbs on this awesome bait. ANYONE who doesn't like it, has no clue how to fish it! I don't recall not getting a violent strike that nearly ripped the rod from my hands. And I never had to sharpen a hook on any of these baits. I did find that other competitors copy of this bait, had a hard time keeping them from rising to the surface. And why fish a cheap copy when you can fish the original Z-Man Chatterbait. I fish them with a 7" shaky worm. They add more action that the split tail that comes with it.

From: Kerry: Memphis, MO

Comments: Nearly all of my biggest largemouth this past year came on this and some big smallies. Experiment with different trailers and you'll catch em'. These aren't just one trick ponies these are extremely versatile. Caught some toads slow rolling offshore structure

From: Destin: PA

Comments: i dont see why this bait is getting bad reveiws....to me this bait is a go-to when you need more sound and action when a spinnerbait just aint doing it!...dont get me wrong i love spinnerbaits but you have to mix it up sometimes....i fish these around shallow reeds and they work great

From: Jacob: Lakeland, FL

Comments: A total waste of 5 bucks. The hooks remind me of the hat clip hooks, except the hat hooks are probably sharper.

From: Mike: Aurora, AL

Comments: This bait is far outshined by the competition. I fish highly pressured lakes, and can still catch 10 in bass on booyah and strike king versions. Plus side: doesn't hang up, because the hooks are too dull to stick anything

From: Nico: South Lyon, MI

Comments: The chatterbaits are clutch for when you need to put fish in the live well. Yeah, the hook needs to be sharpened at first and inspected after a few fish or a run in with a snag but what hook doesnt?! They work, plain and simple. Want insurance? Put a trailer hook on!

Comments: Revolutionary bait, but this version from Z man is horrible. Cheap components. You pay for what you get or for the "name". Go with other brands, they're are plenty that I would pay double for.

From: Chow: The Republic of Texas

Comments: Rig these up with a Lake Fork Live Shad and hold on. I use the black and blue and the perch colors with great results. As others have said, glue the skirt and sharpen the hook. Shouldn't have to but that's the case.

From: Mike: Jackson, MO

Comments: Great baits! Caught a 4, 3, and a 2lber in about 20 mins on the Red River, LA. Superglue the skirts so they stay on and sharpen the hook before you use em cause the fish eat these things. Can't go wrong with black/blue and chart/white. Suprised how many times I snag branches and stumps with these baits though, the pro version may fix this problem.

From: Evan: Bossier City, LA

Comments: these are a good bait theres just one thing you have to do. sharpen the hooks. once you do that you better hang on because the fish love it

From: Tyger: Conway, AR

Comments: not sure why these are getting some negative reviews, they out fish spinnerbaits easily 2-1, they like never snag up, can be bumped off of structure easily giving a very erratic action, and flat out catch big fish, bet shallow water bait on the market.

From: J: Hagerstown, MD
Comments: the original chatterbaits where great. the baits they are calling the originals now are far from the true original baits that i bought when rad lures was making them. when z man bought out rad lures the quality went down the drain. the hooks that come on these lures now are truly amazing in that they can be bent with just your fingers and they have no point on them what so ever. there are plenty of other chatterbaits for sale here. dont waste your money on this one
Comments: Great bait. My usual crank baits and jigs weren't catchin em, so I put this on and caught 3 nice bass. Will this work for specks?

From: Mike: Htown, TX
Comments: This bait was a waste of money for me. The skirt broke after a few fish. The hook are terrible they are so dull out of the pack ive spent hours trying to sharping them. buy at your own risk!!!

From: Hunter: Virginia, USA
Comments: This is a good bad. haven't caught that many fish but when i have they are huge... 3 and 4 pound bass and some big pike.... good bait but im gonna stick to my frogs!

From: Gunnar: Viroqua, WI
Comments: This is a solid chatterbait head. The fish I were catching were definitely eating it and not just nipping at it. I picked up the black blue for night fishing and it worked quite well. However, since there is no keeper on the chatterbait head, the skirt can slide down if fished in heavy brush and the only trailer that seems to hold on well is the split tail provided. If you are looking to put something like a paddletail trailer on there, I would recommend another chatterbait.

From: Matt: Brighton, CO
Comments: I have three go-to lures. They are the lv 100, chatterbaits, and swimming jigs. Tackle Warehouse carries a great selection of all of these. Tackle Warehouse has the best deals and by far the best customer service of any tackle supplier, and really any website, that I have ever dealt with. They get stuffed shipped out incredibly quickly and are prompt to address any issues I have. The staff at Tackle Warehouse have always treated me great and they will do the same for you.

From: Big J: Houston, TX
Comments:Chatterbaits are one of the best shallow baits for getting a reaction strike. Glad to see that TW added the perch color, its a great bluegill imitator. Works all year round.
From:Big J: Houston, TX
Comments:This is and senkos are my go to baits...the green pumpkin original chatterbait flat out catches fish...Extremely versatile, easy to use, and durable...must have.
From:Esbee: Novato, CA
***Note: If you have questions about this product or need assistance with an order please email your questions to info@tacklewarehouse.com
View Large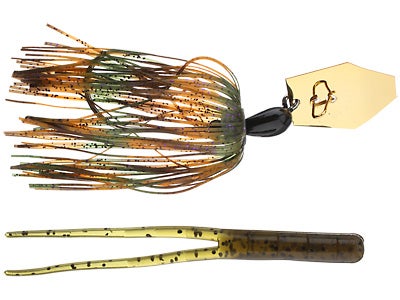 27 Available Colors
More Z Man Chatterbaits