Z Man Zinkerz 6pk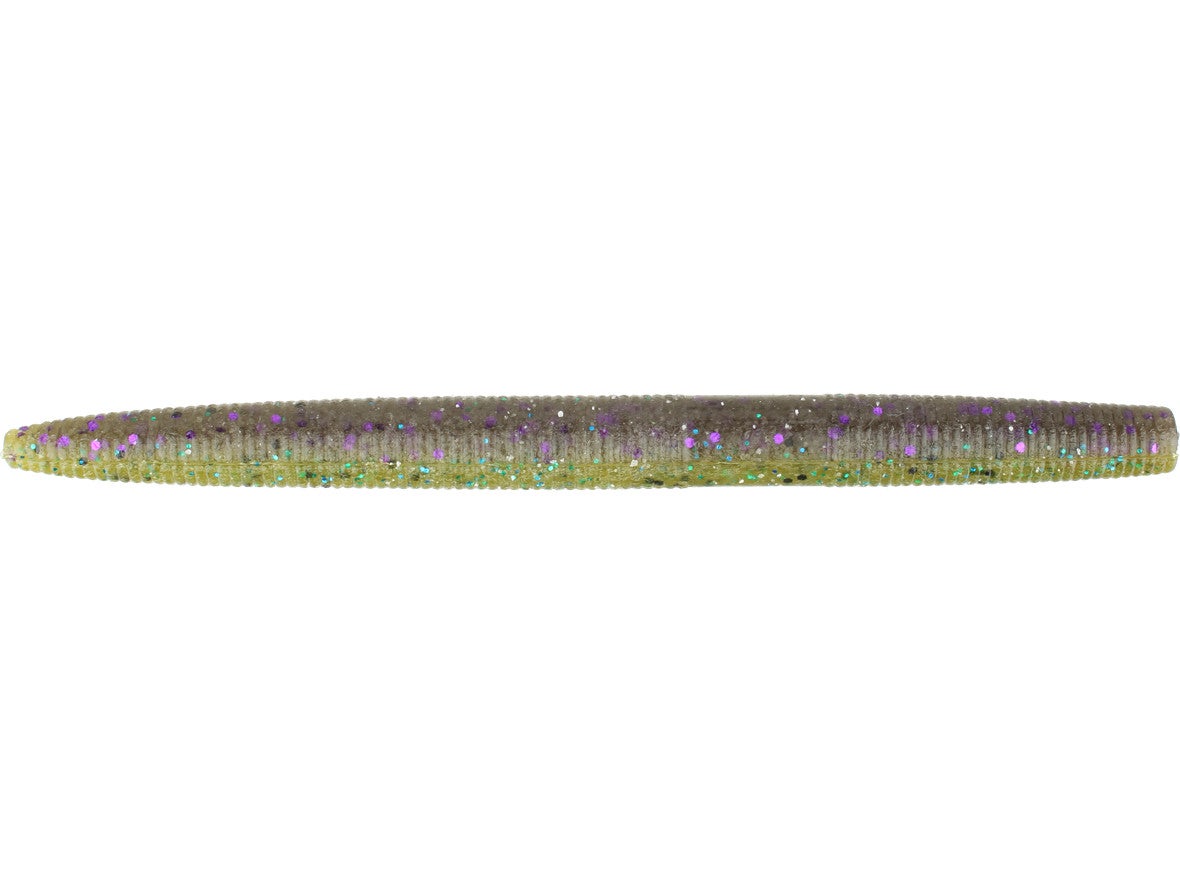 As versatile as they are productive, the Z Man ZinkerZ feature a super tough, salt impregnated ElaZtech body designed to sink slowly and provide a tantalizing fluttering action on the fall. Rig them straight, Texas, Carolina, Wacky or on a drop shot, the Z Man ZinkerZ do everything that other sinking soft plastic stick baits do - except for tearing apart after one fish.
What separates Elaztech plastics from other soft plastics is their life-like action, natural buoyancy and unmatched durability. Elaztech baits not only look great, they are also up to 10X tougher than other plastics. They resist nicks, cuts and tears, and that means you're likely to catch a lot more fish on Elaztech before having to replace them.
For some On the Water Pro Tipz from Bassmaster Elite Series pro, Luke Clausen on fishing the Z-Man Zinkerz - click on the Product Video icon below the main image.
Do not mix Elaztech baits with standard plastic baits.

Please Note: Some packaging may say bait length is 6-inches. This is a typo - actual length is 5-inches.

28 Colors
More From Z Man Worms
Customer Reviews
Comments: These didn't survive the heat! I got several bags put them on the boat and in the heat they melted together and flattened out. Not even in direct sunlight. No other baits did this. Out my money.
From: Joe: Wenatchee, WA 8/25/15

Comments: Love Zinkerz, used very successfully wacky rigged when sight fishing in the spring.

From: Brad: KS

Comments: On the up side, they work extremely well when wacky rigged since they are much more resistant to tearing off the hook after repeated strikes, and they have an excellent shimmy action on the drop. On the down side, they are so tough it is virtually impossible to screw them onto the twist lock of an Owner hook to keep them from sliding down when rigged Texas style. I achieve the best results with the two tone laminates that simulate the color patterns of prey fish, which also are darker on top and lighter on the bottom.

From: Vince: Tucson, AZ

Comments: too lazy to cut one (haha) in half and do all that, BUT...wacky rig it and dropshot it. Or fire it out there on a heavy cackly-lacky rig, and WAIT while it floats up off the bottom after the weight settles. Oh, there are many more ways to fish this but I am getting tired of doing all the work for you.

From: meatwad: where the beer flows like wine

Comments: I was skeptical at first, but after following the suggestions of cutting in half and rigging on a leadhead, I am sold. Crappie, bass, bluegill, carp, drum, rainbows, and channel cat have fallen victim to this bait. I have some trouble with them sliding down the hook if I texas rig it, but an exceptional all around bait. Without a doubt has become one of my top 3 go to baits

From: Chris: Overland Park, KS

Comments: The Zinker is an awesome bait, not only largemouth bass, but is a true multi species bait for walleye, crappie, drum and catfish. A typical rigging is to cut the 5" Zinker in-half, then split the "tail" into four tentacles inserting the jig hook into the bait as one would a tube or reversed with "tentacles" forward. By far the most durable plastic bait I've seen in my 50 years of fishing. The fish seem to latch onto it and refuse to let go!

From: Dave: Topeka, KS

Comments: Dynamite finesse bait when cut in half and rigged on a 1/16oz head like the Outkast Money head. On 6# fluorocarbon this is a hard to beat rig for putting keepers in the boat. Holds up better than a Senko or Dinger, Zeros will work but these are a bit softer.

From: Dave: KS

Comments: Each of these baits will literally last for a whole day until you take them off of the hook. Great money savers.

From: Dan: USA