Zappu Abare Dama Wicked Ball Treble Hook Weight 2pk - $3.99
The Zappu Abare Dama Wicked Ball Treble Hook Weight, designed by Hata Takuma, is a unique coiled spring, tungsten ball attachment that adds a tantalizing action to crankbaits. Named "Abare Dama" in Japanese, the direct translation in English is "Wicked Ball."
Typically when fishing crankbaits, you are trying to hit cover and create that deflective action that generates reaction strikes from bass. By screwing it onto the rear treble of your crankbait, the Zappu Abare Dama Wicked Ball now allows you to create that deflective, hunting action without hitting cover. Simply crank the bait a little bit, kill it, then start retrieving again. The Wicked Ball offsets the action of the crankbait, causing it to deflect out - and generate more strikes. Another incredible innovation from Zappu, Japan's finest terminal tackle brand, the Zappu Abare Dama Wicked Ball Treble Hook Weight just added another page to the book of crankbait fishing.
Recommendations:
The key is not to have too heavy of a weight for the bait. You don't want to kill the bait's action - just create a counter balance effect. These are some very rough guidelines to get you in the ballpark - your preference may differ.

Use the lighter 1.1g (4.5mm) on Bandit 100 Series size baits or your typical square bill.
Use the 1.5g (5.0mm) on RC series 1.5 & 2.5 size crankbaits.
Use the 1.9 (5.5mm) and 2.2 (6.0mm) on bigger, deeper diving crankbaits.
2 per pack
| | |
| --- | --- |
| Length | Weight |
| 4.5mm | 1.1g |
| 5.0mm | 1.5g |
| 5.5mm | 1.9g |
| 6.0mm | 2.2g |
Comments: waste of money they fly off so easy. i lost 2 of them in 2 casts.

From: Andy: NJ

Comments: I purchased a pack of each size and they are simply not worth the money. The 5.0mm weights do not stay on the hook and I lost both within a few minutes. The other sizes do stay on the hook, but did not make the bait hunt as claimed. I tested these on handmade cedar baits as well as numerous brands of store bought baits. The balls did change the action of the store bought baits, but they did not hunt. If you are going to try these I suggest working from the smaller size to the largest. It seemed like the smaller size you could use to move the rear hook the better the action. I also recommend testing these in a swimming pool.

From: Dustin: MO

***Note: If you have questions about this product or need assistance with an order please email your questions to info@tacklewarehouse.com
View Large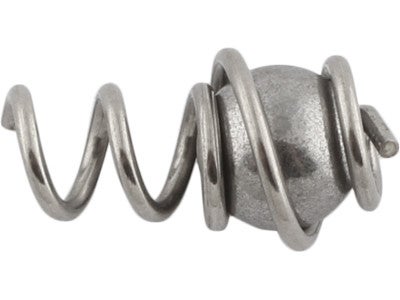 Place Your Order
More Zappu Terminal Tackle