Zappu PD Chopper Swim Jig - $7.99
Zappu, one of the finest Japanese terminal tackle manufacturers, specializes in creating innovative ways to catch heavily pressured bass. Featuring a uniquely shaped 100% Tungsten head, the Zappu PD Chopper Swim Jig creates an underwater vibration that is more subtle than a chatterbait, but far different from any other swim jig. The head has a flattened tapered face, which is widest at its approximate mid-point then narrows down quickly to a keel-shaped bottom. These attributes combine to produce its unique vibration, as well as, the PD Chopper's erratic side-to-side movement that "hunts" like the finest balsa crankbaits.
Equipped with a custom-designed Owner hook, the PD Chopper also features two trailer keeper options, depending on the level of weedlessness you desire. Matched with a small swimbait like an Optimum Baits Double Diamond, the Zappu PD Chopper comes through grass and other vegetation flawlessly, and is also deadly in open water.
Comments: Nothing special...not worth 8 bucks...If you think (like I did) that the shape of the head being similiar to a chatterbait blade, will make this jig vibrate/shimmy/shake...Ur mistaken, unfortunately. IMO it doesnt perform as advertised in the description. When swam fast, moderate speed, or slowly it tracks straight. There was no "unique vibration" to be SEEN (maybe the fish feel it or see it?) and there certainly was not an "erratic, side-to-side movement" and to say it "'hunts' like the finest balsa crankbaits." is far from accurate!. It does have a nice quality hook...solid skirt...but it's just a jig...I wouldn't even call it w well-designed swim jig withOUT the claims of vibrating, hunting, and tracking. On a plain old swim jig basis the hook is too stout, has the wrong line-tie angle...the hook is a hook suited for a flipping jig in gauge and style (it's not a roundbend), and the head is more like a stand-up head than a swim jig. I feel like they designed this jig thinking it might work, then saw that it didn't and said "oh well"...

From: Tanner: Westport, MA

***Note: If you have questions about this product or need assistance with an order please email your questions to info@tacklewarehouse.com
View Large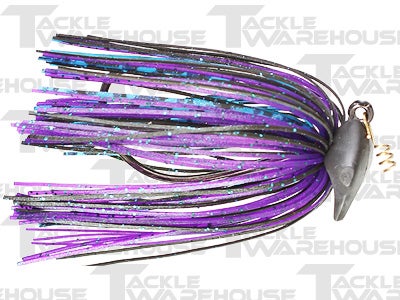 0 Available Colors
More Zappu JIgs