Zoom Fluke 10pk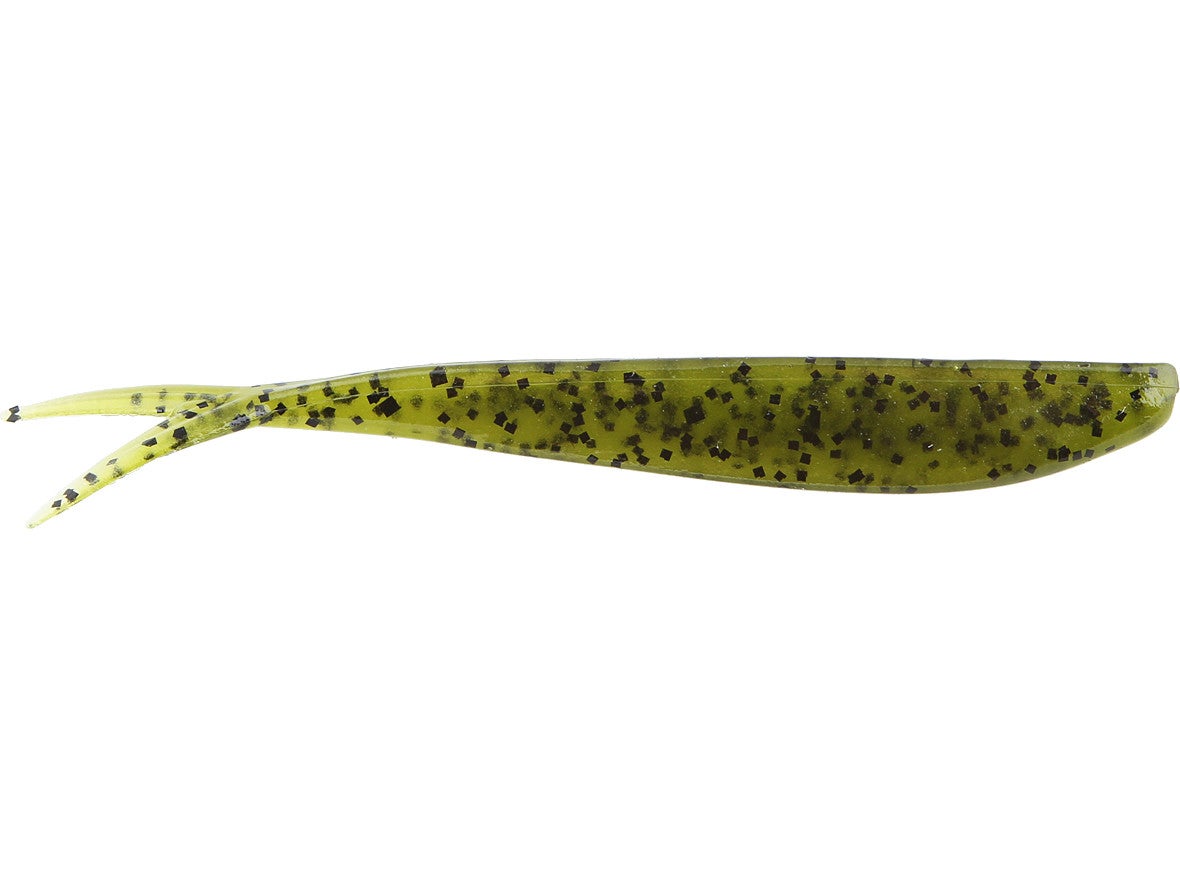 The Zoom Fluke is a classic bait - proven over the years to consistently put fish in the boat. Its natural baitfish profile attracts predator fish of all kinds - in both fresh and saltwater, and also allows it to glide and swoop through the water. Always a great choice when bass are chasing schooling baitfish, the Zoom Fluke can be rigged a variety of ways - weightless, on a weighted hook, double-rigged, etc. Available in several proven colors, each Zoom Fluke is also salt-impregnated to hold even the most tentative bite.
8 Colors
More From Zoom Soft Jerkbaits
Customer Reviews
Comments: This bait in baby bass is a top producer for me, I have had luck with it drop shot, on a offset 1/16 oz swimbait hook, and trolled on a slow death hook. So far I have caught six species on it. LMB, SMB, Rainbow trout, Walleye, Yellow perch and Northern pikeminnow.
From: Dan: Seattle, WA 10/7/14

Comments: go to drop shot bait. Also great on the fly line barley hooked in the nose for shore fishing just tap your rod fast and watch it dance
From: Chad: Rancho, CA 9/17/14

Comments: Great drop shot bait pre spawn. A friend and i caught 20 small mouth the other day on this.
From: Jonathan: Cripple Creek, VA 4/10/14
Comments: These have way better drop shot action than the super fluke. Cant go wrong with the baby bass color!

From: Normz: OC, CA

Comments: I love this bait. I fish all over Ohio and it is my go to bait. The baby bass on an off set hook works perfect for me. It catches dinks and those stubborn six pounders. and for the price you really can't beat it. buy in bulk you won't regret it

From: Derrick

Comments: Great for drop shot and also i have tested these by using them on a shaky head and the results are great!!!

Comments: Drop shot these in albino for Halibut in the SoCal surf. Nothing swims better than these or gets more hookups. Other "realistic" baits look like cartoons in the water it these look like baitfish. Can't beat the price

From: Nick: Los Angeles, CA

Comments: Just used THE Zoom the fluke (albino ) for wacky rigging with a owner wacky hook ( camo green) ,size was 1 and just hook this fluke in the middle . I seen one bass just looking at it pick it up and spit it out so I bought the Kvd fishi stick in shad the other day and cover them fluke with it on both sides of the fluke. I got 3 nice size largemouth and 1 small one that got off but still caught some . I believe this bet does bring in good sizes but will buy another color maybe baby bass to see if the bass hit this fluke once again , the pack of fluke I was using were old so most of the scent was not on there so this is why I used Kvd fish stick .

From: Erik: IL

Comments: This bait is awesome! I've caught so many fish on this bait rigged weightless.

From: South Alabama