Zoom Fluke Stick 10pk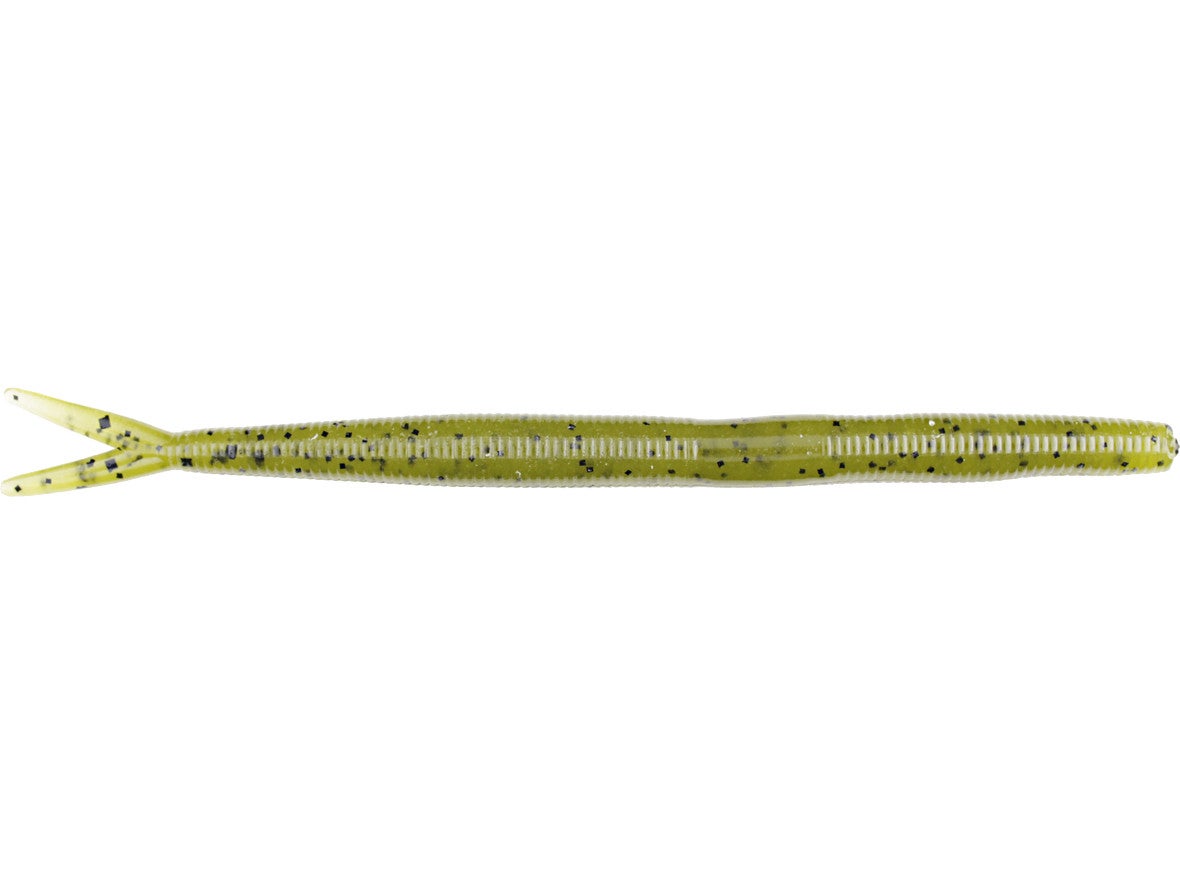 One part fluke, one part soft stickbait, the Zoom Fluke Stick gives anglers two highly effective baits rolled into one appetizing package. Whether you fish it weightless, on a dropshot, or Texas-rigged, the Zoom Fluke Stick has a seductive gliding motion on the drop that is perfect for pitching around docks and tree overhangs. On the retrieve, the Zoom Fluke Stick can be worked with a series of twitches to give it an erratic darting action that's similar to that of its cousin, the Zoom Salty Super Fluke. The ribbed profile of the Zoom Fluke Stick is also heavily salted, so it casts incredibly well, even without a weight. A favorite among professional anglers, like Gerald Swindle, the Zoom Fluke Stick will have your covered in a wide range of scenarios.
| | | |
| --- | --- | --- |
| Zoom | Length | Quantity |
| Fluke Stick Jr | 5" | 10 |
| Fluke Stick | 6.25" | 10 |
11 Colors
More From Zoom Soft Jerkbaits
Customer Reviews
Comments: I always bit the head off a zoom fluke and used it as a chatterbait trailer but this is much more efficient! Zoom flukes are the only brand i find that have the right action on a chatterbait and its a good presentation not commonly shown to the bass.
From: Allen: Cincinnati 2/10/17
Comments: Great bait!! Put an O-ring on it and a nail weight and this is a great Neko rig bait. Also a good finesse jig trailer when trimmed down.
From: Nick: WI 1/17/17
Comments: Just threw these for the first time and caught bass immediately. Love Watermelon Seed for clear and June Bug for stained to muddy water. Forget the 2/0 hook go with a 4/0 or 5/0 for better hook ups & the larger hook won't affect the action.
From: John: Germantown, MD 3/21/16

Comments: Good alternative to a senko. Bite or cut the tail off and there you have it. Zoom always makes great products & they are made in the USA!
From: Nicholas: Vineland, NJ 4/4/15

Comments: I fish these with a small-lite 2/0 Gammy EWG weightless which gives this bait a very good action, sort of a combo between a super fluke and a senko. I've caught big and small fish on the standard. It's pretty heavy for its size so it casts pretty well. Not quite as good of a deal as the trick worms or super flukes because there's only ten to a bag, but the bait is much bigger. Has a great action though and is something different for the fish.
From: John: USA 3/4/15