Zoom Horny Toad 5pk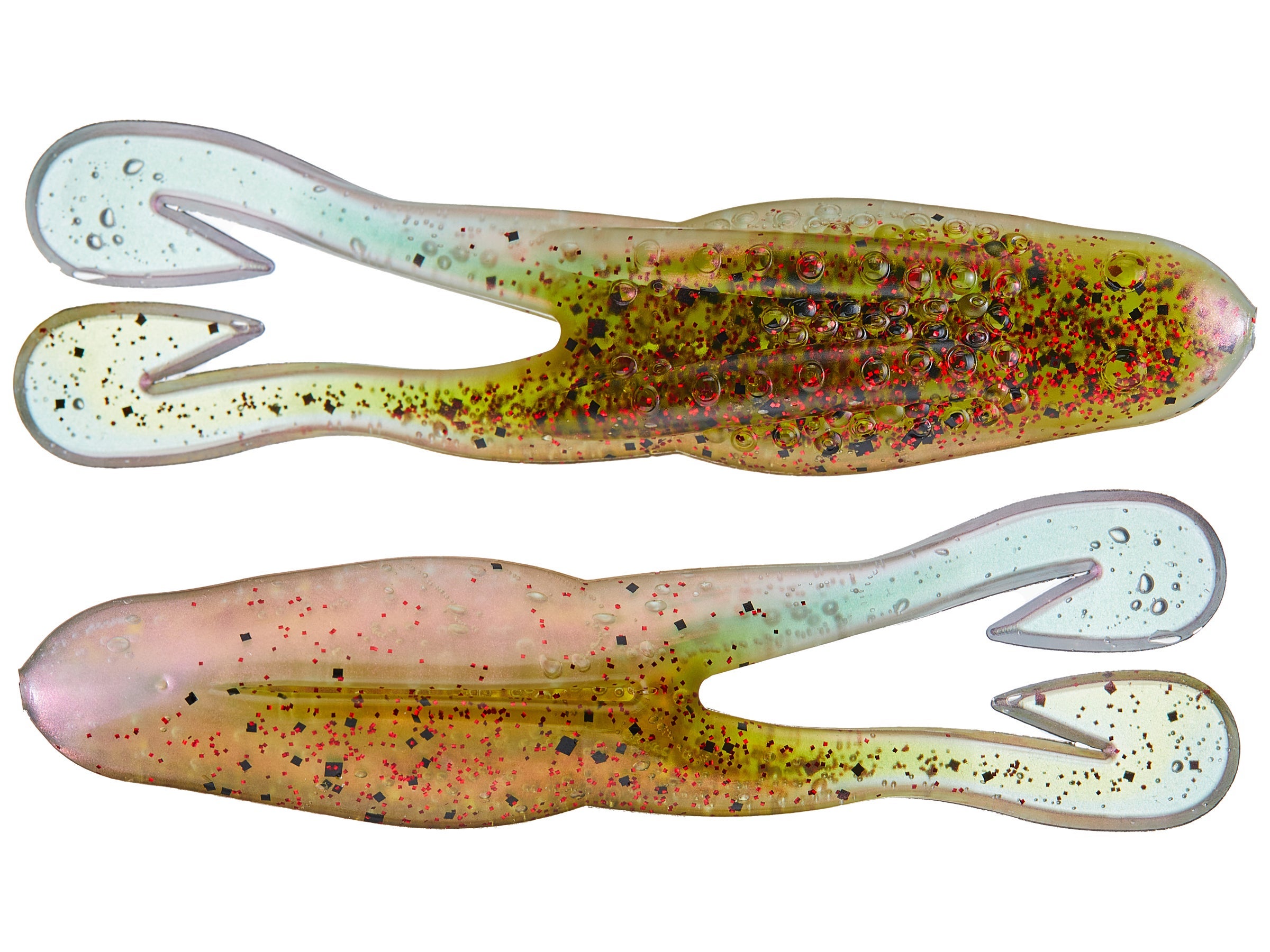 The Zoom Horny Toad offers some great features not found on any other soft plastic bait. The shape resembles a frog and most anglers will use them for a topwater frog presentation. The Zoom Horny Toad features two Ultra-Vibe legs that buzz and churn on the surface with a moderate retrieve, and it can be rigged weedless and fished over grass and pads. The Zoom Horny Toad is also great as a jig trailer with the Ultra-Vibe legs giving out plenty of fish attracting vibration in the water. The belly of the Horny Toad is slotted for your hook, allowing the point to push out further for a more positive hookset.
5 per pack
| | | |
| --- | --- | --- |
| Zoom | Length | Weight |
| Horny Toad | 4.25" | 1/8oz |
19 Colors
More From Zoom Creature Baits
Customer Reviews
Comments: A-RIG the Zoom Horny Toad for the "Super Beast"! Nobody is using this phenomenal presentation! Subsurface frogs, unheard of! Giant largemouth abound, unhindered excitement! Wow a whole new fishing craze. This could not happen to a better lure.
From: Ashton: Kissimmee, Florida 1/24/17
Comments: I landed my personal best 7 lbs largemouth on a watermelon seed horny toad. I've caught respectable sizes fish in the 4 lbs range on black with blue legs. This is a fantastic bait. I've tried similar products and I still prefer these. On a bright clear sunny day, try hopping them along the pass then letting it sink over the edge. The bass can't pass it up. 5/0 EWG hook, weightless, on 14 to 17 lbs mono does the trick for me. The bait rarely flips over.
From: Griff: Watertown, MA 8/29/16

Comments: These toads just flat out catch bass. I haven't tried any other toads, but these are so good I don't really have to. 10/10
From: Mateo: Los Alamitos, CA 7/25/16

Comments: I've tried out several different toads & its not even close which one gets more bites. zoom horny toads are by far the best toad on the market. can't go wrong here
From: Will: Dothan, AL 6/27/16

Comments: This bait flat out works. Over slop, bouncing off lily pads, just under the surface in open water, or even dead sticking it and letting it drop. I have caught a bunch of Large mouth & a few pike off this bait. Fast or slow retrieve (whatever the fish want that day), this frog has action. It has hands down beat ANY hollow body frog that I have tried. Bullfrog, Watermelon red & black/ chartreuse has been producers for me.
From: Craig: IN 10/7/15

Comments: One of my favorite soft baits. Bullfrog is super effective rigged on a size 5 gama screwlock hook, 1/8 oz. Zoom is doing something right with this one.
From: Art: NJ 4/29/15

Comments: They create a lot of surface disturbance in the water but thet are a little more subtle than a buzzbait. These are by far my favorite lure to throw, the action on these things is outstanding. I recommend the black, white, tree frog, and green pumpkin colors. Sometimes when throwing soft plastic topwater frogs weightless they flip on their backs and don't run right. This is not the case for the Horny Toads. They maintain they mouth watering action no matter what. However, I would recommend fishing these on a waited hook with a corkscrew attached in the eye of the hook so that it is less likely to land upside down and potentially get lost when that 10 pounder nails it.
From: Steve: Indianapolis, IN 3/19/15

Comments: The Zoom Horny Toad has become for me a great punching bait. First I it cut with a razor blade along the inside leg to the back rib near the center of frog, squaring across to the adjacent back rib and down to the opposite leg. This causes the swimming cut feet to spread it's legs wide on the fall, slowing the lures descent. Finish this creation by adding a sinker stop, Reins TG Tungsten Slip Sinker Heavy Weight in 1.2 ounce, and a snelled Lazer Trokar Tournament Tube Hook. Hold on extra tight. This combination really works!
From: William: Thomaston, GA 3/17/15

Comments: If you really want to see what this frog can do then try it at night during a full moon. You will run out of frogs quickly, but you will catch more bass than you ever could have believed.
From: Joe: Savannah, GA 1/9/15
Comments: I've seen dudes grab 5-10 packs of these at a time. Same color. Reason: They work. They'll tear, but all soft baits do. Buy more. Any color TW has will work.
From: Jay6: USA 11/5/14

Comments: Like most zoom products, these things flat-out work! I've got reaction strikes on these when almost nothing else was working. Bass often explode on these and just like other topwater baits, you need to wait before setting the hook. Almost all the colors work here in central Florida, but I always have packs of white, bull frog, June Bug/Chart Legs, and Watermelon Red Pearl on hand. You need to pay attention when rigging these. Hook needs to be perfectly centered. Buy a few packs, b/c they tear up pretty quick.
From: Shawn: Tampa, FL 9/30/14

Comments: They work incredible an they work especially well in weedy lakes. Top-water, underwater, anything you can think of works. You catch fish, plain and simple. I've had 5 pound bass swallow them, pike bite them off, and even bowfin hit these. I'd personally recommend the green pumpkin, bull frog, tree frog for colorways. If you have clear lakes then the gray ghost works like a charm. Horny toads work like no other soft plastic bait. I'd strongly recommend these for anyone looking to catch fish of all sizes and species.
From: Noah: Black Lake, NY 8/8/14

Comments: Great Frog. I fish it like a real s-l-o-w crankbait. Unweighted on a ewg 4/0 hook. Swims real nice like a real frog. Keep in and under the water. I tried topwater an no luck. A soon as I went in the water non stop action.
From: Mattchew: Flo, MO 6/19/14

Comments: this is a great top water bait the white is great on cloudy days and when the water is merky

From: Jordan: new jersey westampton America

Comments: a'ight, mang. here's the deal: these things WORK. BUT-they are good for 1-3 fish. get over it, that is just the way it goes. When the carpet of my hooptie, 1971 Bass Slayer is covered with torn up frogs, I am happy. pick a color and get your frog on, till the break of dawn.

From: MISHAP: livin in America
Comments: The bullfrog color catches fish. The feet drive the bass nuts. I rip these over the pads on a fast retrieve to get their attention. Durability is an issue though. Find a color that works in your area and stock up.

From: Eddie: Boston, MA

Comments: BUY THIS FROG!! Black and watermelon red are the best colors drag them on the bottom with a 3/8 oz jig head smallmouth and largemouth hammer it!!!

Comments: Amazing bait. Bass love them. I have these in black and they work very well. 4/0 hook works best in my opinion. Easy to set the hook. Overall they are very good and easy to use.

From: AJ: FL
Comments: This is a very good frog. i had alot of success on it but the only thing about these that i do not like is that they break easy.. my all time favorite is the rage tail toad,then this one but overal a good frog to use for the money

From: Eric: Naugatuck,CT

Comments: great frog with plenty of action and works great for me as topwater or submeged on a swimming jig head. did have a problem with it flipping over at first but fixed that on the go by using a clip on lead weight (normaly clips on line for crappie) and clipped it onto the hook under the belly just before the EWG began its hook bend and had no more trouble with it - also cast much better then too.

From: Junyer: AL

Comments: best frog ever made i out fished my friend who was using powerbait worms hula poppers every bait he could think of and he could see how i was out catching him i would throw it in front of some cat tails watermelon red weedless rigged with a three ought ewg worm hook rell it on top of the water for a few seconds and let it fall to the bottom let it sit for about 10 seconds about every time i put tension on my line i had a fish it drove those bass nuts

From: Nick: OH

Comments: Great bait!! but only one problem they flip over but it still catches me fish in key situations. 5 stars

From: Brett: Madison, IA

Comments: These aren't the most durable toads on the market, but if you use the screw lock hooks, you'll be able to use the same bait much longer and it tends to keep the bait upright. If you want more action out of the legs, cut a small slot where the legs meet in the middle. This will give the legs a little more noise and better splash.

From: Dan: Madison, WI

Comments: went to my friends house and fished their pond with a yellow horny toad first cast on dollar lilies and a 3 pounder busted it then 3 casts later same retreive 5 pounder ate great bait keep on making great bait zoom.

From: Wil: Callahan, FL

Comments: I cant get it to swim upright, it always flips over, but i still catch em. great action

From: Bryce: Orange County, CA

Comments: awesome frog but one thing i do that alot of people dont do is kill it and let it fall they nail it on the fall like a jig or ill twitch it after i kill it under the water and it looks like a real frog swimming for its life try these tactics and tell me what you think

From: Joe: CT

Comments: just fantastic. best action on the market, and durable as steel. you need some. my buddy nailed a 4 pounder at dusk in a little pond with it. use the hook zoom makes for it with the screw lock. just a flat out killer bait.

From: Scotty: VA

Comments: The zoom horny toad is not very durable, leading the head to tear. The legs I find are also way to close together, I had to melt them apart to give them more action, but besides that, a great frog packed with salt for beginners in open water with explosive results on bass. A great value for money also.

From: Dominic: WA

Comments: The watermelon crawfish is a great color, here in wisconsin the muskie go crazy for them, i caught a 40 incher on one.

From: Tony: WI

Comments: This is my favorite bait and I use this bait on my favorite rig, endorsed by my favorite fisherman! A Skeete Reese rod and reel combo with my Wiley X's! I love this bait HUGE topwater action!

From: James: Lake Toho, FL

Comments: Great lure caught a 7 and a half pounder on the first cast and proceeded to catch multiple 3 pounders after that, but it tend to roll over so you have to be careful.

From: Victor

Comments: After using the ribbit frogs I decided to try these to see if they were as good. when i first threw it I thought that it didnt have enough action but after having a bunch of bass hit them I am sold on them. These are great!

From: Aubrey, TX

Comments: To see a 5+lbs. Florida large mouth Come up out of the water 2' from the toad and Come down on top of ur horny toad.....I own a camera now... Even keying it fall to the bottom can have some good Results....

From: Bill: Gainesville, FL

Comments: by far the best toad on the market. I just caught a 6 lb bass yesterday in the delta.

From: Jake: Sacramento

Comments: My favorite frog ever, had sucess with multiple colors ( black n white swirl, green pumpkin w/ white belly and the straight black and white) are all good colors depending on cloud cover and water clarity. I have tried a lot of frogs and these are the best, try letting them sink a little for those really suspicious bass and your numbers will improve.

From: Sam: Crestview, FL

Comments: By far the best soft body frog I've used! Catch alot of good fish on this! You can get your pocket picked very quickly with them though, not very durable, but you will catch fish using them!

From: Anthony: Detroit, MI

Comments: the horny toad is by far the best soft body frog on the market in my opinion.the watermelon seed caught me my wallhanger at 7 pounds,fish the horny toad,you wont regret it.

From: Nathan: Georgia, USA