Zoom Ol' Monster 9pk 10.5" - $3.99

The Ol' Monster from Zoom Bait Company has been the go-to big worm of tournament anglers for years. The Ole Monster is a sure bet to catch a kicker to fill out your limit or to boat the fish of a lifetime. Its considerable length, slender profile and its curled tail are great for targeting large bass. But don't be surprised if the alluring action generated by Zoom's soft, supple plastic and curled tail causes every sized bass around to strike – even ones as big as the worm. Great Texas-rigged or Carolina-rigged, tie on a Zoom Old Monster and get ready to battle some hawgs.
| | |
| --- | --- |
| Length | Quantity |
| 10.5" | 9 |
View Large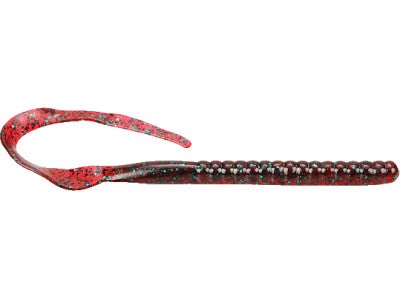 Comments: Best big worm on the market period. IF you are like me and fish a lot of stained water and do well with junebug, you have to try the sour grape color if you can find it.
From: Clint: NC 9/26/14

Comments: I recently went and bought the new MAG OL MONSTER WATERMELONSEED. I went fishing at Lake Greenwood and on my second cast into the water I got the best bite I've ever had and I set the hook and caught a nice five plus pound largemouth bass. To me Zoom is the best fishing company. All I use just about it Zoom, you can look in my boat and all you will see other than like two or three bags they all say ZOOM on the front of the bag. This worm is great!
From: Joseph: York, SC 6/29/14

Comments: What can you say about this work but. It outright catches bass, and lots of them. You can throw this into the skinniest of water and they still hit it. Great bait.
From: Kirk: Roscoe, IL 6/10/14

Comments: Day in, day out, it just produces. Fave colors Plum, Green Pumpkin, and June Bug. Texas,Carolina, or weightless rig, any situation any time will catch bass.

From: D: VA

Comments: My go to Summer Bass Bait, caught more bass on this worm during the summer than anything else.

From: Dachile: Yuma, AZ

Comments: Anouther great product from Zoom. The body is just a tad bit thicker than the standard worm. The only complaint I have is that the Bama bug pictured here does not match the product. The lower picture shows a brown belly which does not exist on the product, it looks exactly like the top picture on both sides of the worm.

From: James: Evergreen Park, IL

Comments: landed a 7lb 9 oz smallie on watermelon seed in flangan lake

From: South West, VA

Comments: like this worm in june bug caught a 3-1/2lb hog on it so... i am happy and just for 4 dollars it is amazing

From: Connor: AR

Comments: Here is a little secret, try the Ol monster for spotted bay bass and Calico bass here in southern california. These a so reasonably priced that you can forget about babying them. I want to thank you Zoom baits for keeping your prices low, my wallet thanks you too :) Color: Black red flake, Watermelon seed

From: David: Murrieta, CA

Comments: love these in june bug red

From: Jonathon: Orlando, FL

Comments: These have produced some monster bass for me. Green Pumpkin tends to be the color of choice. Can't find a better price for zoom plastics than Tackle Warehouse.

From: Brant: San Diego, CA
***Note: If you have questions about this product or need assistance with an order please email your questions to info@tacklewarehouse.com