Zoom Speed Worm 5.5" 15pk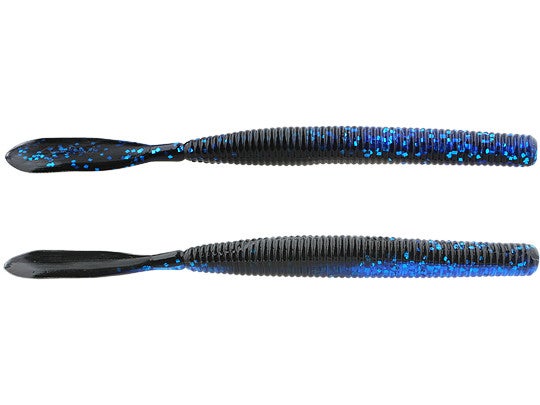 These are the ORIGINAL Zoom Speed Worms with the thick paddle tail. The Zoom Speed Worm combines soft, durable plastic and bright, clear colors to create a big, thick, paddle tail worm that has several applications. We like
Texas-rigging
the Original Speed Worms and
flipping and pitching
them into thick cover because the design allows them to slip through even small openings in a thick mat or brush-pile. As the Speed Worm falls the thick paddle tail waves enticingly so it is often taken on the fall. When the bait reaches the bottom a little shaking is enough to send ripples through the entire bait and really flip the thick tail around. Try the Zoom Speed Worm with a Senko-like presentation or on a Carolina-rig. Rig the Original Speed Worm with a heavier bullet weight and try swimming it in areas where you would try a spinnerbait. The Texas Rigged Speed Worm will come through brush even better that your blade. However you choose to fish the Speed Worm you will find it effective.
| | |
| --- | --- |
| Length | Quantity |
| 5.5" | 15 |
10 Colors
More From Zoom Worms
Customer Reviews
Comments: I fish the speed worm on small jig heads and catch a lot of fish on them. My only problem with them is the fish jumps and shakes and the paddle tail flies off. I spend to much time changing baits.
From: Bigfish: Lake Ozarks, MO 6/26/16

Comments: I've been fishing these thing for as many years as I can remember, and they still work awesome! I fish the cal delta and flip these things on a 1/4oz weight and I catch more fish on these then on sencos. They are money when fishing around current.
From: Chris: USA 5/27/16

Comments: I flip in grass beds, the quality of fish this worm catches IMO is higher than with other worms I have used.

From: Mike: Maryland

Comments: The Zoom Speed worm has become my go to bait for summertime ledge fishing. Carolina rig the speed worm on main lake ledges and flats with current the built in action of the paddle tail is amazing. Green pumpkin and Junebug are deadly on Kentucky lake

From: Ryan: Wadesville, IN

Comments: wow all i can say is wow the action is a amazing if you have a good rod you can feel the vibration in the rod, I caught 2 fish on the first 2 casts i love this bait HIGHLY RECOMMENDED

From: Robbie: Pensacola, FL

Comments: These baits are really nice. The vibration of the tail is excellent and they are the perfect size for flipping into heavy cover. I have had tons of success on them when fishing Texas Rigged and on Shaky Heads. Green Pumpkin and June Bug are my favorite colors, honorable mention, Blue Sapphire.

From: Thomas: Columbia, SC

Comments: This is a fish magnet!I love the bait,it will catch fish when no others will.Get some and hang on.

From: Larry: Milan, TN