Zoom Super Speed Craw 4" 8pk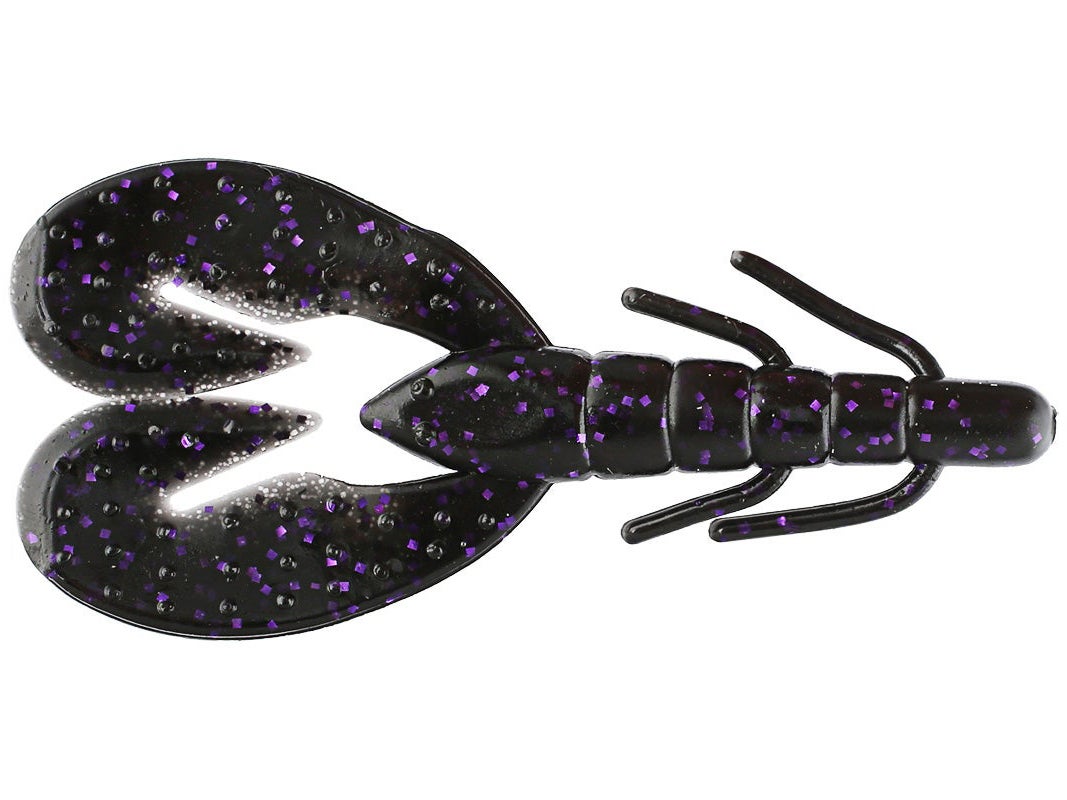 The Zoom Super Speed Craw is a new variation of the Speed Craw. With claws that are extra-wide and bulkier at the ends, the Super Speed Craw moves a lot of water and has an unbelievable action that drives fish crazy. Pitch it, flip it, rig it on a jig head, use it as a trailer, the possibilities are endless. This versatile softbait from Zoom Bait Company can be used in almost any condition. All Zoom baits feature realistic, super soft-to-the-touch plastic (for the extra action needed to pull that reluctant money fish) and are salt-impregnated to hold even the most tentative bites.
Click here to check out the BassFan review on the Zoom Super Speed Craw
18 Colors
More From Zoom Craws
Customer Reviews
Comments: Used for first time today and caught a 5 pounder and 2 pounder in the first 15 mins on the back of a pumpkin jig, definetly buying more.
From: Neal: San Jose, CA 3/22/15

Comments: One of the best craw style baits I have ever used and I don't stick to just a few lures. Use this any way you want and you will catch fish.Top water strikes. On a jig head. T-rigged, C-rigged, you name it. More durable than I expected when I purchased them. Great colors. Perfect size for trailers on any go to lure you have.Use the whole bait for more bulk, cast-ability and a slower fall. Cut some off for a chunk style trailer on your smaller lures.For the price you pay for an 8 pack with these colors, this bait easily competes with any of the most popular craw/creature baits in value.
From: JC: Fall River, MA 2/18/15

Comments: Amazing wobble of the claws, super presentation. These and paca craws are my top choices for jig trailers and dirty jig n super speed craw = proven fish catcher....
From: AD: Bristol, CT 6/21/14

Comments: Had a few packs of these stashed in my boat for a LONG time. Never fished them. Found them the other morning and fired one out there... BAMMO. I went through a few packs and now I need more. DAMN YOU ZOOM!
From: Jay6: USA 6/25/14

Comments: Used the watermelon red today with a wedge head and 4/0 and killed them, this little bait has great action dragged over the pads and is great for flipping too

From: Jon: PA

Comments: Zoom has provided anglers with another great craw for making a jig come alive with flapping claws and extra bulk, or fish it T-rigged with a 4/0 EWG and a 1/4oz unpegged bullet for a kind of miniature Carolina rig.

From: Ed: Champaign, IL.

Comments: Works great on a weightless Texas rig! Had a lot of success throwing it on top of thick weeds and using it like a frog!

From: Dan: USA

Comments: Found one of these (Alabama Craw color) still on the hook stuck to a stump while kayak fishing in nearby lake. It was still in decent shape. Threw it in my tackle bag. Went to some ponds I fish all the time. Was using my other "dependable" stuff - i.e. brush hogs, senkos with just OK success and saw this in my tackle bag. T-rigged it with a 1/8 bullet weight, 3/0 hook. The thing makes a lot of action and those extra big claws make it sink slower. Anyhow, caught 6 post-spawn bass in the next 20 minutes - 2 to 5 lbs. Not sure if they keyed in on that color or action or both. They hit it really hard. Was missing bites on other lures that day. It just looks real good in the water with very little movement required. Fishing a Lake Fork tournament next weekend and am placing an order right now for some. Can't wait to toss one against those stumps!

From: Benny: Gunter, Texas

Comments: I have fished them and caught many many fish using this as a trailer on a jewel green craw jig. I use green pumpkin color with the crawls dip In chartreuse jj's magic! Also I have caught my biggest fish on that rig. I will soon try them Texas rigged! Can't wait!!

From: Gainesville, Georgia
Comments: fished these little critters today for the first time, rigged on a 3/8 jig in black&blue, first cast and a pike hammered it. In really cold water, around 42 degree. They were just nailing those, nothing else seemed to work. Very impressive.

Comments: i love using these thing on the back of swim jigs. my buddy was flippin a tube and i made a cast to where he already fished his tube and caught a 2lb largmouth

From: Joe: Washington

Comments: Absolutely the best trailer for a football jig that I've ever used. Caught a 6 lb. largemouth on my first cast using this trailer in Watermelon Candy. Dipped the tips of the claws in chartreuse JJ's Magic and it was the deal.

From: Alan: Adairsville, GA

Comments: Used this in the blueberry today and caught my personal best bass. Weighing 7lbs. This is my go to crawdad when I need a bite!!!

From: Kyle: Kearney, MO

Comments: i fished this bait for the first time today and i quickly found out that this is my new favorite craw i hooked into 2 6pound 1 4pound and a tons of 2pounders on this is pre spawn conditions

Comments: Best craw on the market either texas rigged with bullet weight or as a jig trailer. Paddles are oversized and move tons of water, give them a try!

From: Terry: Everglades, FL

Comments: Great bait. Really good craw immitation. It will fool most bass.

From: Chris: CA Delta

Comments:excellent bait, i've fished the ultravibe speed craw a lot and they have always been very productive. I thought I would try these to, they add a little bulk and action with its over sized flapping pinchers. This weekend I tied an Alabama craw on some braid with a 1/8 oz tungsten bullet and a Gamakatsu 3/0, this light weight and braided line gives the bait a slow fall rate and keeps those flapping pinchers in there face longer! I headed to a farm pond with some green scum on top, within an hour and a half I caught 6 bass in the 2lbs range and a nice 6lbs. Zoom makes some of the best baits out there and excellent color choices, buy em they work!
From:Will: North Carolina, USA
Comments:Great lure! I use it by itself either on Texas rig or a football jig. It is quickly becoming a Go-To bait for me.
From:Bassin: Lindsborg, KS
Comments:Love the action, this is a great lure to use as a trailer in dirty water.
From:Derek: Gainesville, TX