Zoom Tiny Brush Hog - $3.39
Creature baits are generally big, bulky hunks of plastic, like the Brush Hog and the Baby Brush Hog, designed for flipping or otherwise attracting the attention of a fish by displacing a lot of water. The Zoom Tiny Brush Hog has taken the fish attracting idea, with arms and wings and tails, and used it for finesse applications such as dropshotting, splitshotting, or for any time you need a small, active bait. Try these tiny creature baits for finesse techniques or as a trailer for small jigs. You're only limited by your imagination, so give the Zoom Tiny Brush Hog a try.
Comments: my biggest fish camo n this with a drop shot rig and it is easily my favorite bait I once brought in 27 fish in under 3 hr best color is watermelon candy

From: John: San Jose, CA

Comments: I catch fish everywhere I go on the watermelon red tiny brush hog. Rig it on a t-rig, jighead, drop shot, or split shot and you will absolutely get bites. Its the closest thing to dynamite I know of.

From: Nathan: OK

Comments: these are my go to baits when the bite is tough!! texas rig the watermelon red flake and you cant go wrong!!!! several big fish on these things.

From: Hunter: Winchester, VA

Comments: This is my go to bait i have caught two 8lbs on Rayburn and Toledeo with is. You cant never go wrong with Zoom period

From: Jace: Buna, TX

Comments: Knew someone who outfished me when I was using my Gonzo grubs. Turned out, he was using these brush hogs in the same color. I'm thinking that it had to be the profile of the brush hog that was the attraction.

From: Tim: Wilmingotn, IL

Comments: I love these baits from the ponds where I live to the big lakes these just catch fish great action. Zoom products best soft plastics on the market.

From: Garrett: GA

Comments: I use these for dropshotting and they are surprisingly productive! I have caught largemouth, smallmouth, rock bass, and even yellow perch on these. I casted near a dock with a bunch of fry and in less than 5 foot of water, a largemouth came out from under the dock, looked straight at me then back at the bait. I gave it a few twitches and it hammered it.

From: Elijah: Seattle, WA

Comments: Awsome bait for shallow fishing, the bass will nail this as soon as they see it. Its also really good for early morning fishing if u miss a fish with a frog, throw this bait in there and its almost a guaranteed catch

From: Danny: Melbourne, FL

Comments: great little bait!!!! when the standard straight tail aint cutting it, this is my go to bait.

Comments: Very attractive swimming action for such a small bait. Catches big bass- had great success fishing c-rig style.

From: Louis: Los Angeles, CA

Comments: Most productive smallmouth catcher of the year. get some small t-rig hooks and some 1\16 ounce weights and you are in bisness!!

From: John: Batesville, IN
***Note: If you have questions about this product or need assistance with an order please email your questions to info@tacklewarehouse.com
View Large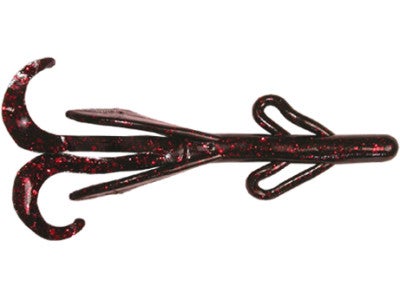 8 Available Colors
More Zoom Creature Baits