Zoom Trick Worm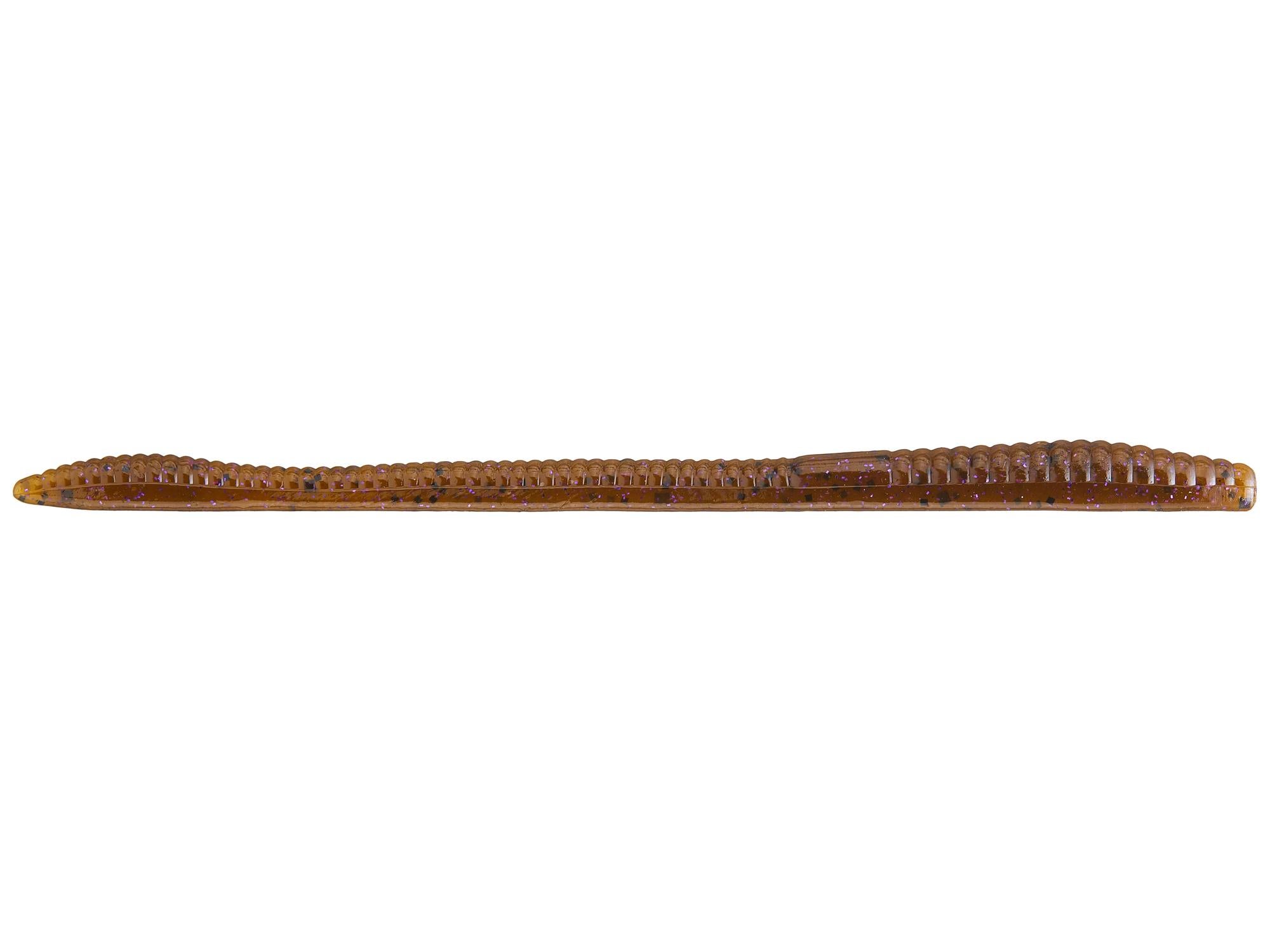 Fishing the floating worm technique is a fun and effective way to catch post spawn fish or bass suspended in brush or other cover. The Zoom Trick Worm works wonders for these fishing conditions. The bright, clear colors bring savage strikes as the Trick Worms drift and twitch in front of bad-tempered bass. Try them rigged 'straight' or Tex-posed without any weight. Wacky rig them and twitch them quickly with short strokes for a lively looking presentation. Try them on a Carolina-rig when you want long, swooping slow-fall drifts from your bait. Any way you fish them you're sure to be satisfied with the performance of the Zoom Trick Worm.
Peter T used the Zoom Trick worm on a Carolina rig to catch a majority of his fish during his "Day On The Lake" in the recent Bassmaster. He also uses a Zoom Finnese Worm and a Norman DD22.
| | |
| --- | --- |
| Length | Quantity |
| 6.5" | 20 |
59 Colors
More From Zoom Worms
Customer Reviews
Comments: Mainstay in my soft plastics arsenal. My go to when I want to texas rig a straight tailed worm. Green pumpkin, junebug and watermelon red are my best producers and pretty much all you need for all conditions.
From: Booman: Louisville, KY 2/9/17
Comments: While trying the Trick Worm for "Chicken Rigging" (Gary Yamamoto's version), I found it didn't work with the hook I had (3/0 Trokar EWG), so I put the hook in the nose (i.e., Texas Rigged) & screwed a #8 x 1.25" decking screw into the tail of the worm. Didn't really know what to expect, but it floated the hook nicely (tied direct to 20 lb test Power Pro braid), with the tail on the bottom. Shortly after, I caught a LM of about 4 lbs & later a couple of SM that were about 11". This rig casts well & is probably more snag resistant than any other I can think of. It works great for rip-rap, reed beds, rocks, weeds & should work very well for bank fishing. Give it a go! I decided it needed a "Bubba Name", so call it "The Dumb Bass Rig".
From: Steve: WA 9/2/16

Comments: I've tried all the other flour lines out there and it seems like I keep coming back to this particular line. They last longer for me when changing them out for tournament season. I can not live without them.
From: Cole: SC 7/10/16

Comments: The Zoom Trick Worm has to be one of the best valued baits on the market. My brother & I just finished a 2 week trip to The Adirondacks. The lake we fished was clear & had a large population of Largemouth & Smallmouth bass. We had brought up 1 package of Zoom Trick Worms & they worked. Put them on a drop-shot or shaky head & we caught multiple quality Largemouth & Smallmouth. The one package lasted us the entire trip! Zoom has a classic bait that slays the fish.
From: Justin: St. Petersburg, FL 6/25/16

Comments: great worm i was introduced to the trick worm back in 92 been catching thousands of bass on green ppk, got my record bass in 95 a 8-75 pounder on halloween. another great worm is the finesse worn in grn ppk flash i like wacky riggin em now big numbers on any color
From: Jeff: USA 5/14/16

Comments: Zoom trick worms is some of the best long style bottom hoppers I have ever used. I was on a tournament on Istakpoga & I threw everything in my tackle box, nothing until I started throwing trick worms in June bug & watermelon red.
From: Joseph: FL 4/11/16

Comments: love using pumpkin or watermelon chartreuse. Awesome for shakey head & works well while drop shotting. The chartreuse tail seem to do work b/c smallies love biting the tail end off.
From: Cod: Grand Blanc, MI 11/8/15
Comments: Absolutely impossible to fish wrong. T-rig with a bullet wt, weightless, shaky head, drop shot, Carolina rig, wacky. I prefer a light T-rig with a 1/16 oz tungsten bullet wt. Lift and drop it, twitch it, hop it and pop it, slowly creep it along the bottom, swim it above the bottom with pauses so it glides to the bottom. Doesn't matter how you work it...you will catch a nice bass using this worm. Green pumpkin and black are my colors.
From: Vito: NYC 6/17/15

Comments: This has to be the best soft plastic on the market it's simple, cheap & productive. It catches so many fish and there is 20 worms in on pack!
From: Jackson: OK 6/12/15

Comments: Zoom trick worms are the best I use Limetreuse color on a Texas rig and I could almost garentee a bite it works amazingly
From: Reece: Montpielier, IN 6/9/15

Comments: great colors great price and great quality you can rig it almost anyway you want extremely versatile bait my favorite colors ive used so far are gooseberry, watermelon red flake, okeechobee craw, and junebug. try em out you wont regret it
From: Colson: TN 4/14/15

Comments: When I'm fishing and the jerkbait bite is slow; I pullout a zoom trick work worm in gooseberry, bubblegum, or if the water is clear pumpkin. One of my go to baits in April and May!
From: Chaseman: York, SC 3/27/15

Comments: After using these worms for the last several years, I have found that they are deadliest when fished in shallow flats or cover. Try them weightless and in junebug color. You will not be disappointed.
From: Roger: Starkville, MS 2/27/15

Comments: I tend to use the finesse worms and magnum finesse worms. However I tend to have very good luck and go through the most packs of Bubble Gum trick worms. Very durable, and just simply catch big bass. I have caught several 5 pounders off of these worms. If anyone has a color that does well for them please let me know.
From: Alex: Forsyth, GA 10/9/14

Comments: I'm new to using plastics, I've been a crank lover but I have started using this bait after watching my buddy slay bass all day on them on what I'd describe as not a great day for fishing. I'm using on a 3/8 shaky head, Texas rig. So far I'm very impressed.
From: Chris: Montclair, VA 10/2/14

Comments: i used to only use culprit worms (nothing wrong with them still use the red shad) but i started using these and man oh man i have caught more quality fish on these than any thing else. i recently bought the blue watermelon on accident (thought it was what a friend recommended) and they are my new favorite worm.
From: Seth: GA 6/30/14

Comments: Get the regular size California 420 it's Dark Dark Green with Red Flake on top and Watermelon Red Flake on bottom and trick worm and the sharpest longest kitchen knife you can find. Cut the worm in half long ways. You now have 40 drop shot worms that will blow away any drop shot worm out there.
From: CJ: Gretna, LA 6/24/14

Comments: The best plastic worm ever created in the entire history of the world! I call watermelon/red flake "Old Reliable" because I can always rely on it to catch bass when the going gets tough.
From: Quillback, AR 6/8/14

Comments: These worms flat out catch fish. Get you a few bags. Green pumpkin or watermelon chartreuse and you WILL NOT be disappointed. These are my GO-TO baits for catching bass. Fish them on a carolina rig on a ledge, in grass, on topwater, shaky head, anything. You CANNOT fish these wrong
From: Brandon: Muscle Shoals, AL 5/18/14

Comments: I'm not joking this is a must have worm,sometimes you buy things online or in the store and use them and think there don't work or you go back to a cofedemce bait or whatever but I'm telling pick up a pack of thease worms and get a 1/8 oz bullet weight and 4/0 wide gap hook and go out and fish it all day it dosent matter the time of year or day just fish anyway you'd like and I promise you will catch a fish. For the colors just get the green and pumpkins for the clear water and the June bugs and bright colors for dark water. My favorite colors are bull frog,June bug,red shad and watermelon red. The best starter color is watermelon seed or June bug. And lastly if there on the beds the limetrues color kills them BUY THEASE NOW
From: Kevin: USA 3/16/14
Comments: Bent baits and short (not as many in there as you should get) bags...welcome to the world of ZOOM. Hate it, but they catch fish anywhere you go. This is one of their most versatile worms, and probably outsells other companies whole lineup of soft baits.
From: Jay6: USA 3/6/14
Comments: This worm catches fish....always has, always will. BUT I am getting tired of having half the baits in a bag being bent/deformed. Not just trick worms,but ALL Zoom products. Yeah, yeah, yeah...I know you can boil them and make them straight again...but I am getting tired of it. I think I am going to start paying a little more and using another brand or something.
From: Basswipe: USA
Comments: Best soft plastic wrom on the marekt. Ponds,lakes and rivers, you name it. Its at a resonable price aswell. I highly recomend thease worms. I rig mine with a bullet weight and a 5/0 stright shank hook weed less.

From: Jack: Tallahssee, FL
Comments: Picked these up on sale a few months ago. These are some nice worms. I got the Limited Edition Watermelon Red Magic color, and they work pretty good. Although these work well, they don't have scents (but they ARE salt impregnated), and they aren't very stretchy or durable.

From: Reece: USA

Comments: Best sight fishing bait out there. Use a 1/0 hook on spinning gear if you are sight fishing, baitcasting if you want to cover more water. I always texas rig it because you can fish heavier cover and grass.

From: Ethan: Charlottesville, VA

Comments: imo i like these better than senkos fish them weightless t rig wacky whatever you want they flat out catch fish i use the green pumpkin green or any green pumpkin variation in the connie during the spawn and crush some huge smallmouth off these and big lm in ponds and lakes

From: Evan: mechanicsburg pa

Comments: Flipping the worm into reeds work great normally don't catch much at that I was on. My go to bait for texas rig

From: Robbie: PA

Comments: wacky rigged with my 6ft 6in medium ducket and skipped docks in a tournament on lake sinclair. all i can say is it work wonders.

From: Bob: GA

Comments: my go to bait. When fishing gets tough. I T-rig them on 5/0 gama, 1/8 or 1/16 bullet weight and work the bottom. I usually get hit when I move the worm past a structure(if fish are nearby). Also try to bang the bullet weight against a rock without letting it go over sometime triggers stick. At 3.89$/20 worms. It's a deal. Got my first personal best this year at lake skinner. 8.63lb.

From: Jack: Temecula, CA

Comments: Go to bait all times of the year always have one the deck somewhere i have so many packs of these worms in the boat

Comments: This is a great worm! I always have one tied on when the bite is tough. They are my go to bait for small mouth. I normally use them on a stand up jig head.

From: Scott: Nebraska

Comments: Easily the best finesse worm ever. I love wacky rigging them because there is so much action.(just use an o-ring because they will fall off after one fish. I texas rigand weightless rig them too, the tail stands straight up in the water. And at under $4 for 20, you just can go wrong. Get something like a junebug color and then a green pumpkin or watermelon color and your set.

From: Scotty: VA

Comments: the best period. ive spent thousands stocking my tackle bag and have caught prolly 90% of fish my whole life on this and the finesse worm. it will catch em when nothing else will.

From: Wes: MO

Comments: Nothing better to me. Green pumpkin green flake is the way to go here in Georgia. On private ponds and public water this worm and color really brings in the fish. I normally fish them weightless.

From: John: Jackson, GA

Comments: Love these worms they flat out catch fish and they are super durable caught 8 fish on one worm before i had to put on a new one

From: Tristan: Hoover, AL

Comments: Best worm money can buy period. June Bug is by far the best color. I have caught over 500 fish on this worm alone.

From: John: Raleigh, NC

Comments: Great worm! try fishing it like this, take a colorado blade in a small size, put it above a bead and whatever worm hook you like, and fish by pulling it along with enough force to get the blade spinning. great for stained water. called a Goode rig

From: Nico: Nov/4/11 Michigan

Comments: I used this worm on a skakey head hook and caught 15 fish in an hour including my personal best- an 11 pounder!!! best shakey worm out there on the market!!! will be buying a lot more of these in the future. great worm zoom

From: Tyler: Cincinnati, OH

Comments: About 4 months ago i decided to try this bait because of the big talk about them, i thought they would be just like any finesse worm but was I wrong!!!!! this bait has insanely good action and have caught me over 100 bass. I have yet to see a hater of this bait and if it doesnt work for u then ur doing something wrong cause this bait is like bass candy!

From: Garrett: VA

Comments: These trick worms are MONEY!!! I have caught a ton of bass with these worms. It seems that I can always rely on a trick worm to catch bass, even in tough conditions. My favorite color is BLACK in stained/muddy water and watermelon red flake, green pumpkin blue flash in clear water. By far, these are the best worms on the market!

From: Tom: North Charleston, SC

Comments: Greatest worm ever, if your looking for a worm that bass will strike constantly, then this worm is for u, I use it when I'm having a bad fishing day and it makes it seem like I was catching fish all day when I use it, it's amazing and I recommend white color kus it works for me, I recommend this worm above all others, it's that good

From: Chase: Florida

Comments: I love to fish a white one with a red offset hook and rig it weedless and use no weight at all. I twitch it three or four times to keep it up where i can see it and watch the line as it falls. Generally gets hit as its falling slowly.

From: Chris: Big Clifty, KY

Comments: This is my first full season fishing, so it was my first Bass Opener on Memorial Day weekend. I was fishing the Zoom Trick Worm, Key Lime, on a 3/16 oz. wacky jig head I bought on eBay. I only caught one fish that day, but it was a personal best ~4 pounder. Yesterday, my second outing of the season, I hooked a bigger bass with the same set up. I'm guessing it was in the 6 lb. range (which is HUGE for MN), but it was able to toss my hook on a jump.

From: Austin: St. Paul, MN

Comments: this worm is the greatest the first time i use it on a shaky head i land my personal best bass 6.6 the next week lake amistad i land a new pb 7.14 this worm is the greatesh i always have one tied on

From: TY: McCamey, TX

Comments: These are the only worm I throw on a shaky head, if you no of a better worm you let me know!!!! but i want to try the zoom shaky head worms though..

From: J-dog: Cedar Rapids. IA

Comments: How many fish have fallen to a trick worm? Like a zillion! Rig this any way your heart desires. From coast to coast, this worm will get em.

From: Meatwad: Around 4/15/11 corner

Comments:These worms work. I went fishing for two hours and caught over 20 bass. My friend introduced me to these worms and they really work. I couldn't believe the outcome.
From:Anthony: South Carolina
Comments:Great shallow water and topwater action when used with a light wire Texposed hook. Bubblegum is a great color.
From: Frank:Walden, N.Y.