Zoom Ultra Vibe Speed Craw 3.5" 12pk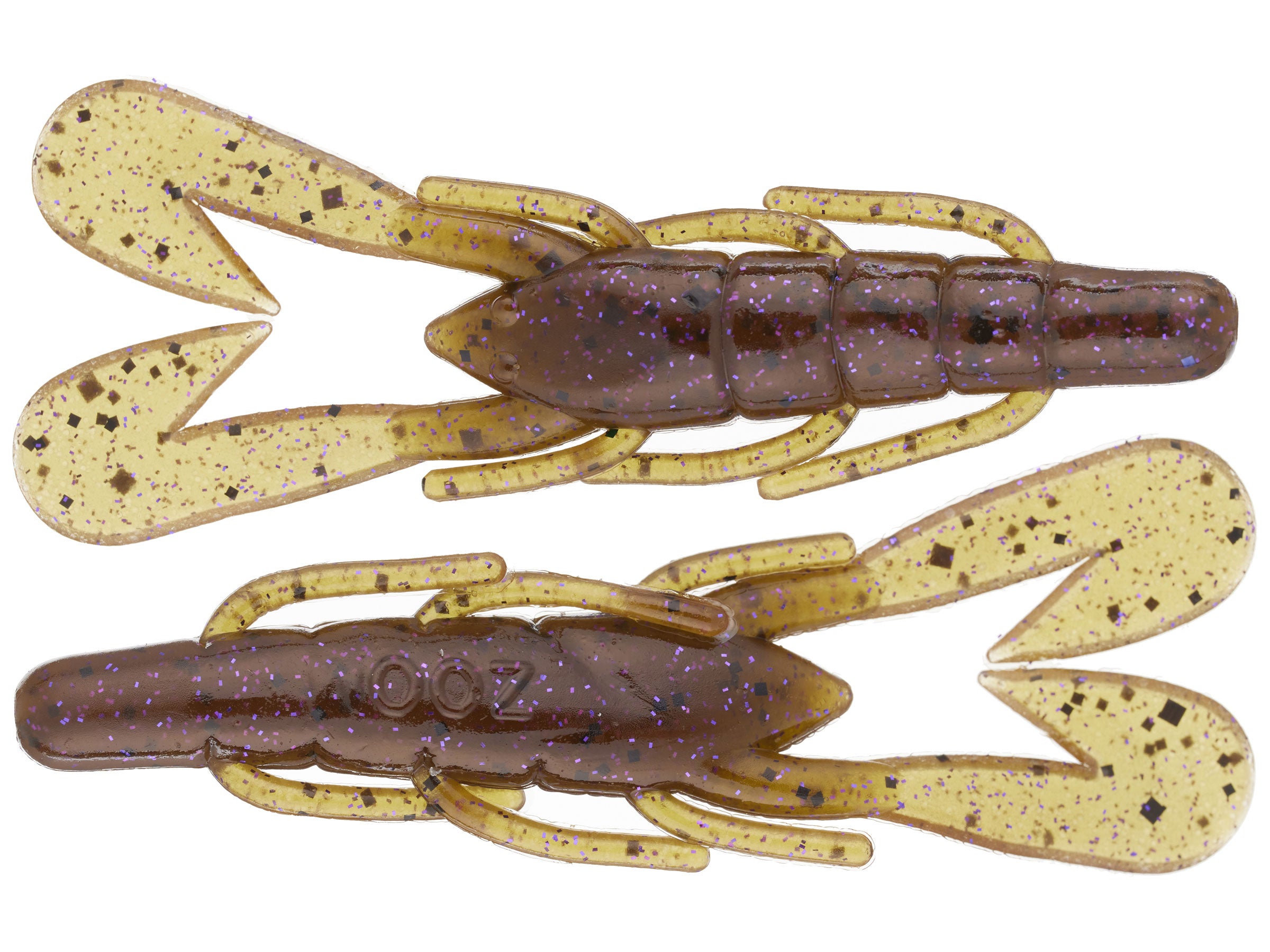 The Zoom Ultra Vibe Speed Craw is one of the most versatile craw baits on the market. With its small profile and great leg action, the Zoom Speed Craw is great for flipping thick mats. Rig the Ultra Vibe Speed Craw on the back of a small casting jig and you have a trailer that will kick and put off vibration like no craw on the market. As with all Zoom Baits, the Ultra Vibe Speed Craw is available in a variety of colors to match with your local waters, and it's composed of life-like, super soft, salt-impregnated plastic that bass will fight to hold on to.
| | |
| --- | --- |
| Length | Quantity |
| 3.5" | 12 |
46 Colors
More From Zoom Craws
Customer Reviews
Comments: Great jig trailer I put these on the strike king bitsy flip jigs.
From: Tony 1/30/17
Comments: This is a very good jig trailer. It certainly catches fish!!! The only problem is the packaging is terrible. The claws are way too often deformed and don't swim correctly. The last time I bought some several would not swim correctly. Won't buy any more until Zoom gets them packaged where the claws don't get bent up.
From: Dave: Madison, AL 12/23/16
Comments: I fish a clear water lake and have tried many different craw lures with some success but the zoom ultra vibe speed craw hands down out fished all others. Doesn't really look all that impressive but for some reason fish love them. Works well Texas rigged or as a jig trailer easy to match to any jig with the great color selection. Finally found my crawfish plastic.
From: Donald: Hayden, AL 12/29/15
Comments: I spend most of my time fishing at Martinez Lake so that means a LOT of flippin. The speed craw is my go to flippin bait & it catches lots of fish & it'll catch the big ones too. The colors are great & so is the action. You really can't go wrong with these baits. The only problem is the plastic is very soft (which is good) so you need to buy a lot of them because you will go through them like crazy. Especially if you flip heavy heavy cover like at Martinez.
From: Ethan: Yuma, AZ 10/7/15

Comments: used my first speed craw in 2013 & it has been my go-to bait since. The ponds near my house are very muddy & have no crawfish in them so its gives them something they haven't seen before. I only use watermelon seed & watermelon colors. if only they could make these in motor oil color. that would be a game changer.
From: Robby: LA 10/5/15

Comments: My home lake is very small and gets a ton of fishing pressure. When I am out fishing and can't get bit on anything else, I know that I can pick up a Zoom Ultra Vibe Speed Craw and texas rig it with a 1/8 ounce bullet weight pegged and a 3/0 hook and go to town on bass. I have caught more bass and won more tournaments in the spring and summer time on this lure alone than any other bait I have. When I fish this bait I like to just keep it simple, my favorite way to fish it is just flipping laydowns, I also have a lot of luck by dragging it through grass and popping it out when it starts to get hung. But long story short, if you don't have one of these things tied on when the fishing gets tough, then you are getting beat.
From: Dakota: KY 3/20/15

Comments: These are the best flipping craw on the market. Zoom put out an outstanding product with this. I fish tournaments almost every weekend and this is the first bait out of the box. Just won a USA tournament in Southern Ohio with over 14 pounds caught on these babies. Very durable and awesome colors.
From: Shawn: OH 7/20/14

Comments: I really like these baits. They are great trailers for finesse jigs with their small profile. I also like them texas rigged and relling it fast bear the top like a frog in the summer. Great baits, just need to be more durable.
From: Ethan: VA 5/8/14

Comments: Great baits, they work really well texas rigged or as jig trailers. Smallmouth and largemouth crush them.

From: Nolan: VA
Comments: by far the best craw out there. My go-to bait in any situation. may not be big but don't think you cant catch monsters on this bait. It also makes for a pretty good jig trailer. I love it. great job zoom.

From: Logan: LA

Comments: best texas rig flipin craw out there

From: Hunter: TX

Comments: wonderful baits, great value for money. texas rig it, jg rialer, carolina rig it, run it on top of the water (yes.. TOPWATER too!!!) best colors, green pumkin, junebug, and okeechobee craw... get some!!

From: Trevor: Eddyville, KY

Comments: Just got into freshwater fishing really hard even though its in the middle of the summer when the bass aren't as active, I have always had great success with the junebug speedcraw. 1/8 ounce tungston with a 3/0 owner rig'n hook and thats all I need. I don't like using braid so I just use regular 12lb mono. Love this bait alot, but i'm thinkin bout using maybe the green pumpkin blue flash or the white pearl.

From: Hunter
Comments: I use jigs as my primary fish catcher all year round and I own every type of craw that is made. The zoom speed craw is by far the best that money can buy. I can't say what it is that makes it work so well but I can say that if you want to catch bass, put the black and blue craw on the back of a good half ounce swim jig and go for it. They are the best and will stay on your jig better than any of the others. They are the less expensive because you get 12 per package and the other brands only have 8. Don't waste your money on anything else because when you see the ZOOM name you have got the best.

From: William: Hohenwald, TN

Comments: best craw out there, swim it through the water, pitch it under cover or Carolina rig it, either way you can't go wrong

From: Chandler: TX

Comments: I think this is the best craw on the market for small mouth bass. its great for piching under cover its also good when the bass are bedding.

Comments: As fancy as all of the craw style baits have gotten out there in the bass fishing world, this bait delivers every time. I started out using Zoom products when I first picked up bass fishing and I'll never put them down. Very durable and seems to attract a bite when nothing else will. Wat/red, junebug, and bullfrog have been money colors for me. Can't wait to start punching with them this summer.

From: Nic: Baton Rouge, LA

Comments: NO joke. First cast caught roughly a 5 1/2 pounder on the edge of some grass in a corner.

From: BassAssassin246: Baton Rouge, LA

Comments: Best craw period, texas, trailer, it'll catch all day. They bite so much, this is what I stock up on the most, Green PUmkin ftw!

From: Steven: Menomonie, WI

Comments: this bait is great... its a good bait for when bass are picky and want something smaller...caught a 4 pounder this morning on it

From: Jacob: Lakeland, FL

Comments: the best punching/flipping I have ever used

From: Thomas: Sylacauga, AL

Comments: These things catch fish and are actually pretty durable too!

Comments: Amazing bait great for flipping!

From: Ben: WV

Comments: This is my favorite jig trailer i had to retire ome after it cought about10 bass and 7 of them were at least 3 pounds i reccomend this bait not only will it catch you fish but it will last you forever

From: Andy: TX

Comments: This is my favorite bait by Zoom. Always tied on come tourney time! Best colors are watermelon seed and wat / red flake, also bl/ red.

From: Zach: Stuarts Draft, VA

Comments: One of my favorite was to fish them is on top. Buzz them along the pads or by trees. It is strike you won't soon forget. Also try them flippin. A 3/8ths weight pegged and 3/0 flippin hook works wonders on finicky bite. Top colors for me are black, watermelon seed, watermelon red, junebug, and green pumpkin.

From: Mike: Norman Park, GA

Comments: wow, these baits have ben a great bait in all of my tournaments.. i took 1st last week using this as a jig trailor cast my jig near grass.. cant wait to try the summer craw color

From: Kiel: Kansas

Comments: One of my favorite jig trailers and jig head baits. The legs have CRAZY action and work well when you are looking for a more agressive approach. Another great bait by Zoom. I like any pumpkin or green pumpkin color. My favorite is Okee Craw.

From: Jim: Woodstock, GA

Comments: Ta-dow! Awesome!

From: Danny: Milan, TN

Comments: Another great Zoom bait ! Texas rig or Jig trailer or on a shakey head, best colors for me : green pumpkin/red fl. and black/red fl.

From: Fab: France

Comments: these baits are the best baits ever. I use these and baby brush hogs at all my tourniments, the best color is green pumpkin and green pumpkin with any color flake.

Comments: Best crawl on the market... I rig mine with a 3/16 oz bullet weight and a 3/0 'Owner' Hook. I do not peg mine, I want the sound of the hook hitting the weight.. Unbelievable bait... Everyone should have these in their bag...!

From: Jon: Dunlap, IL
Comments:I don't know why every one likes the chigger craw and other big flappin claw type baits because hands down these baits catch way more fish for me that is...
From:Jordan: Oklahoma, USA
Comments:A great trailer bait for swim jigs.