Zoom Z Hog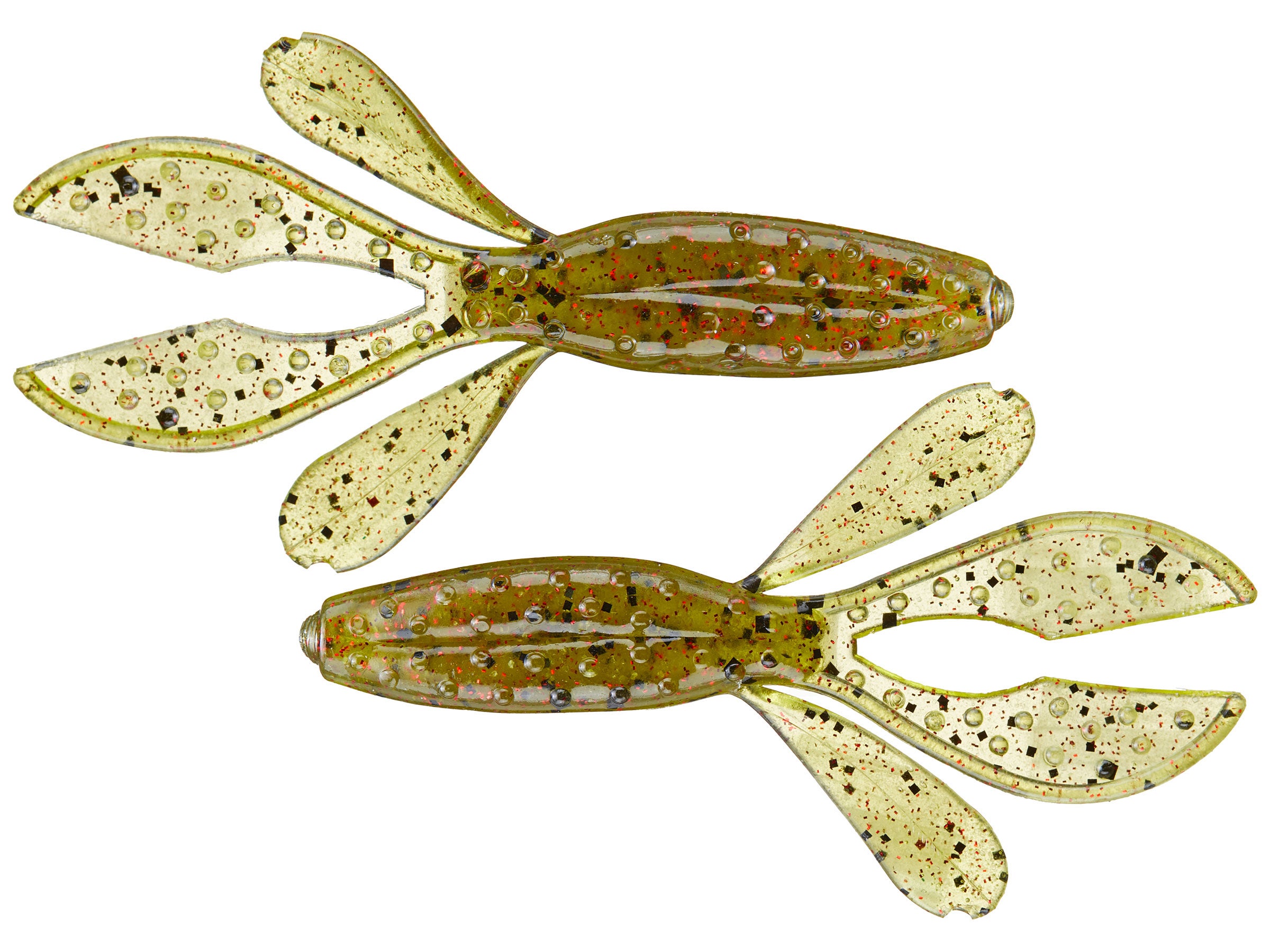 New from Zoom Baits, the Zoom Z Hog features a compact, streamlined profile perfect for penetrating cover. The two small flappers on each side of the body also help it slide and punch through heavy grass more easily, and the two larger "rabbit ear" claws are designed create a commotion and give the Z Hog a killer craw profile. Available in a variety of proven colors, the Zoom Z Hog is also small enough to support a 3/0 hook, and still features the trademark softness of Zoom's plastic.
| | | |
| --- | --- | --- |
| Z Hog | Length | Quantity |
| Jr. | 3.5" | 10 |
| Standard | 4" | 8 |
12 Colors
More From Zoom Creature Baits
Customer Reviews
Comments: IMO the dents, if any, may affect fall and action in a positive way! Cuz I have no problem with the bass inhaling these. Not a ton of flapping action. Good texas rigged on those days when the bass may want a bit less. I like to thread the Jr size on a skirted jig as a trailer. They have the same craw type tail as the Zoom Super Chunk, but with a thick body that can be threaded onto the hook. Emerald blue on a 1/2/oz black / blue jig is deadly in shallow, stained water.
From: Big J: Western NY 1/6/17
Comments: Dents in the body? Big deal. Doesn't effect the fish catching ability of these in the least. The packaging is what keeps the price point down. Keep them the way they are. Excellent bait Zoom as they all are.
From: CBO: ND 9/8/16

Comments: Zoom is made in the USA. It seems qc has taken a hit but with the us dollar basically worth nothing zoom still hasn't raised their prices. But these work for me. Most of the dents are near the top & I use them mainly on jigs & Shakey heads anyway. Another thing is the laminates are usually worse with dents as they cannot be remelted like a solid color with flake. If you want an awesome flip bait with detailed colors fish a beaver. If you want a nasty, affordable jig/punch skirt trailer buy these. It's not rocket surgery.
From: Fishin: USA 8/11/16

Comments: Theese baits are awesome and catch bass like crazy. But zoom seriously needs to adresss the quality control. I have not found a bag without at least 2 baits having dents in the bodies. The dents affect the action & fall of the baits. I would expect much more care from a company like zoom. Rather than that if you flip with a non dented bait, be ready to hold on!
From: Ryan: Benton, AR 5/24/16
Comments: Great action in the water, however Zoom needs to address some problems with these. The most recent bag i bought most of the baits have dents in the body and the flappers are bent.
From: Adam: Long Island, NY 2/23/16
Comments: This is the first beaver style bait I have owned & I must say that it works great! Nice and bulky, but slips through cover well. It looks great on a Texas rig as well as a shaky head. Great job zoom with another versatile bait.
From: Jimmy: Atlanta, GA 10/19/15
Comments: Great flippin bait. Caught several 7lb and up Biggest 13lb 6ounce Really gets the big fish bite. half ounce tungsten with 4/0 trokar flippin hook
From: Brian: Plano, TX 5/27/15

Comments: Great bait,used it on a c-rig in a night tournament.Bite was tough and I wanted to try something different. The Z-Hog got me two bites,both 4lb plus. Cant wait to try it as a flippin bait!!!
From: Brian: Winfield, TN 6/11/14

Comments: I like the bait and I like the colors. Zooms QC is garbage though. One bag I bought every single bait was deformed. Kinda disappointed.
From: Tim: TX
Comments: Great flipping, pitching and punching bait. I bought this bait last year and was very impressed. Always been a Zoom fan but would like to see more for the flippers and pitchers. This bait is deadly on a Gene Larew Biffle Hardhead too!

From: Keith: Jackson, MI

Comments: Use these for punching matted grass awesome bait fish flat eat them up durable bait as well caught probably 4 to 5 fish on each one.

From: Lance: Livingston, TX

Comments: Caught 6 bass decent sized on these, 3/8 oz tungsten flipping weight, Durable and comes in great colors, blck/blue sapphire is a must on a bright sunny day, slightly stained waters where im from, and of course watermelon candy with the tips dyed in spike-it chartreuse.

From: Brian: Aurora, IL

Comments: On two different bodies of water, using 3 different colors, these things caught fish. Great bait!

From: Brad: PA

Comments: sweet bait caught a 4.25 on the black with red flake. awsome bait.

Comments: I've only used it a few times, but I love it. It has a really slow, spiraling fall to it, which I'm sure triggers fish. Only caught one on it so far--I ain't the greatest angler or anything--but I love this thing!

From: David: Atkinson, NH

Comments: i caught some real nice bass on this bait in california 420 i was pitching it around submerged trees and they were hittin it like a train. I had alot of fun and im definatley going to buy more of these baits in the future

From: Jared: KY

Comments: awesome flipping bait. caught a ton with it first time out with the scuppernong green.

From: Godzilla: CA

Comments: I was using the Scuppernong Green. Tail keeps tall, Lasts along time, caught 5 fish with the same bait in heavy cover and still ready to go.

From: Timmy: CA

Comments: Finally a beaver style bait with enough bulk in the body to really use a straight shank flipping hook, and have enough plastic to keep the point embedded. Zoom has done it again with the bait, its durable, yet soft, great colors, good action, its slender enough to slide through the cover, but bulky enough to have a slower fall which i like especially around the spawn when i really like to use baits like this

From: Ben: FL

Comments: I have had great success with this bait. A killer punchin/flippin bait. Highly Recommend and it comes at a good price.

From: Thomas: AL