2013 Bassmaster Classic Winning Baits & Gear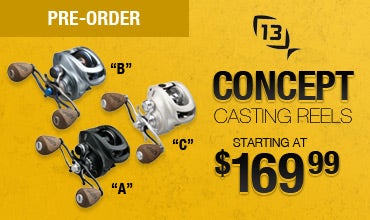 1st Place Cliff Pace
When Cliff Pace broke into the pro fishing ranks, he knew he'd have to expand his horizons in terms of the types of lakes he fished and times of year he fished them. He hails from Petal, Miss., in the southern half of the state, and like he says, "Deep is about 5 feet." "When I first came out here, all of the tournaments were early in the year between January and March," he said. "We'd work our way from the South to the North so just about every tournament was a pre-spawn tournament. I'd never been faced with that and I did so bad. I'd go down the bank with a spinnerbait thinking I'd catch them like I do at home." After his first season, he dedicated himself to learning how to fish cold-water conditions. He spent the next two offseasons fishing deeper lakes and gained a better understanding of how fish behave during the winter months. "I'd go over to Lake Lanier and fish until I got comfortable fishing deep and fishing cold water," he added. "All of that over the years played into what happened this week." While he didn't necessarily win the Bassmaster Classic out of deep water last week, there was no doubt his ability to accurately read how the cold water at Grand Lake affected the fish was one of the key elements to his triumph. Catching nearly identical 21-pound-plus stringers on days 1 and 2 put him in the driver's seat entering the final day and he capped off the victory with a four-fish, 11-08 effort to fend off Brandon Palaniuk for the sport's top prize. "What it means to me, I can't put into words personally," Pace said of the win Sunday evening. "What it'll do for me, I really can't tell you that either. Everybody says it'll change your life and I'm sure it'll affect me. Something like this is an unbelievable experience." Here's how he did it.
Pace spent 3 days at Grand Lake in late November last year and came away with the impression that it was one of the best pattern-fishing lakes he'd been on. Obviously, his concern leading up to the Classic was the weather. He was not alone in that regard, but when the lake opened for unofficial practice the weekend before the Classic, he discovered a way to entice the lake's better fish to bite. While many of his competitors talked about the ample supply of keeper-quality fish swimming in Grand Lake, he began to concern himself more with the larger, difference-making specimens he was catching in the afternoons. "In practice, I wasn't catching them really great," he said. "I'm sure other people found them better than I did. I was able to get on a little pattern in the afternoon and every now and then I'd catch a big one. I caught them every day like that expect for day 3. I think the change in wind direction affected those fish on Sunday." He said the transition from big rock to gravel was critical to finding the bigger fish around the first channel swing inside a creek, "where it would start to flatten out on the end," he said. "The fish would slide up out of deep water and get on the ends of the channel-swing banks." "I didn't really have any schools, but I could run enough of them that I could get a big bite off of every third or fourth one," he added.
Competition:
Many of the 53 competitors in the Classic field reported a steady, if not strong bite during their 3 days of practice the week before competition got under way. But that was under cloudy, rainy conditions with water temperatures in the mid and upper 40s. A winter storm system pushed through the Tulsa area 2 days prior to the event, dumping snow and sleet and driving air temperatures down into the 20s. The full effect wasn't seen or felt until Friday when the tournament began. Air temperatures were in the teens at takeoff and the clouds had moved out, clearing the way for frigid, post-front conditions to settle in. More importantly, at least in the minds of the anglers, the water temps in most portions of the lake had dropped 5 or more degrees, a significant dip for wintering bass. There were still plenty of fish available to catch and Pace spent day 1 concentrating on dragging a jig across rock transitions in the morning and throwing a Jackall Squad Minnow jerkbait to windblown channel breaks in the afternoon. The formula resulted in just seven bites, but the five best weighed 21-08, which put him in a dead heat for the lead with Mike Iaconelli. Afterward, he talked about the commitment it required to fish the way he was. While others admitted they gave up on patterns too soon, he stayed with it, thinking it gave him the best chance to win. "All through this event, I was fishing for key bites - big, quality bites because I knew a guy could go catch 10 or 11 pounds easy, but I wasn't going to accomplish what I was here to accomplish," he said. "Had this been any other tournament, I wouldn't have fished the way I did. The first 2 days, it worked out and I got a couple of those bites, but during the course of the day, I was only getting six or seven bites and I had to fish very, very slowly to get those six or seven bites." Those who monitored the new BASSTrakk feature that allowed fans to view real-time locations of the anglers saw the field was pretty spread out across Grand with the numerous creeks, pockets, rocky points and bluff walls garnering the most attention. To catch his fish, Pace moved around mid-lake and south toward the Pensacola Dam.
"I bounced around a lot," he said. "I don't know the names of a lot of them. I know I was in Drowning and Horse (creeks) and some of the smaller creeks and coves between Drowning and the dam and some between Horse and Shangri-La - some of the little, no-name coves. I bounced around a great deal. I was fishing a pattern more than a specific spot." The pattern held true again on day 2 as he put the hammer down with a 21-12 stringer that gave him more than 43 pounds and put immense pressure on the other contenders. Two brutes anchored his bag - a 6-12 and a 7-02, the latter of which took him a bit by surprise. "I'm definitely going to remember that 7-pounder I caught on the jerkbait on day 2," he said. "I never felt it take the bait. I thought I was hung up and when I lifted up, I felt some weight. Then it started shaking its head and I knew it was a good one. That's the fish I'll never forget catching." The final day of the tournament was the third straight day of high skies and while the air temperatures climbed into the 50s, the fish were still getting used to the much cooler water and therefore were reluctant feeders. Pace managed four bites all day, two in the morning and two in the afternoon on his jig. He had a 7-pound lead to open the day, but on the way back to the ramp and for much of the 90-minute ride back to Tulsa, he was fairly sure he'd lost the Classic. "I knew it was going to be a lot closer than what I wanted it to be," he said. "I didn't know if I'd won or not. I wasn't sure. I knew the potential and the chance was still there, but I had left the door open."
Winning Pattern:
Some came to Grand thinking the fish would be further along in the seasonal pattern and more toward their pre-spawn mode. If the water had remained where it was during practice and continued upward, that may have been the case. However, the drastic swing in weather scattered the fish and made them a bit harder to target. That's why Pace seemed to focus on certain areas where he thought he could catch a single fish. "I was fishing the very first thing that I thought would be a staging area inside of any pocket that was in a major creek or off the main lake itself," he said. "I was fishing the inside sections of it where the fish are migrating off the main lake coming in there and staging. "Those fish don't like to be out there in that current. The main lake was actually a little colder than what the pockets were this week water temperature-wise. They've migrated inside the edges of that stuff just to get away, but they don't really want to be way back yet where they're going to spawn so I was fishing what you would call the in-between part."
Winning Gear:
Jig gear: 7'2" medium-heavy Shimano Crucial Casting Rod , Shimano Chronarch casting reel (6.4:1 ratio), 12-pound Hi-Seas 100% fluorocarbon line, 1/2-oz. V&M football jig (green-pumpkin), 4" V&M Twin Tail trailer (green-pumpkin). Pace trimmed the weed guard on the jig to improve his hook-up ratio. "When the fish are biting like they were, I didn't want many strands of fiber there," he said. "I cut a few out of the front of the weed guard and I cut it so if you lay your scissors over the top of the hook, I'd go up about a 1/16th of an inch and cut it on that angle. When these fish are deep, especially when they bite the jig and you set the hook, you really don't need much weed guard there or you won't hook them." He also dyed the tails of the trailer orange and says it got him more bites. "I don't what it is about this lake and orange, but they seemed to like it," he said. "If the water color had been clearer, I probably would've left it alone, but I think in the stained water, the orange on that tail really did get a few more bites over 3 days' time."
Jerkbait gear: 7' medium-action Shimano Crucial crankbait rod, Shimano Chronarch casting reel (5.5:1 ratio), 8-pound Hi-Seas 100% fluorocarbon line, Jackall Squad Minnow 115SP (SG threadfin shad). The only modification he made to his jerkbait was putting a heavier split ring on the line tie to help it dive a little better.
Main factor: in his success "Patience and commitment."
Performance edge: "My HydroWave helped me a bunch. I think those fish were in a negative mood and lethargic and I think it got me a few extra bites."
Bassmaster Classic Winning Pattern February 26, 2013 Bassfan.com (Todd Ceisner)
2nd Place Brandon Palaniuk
Palaniuk stayed farther to the north that most of the 53-angler field, focusing on an area between Horse Creek and Sailboat Bridge. He exploited locales off the primary river channel where it ran toward a point or a spawning flat. "I used my Navionics chip to identify the sweet spots, which were little 25- to 30-yard sections that had a little bit steeper drop," he said. "Those were the places where the fish were pulling up and holding, and where there was some bigger rock was usually where they wanted to be. "I had about eight of those places - four real good ones and four that were more hit-and-miss but still played a role. The pattern was so specific that it was hard to a lot of places to work it." He caught fish from depths of 3 to 6 feet. He said timing was a critical element as the fish were always there, but wouldn't always bite. "There'd be times when I'd pull up and not catch them. The water was still cold (in the low to mid 40s) and their metabolism was low and they wouldn't feed all day. There were little windows of opportunity when they were more active." He fished jerkbaits exclusively on day 1, then went with a jerkbait/shaky worm combo on day 2. A Storm Wiggle Wart crankbait produced for him on the final day.
Jerkbait gear: 7' medium-action Abu Garcia Verocity casting rod, Abu Garcia Revo MGXtreme casting reel (7:1 ratio), 10-pound Berkley Trilene XT monofilament line, Strom Twitch Stick or Rapala X-Rap (gold).
Worm gear: 6'10" medium-light Fenwick Elite Tech spinning rod, Abu Garcia Revo Premier 20 spinning reel, 8-pound Berkley NanoFil line, 8-pound Berkley Trilene 100% fluorocarbon leader (6'), 3/16-ounce shaky-head jighead, 6 1/4" Berkley Havoc Bottom Hopper worm (green-pumpkin/red). He cut off the rounded top portion of the worm (about half an inch) so the flat portion would butt up against the shaky-head. The Verocity is Abu Garcia's newest rod and was introduced to the public at the Classic Expo.
Main factor: "Finding a pattern that was away from where most of the guys were fishing."
Performance edge: "My Lowrance (depthfinder) with the Navionics chip - that's how I found the pattern. It was pretty easy once I identified it to look at a map and know I was going to catch one right there, then I could idle around and find the little sweet section. Also, my Simms gear did a good job of keeping me warm in that cold weather."
Classic Patterns 2-3 February 27, 2013 Bassfan.com (Todd Ceisner)
3rd Place Hank Cherry
The first fish that Hank Cherry caught during practice the week prior to the Classic was a 6-pounder. In hindsight, that could be taken as either a sign of good things to come or the portent of a heart-wrenching final afternoon on which he would lose one slightly bigger than that and one just a bit smaller, and watch his victory chances swim away with them. He spent the first 2 days of competition in Honey Creek and fished the final day near Shangri-La Marina (both in the lake's middle section). He targeted points in Honey Creek and pulled fish from water that was 3 to 7 feet deep. He shared that water with Kevin VanDam. "In practice I looked for stuff that was out of the way and that other people wouldn't find," he said. "I went through a process of elimination - if there was going to be a warming trend, then a jig would be the way to go. If the water started clearing up, I could throw a crankbait. The most consistent bite I saw was on a jerkbait." A lackluster middle day was his true undoing in terms of his ability to catch Pace. "Me and Kevin really worked that place over hard on the first day. Then on the second day, we had a bunch of other competitors in there with us and it got a lot tougher." He moved to some bluff walls on day 3 and quickly caught one that weighed almost 5 pounds. That was before he hooked and lost the two that were even bigger (he estimated them as a 7 and a 5). He threw a Megabass Vision 110 for the first 2 days, then switched to a Lucky Craft Staysee when he went to the bluffs. "That was a little bit deeper water, and I really just needed to make a change in what I was doing. Changing the bait changed my rhythm and everything about the way I was working the bait."
Jerkbait gear: 7' medium-action Denali Rosewood rod, Abu Garcia Revo MGX casting reel (7:1 ratio), 12-pound Seaguar InvizX fluorocarbon line, Megabass Vision 110 (sexy shad) or Lucky Craft Staysee (chartreuse shad).
Main factor: "I just kept my confidence high. I went in with an open mind and figured out what I needed to do, and I knew I'd have to fish that way if I was going to have a chance to win."
Performance edge: "I'd say the Megabass bait and the MGX reel. I was able to make really long casts."
Classic Patterns 2-3 February 27, 2013 Bassfan.com (Todd Ceisner)
4th Place Michael Iaconelli
Iaconelli's pattern was quite specific as each of his areas featured a combination of three characteristics. "It had to be a main or secondary point heading into a creek or cove, it had to have transitional rock, meaning a mix of different sizes, and the creek channel had to turn into it. Ninety percent of the places I fished had all of those things. "I probably had 30-plus of those areas marked and about half produced during the event. The first 2 days I stuck to 15 or 20 places and then the last day I covered a lot more water." He'd make his first pass through an area with a jerkbait or a crankbait, and then rework it with a small jig or a grub if he felt that was warranted. Most of his fish came from a depth range of 5 to 10 feet. "If the spot was pretty much barren with no visible cover, I'd throw the grub. If there were isolated logs or docks, I'd go with the finesse jig. "It might freak some people out who think you have to fish deep when the water's that cold (low to mid 40s), but these were fish in transition. My boat would be in 15 to 25 or 30 feet of water, but I'd always be within a cast of that break."
Crankbait gear: 7' medium-action Abu Garcia Veritas Winch Series rod, Abu Garcia Revo Premier casting reel (6.4:1 ratio), 10-pound Berkley Trilene 100% fluorocarbon line, Rapala Scatter Rap Crank (blueback herring).
Jerkbait gear: Same rod (6'4" version), reel and line as crankbait, Rapala Husky Jerk (size 12, shad). He replaced the stock VMC hooks on both baits with ones that were a size larger in order to slow the rate at which the baits returned to the surface when he stopped his retrieve. He went with the shorter rod on the jerkbait to decrease the length of each pull, and also because a shorter butt section allowed him to develop a better cadence.
Grub gear: 7' medium-action Abu Garcia Veritas spinning rod, Abu Garcia Revo Premier 30 spinning reel, 8-pound Berkley Trilene 100% fluorocarbon line, 3/16-ounce VMC Darter Head jighead, Berkley Havoc Beat Shad (green-pumpkin).
Jig gear: 7' medium-action Abu Garcia Veritas rod, Abu Garcia Revo Premier casting reel (7:1 ratio), 12-pound Berkley Trilene 100% fluorocarbon line, 1/4-ounce Berkley Gripper Ike's Finesse Jig (green-pumpkin), 3" Berkley PowerBait Chigger Craw trailer (green-pumpkin).
Main factor: "Fishing fast, slowly. That's a really hard thing to do and when you say it, it doesn't even make sense. I spent most of the time going as quickly as I could, but once I got into the key areas I'd really slow down with each cast."
Performance edge: "My Lowrance HDS-10 was real important because 80 percent of the fish I caught I was able to see on my graph. Also, finding the place where the creek channel touched the point was a big key."
Classic Patterns 4-5 February 28, 2013 Bassfan.com (John Johnson)
5th Place Mike McClelland
McClelland opted to spend the tournament throwing jerkbaits (and a jig on occasion) in the extreme southern portion of the lake near Pensacola Dam. "My main focus was the first major secondary point in creeks and pockets," he said. "It had to be the right kind - it had to have a creek channel or a really steep drop or break off if it. I didn't fish the gradual stuff, even though some of the places appeared to be that way. Everything had a channel swing close by. "I was usually about two-thirds of the way back into the pockets and most of the fish weren't deeper than 8 or 10 feet. I found some that were deeper than that, but I struggled trying to get them to bite. I didn't focus on docks, but I fished some shade lines that were created by docks. Everything had hard rock around it." He felt that the frigid conditions - particularly on day 1 - benefited him. "The weather as a whole probably helped. If it had stayed warmer, guys would've had a lot more options and they would've caught them better on spinnerbaits and crankbaits. A stickbait is what the fish preferred and that played into my hands a little bit."
Jerkbait gear: 6'8" medium-action Falcon Mike McClelland Signature Series rod, Quantum Exo casting reel (5.3:1 or 6.6:1 ratio), 10- or 12-pound Sunline Reaction fluorocarbon line, Spro McStick (gray ghost, ghost Norman flake or midnight blue). He used the 5.3:1 reel when he wanted to force himself to slow down his presentation. He said that one or two of the smaller fish he weighed may have bitten a 1/2-ounce round-head Bass-X jig (green-pumpkin/orange) with a Zoom Super Chunk trailer (green-pumpkin).
Main factor: "The area I chose to fish, and then making decent decisions on the first and third days."
Performance edge: "The Spro McStick, without a doubt."
Classic Patterns 4-5 February 28, 2013 Bassfan.com (John Johnson)
6th Place Tracy Adams
7th Place Jason Christie
8th Place Kevin VanDam
9th Place Todd Faircloth
10th Place Randy Howell