Owner TwistLock Open Gap Centering Pin Hook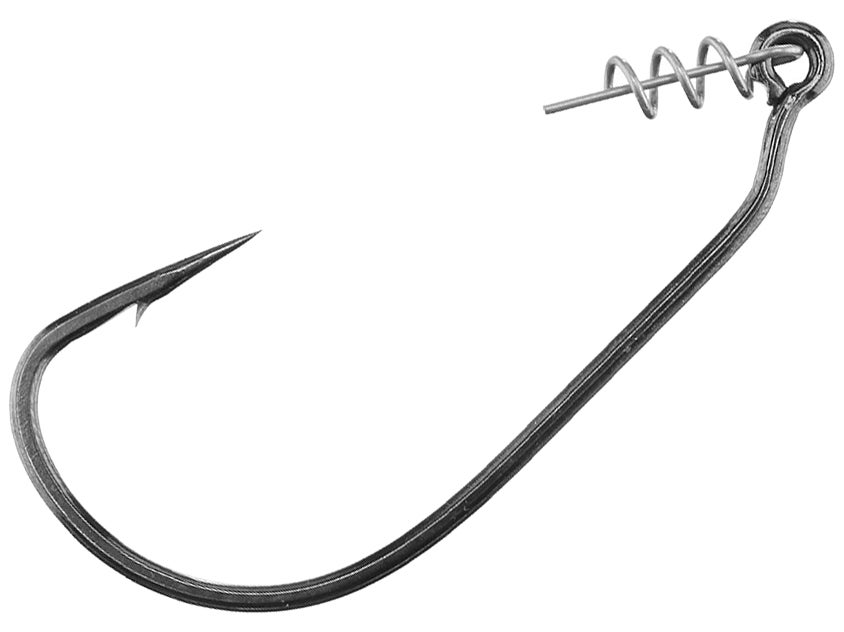 This bass hook is Unique with its TwistLock "Centering-Pin Spring" attached to the hook eye. Baits can be "permanently" secured by inserting the pin in the center of the nose of a soft plastic, which can then be twisted (screwed) onto the TwistLOCK™ coil spring so that any bait will rig perfectly everytime! Hook's "open" gap allows for more positive and effective hook sets. Ideal for soft plastic frog baits, weedless-style Carolina Rig'n and Texas Rig'n of big tube baits. Features include a 30° eye-bend, XXX-strong forged shank, Super Needle Point, and black chrome finish
Place Your Order
More From Owner Worm Hooks
Customer Reviews
Comments: These hooks are strong, extremely sharp, and have one of the best bait keepers in the industry. If you fish soft plastics you owe it to yourself to pick up some of these things.
From: Alex: NY 8/12/14

Comments: These are great for all kinds of weightless presentations. I use these for pitching weightless senkos or flukes, buzzing speedworms or toads, and waking a skinny dipper/Big EZ. These work well through (light) grass because there isn't a Z-Bend to foul in the grass. Sharp and Strong.
From: Travis: FL 4/30/14
Comments: tried these hooks for the first time last week and i love them!!!! the soft bait never moves and are so much better than any other hook i've used.i cast really hard due to the reel i'm using now and the bait stays put.wish i had found these last year!!

From: Bob: kerrville tx usa

Comments: The BEST texas/carolina rig hook on the market. No Z bend means no grass and more bass. They stay super sharp even after countless bass and a few hangups. Sz 4 handles most baits, sz 2 for small baits and sz 5 for 10 inch worms. Owner twistlock is the only screwlock hook I will need for a long time.

From: John: WI

Comments: Super sharp hook with a centering pin spring that helps keep your baits from ripping. If you want the best hooks for bass, look no further. Owner has 'em all beat with this beast!

From: Daniel: Spokane, WA

Comments: I think this is the best hook for flipping sweet beavers or powerteam lures texas rig jigs. i use 4/0 hook with 3/8 oz bullet weight for flipping around shallow wood.

From: Kyle: Buena, NJ
Comments: These are my go-to hooks when working any sizable plastic worm or creature bait through cover or over structure since the twist lock keeps the plastic firmly on the hook, the tip point seems virtually indestructible, and the shank diameter is thick enough not to bend even with 50 pound braid line. For lighter applications, I use Gamakatsu EWG hooks.

From: Vince: Tucson, AZ