Roboworm Rebarb Hooks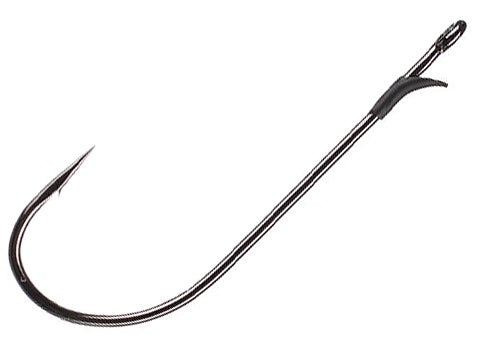 The Robo ReBarb hook was specifically designed for fishing super soft plastic worms. The plastic barb is molded on the shank of the hook which holds the worm on straight and tight. The barb prevents the worm from pulling down on the hook when dragging over rocks or through brush. These hooks actually reduce usage of worms and valuable fishing time when rigged correctly. The Robo ReBarb hooks are available in light-wire or medium-wire hooks which allow for a variety of worm sizes to be fished. When split-shotting or finesse texas-rigging the Robo ReBarb hook pays big dividends.
Place Your Order
More From Roboworm Terminal Tackle
Customer Reviews
Comments: I used these hooks for the first time today & I can't believe how good they are when fishing a drop shot. Simply reel down until tight & the hook is buried every time.
From: Mike: IA 7/13/16

Comments: If you aren't nose hooking a robo worm & NOT using these, you are not using the optimal set up. Life is short, fish it right. I'm going to patent that statement. Yup.
From: Jay6: TX 9/18/15

Comments: I started use these on my Drop shot rigs and never looked back. I only use them now 4 1/2" & 6" roboworms. I recently started using the med. wire for Tex rig 6" roboworms & have not used anything else. Awesome hooks. If you haven't tried them, definitely worth it.
From: Ryan: San Diego, CA 8/13/15

Comments: Aaron gave me a few packs of these when I met him. They are great. I love that they are made from a Gamie strait shank worm hook. They took that Gamie hook and made even better. Aaron is right when he told me I would never use another hook for my drop-shoting. I am using the #2 for my 4 1/2' Roboworms (which Aaron also gave me a few bags of). He told me that Tackle Warehouse is the one-stop shop for all of our favorite Bass gear.
From: River Brown Outdoors: Phoenix, AZ 5/1/14
Comments: These hooks are the best! If you like flipping plastic worms, especially finesse. These are it. Tie a snell knot on these and you will stick every fish.

From: Jon: East Fallowfield, PA.

Comments: Bad little hook, it's all I use on a Drop Shot and Split Shot. Once you hook them they're almost allways yours, I've actually had to break these hooks to get them out of fish's mouths. They are always hooked in the top of the mouth and it hooks them deep.

From: Jake: SC

Comments: Sharp hook the rebarb holds well but if your buying this hook for smallmouth bass fishing, DON'T, this thing kills almost every fish you hook. The shank is to long so you either hook its throat or its gills and end up killing the fish. Good for largemouth, terrible for smallmouth.

From: Matt: MN

Comments: These hooks really blew me away. I caught around 50 fish using a single size 1 light wire hook without ever sharpening the hook. That included several decent fish over 4lbs. These things are such a small diameter that it's hard not to get a good hookset. I use em until they are so worn out the keeper falls off.

From: Chris: Pell City, AL

Comments: Hands down the best hook for Texas rigged soft plastic worms. I pour my own worms and I make them really soft and this is the only hook I use for them.

From: Frank: Makakilo, HI
Comments: This is a wonderful hook at a more than wonderful price. The medium wire 3/0 is a great hook for rigging one of my go-to's, the Berkley 4" Crazy legs Chigger craw. The barb NEVER slides out of place. I use every size of the Roboworm Rebarbs for all of my texas rigs, baitcasting a dropshot, and senkos.

From: Matt: North Haven, CT
Comments: Great hook, stays sharp, holds worms perfectly even when fished in heavy weeds and timber, my favorite worm hook.

From: Will: Depere, WI