Yamamoto 3.75" Flappin' Hog II 7pk - $6.99
The Yamamoto Flappin' Hog was originally only available in Asia and has now officially made its way to the States. The Flappin' Hog has three distinct types of appendages. The appendages closest to the tail section are the longest and have the most weight of the appendages. The riveted body of these appendages will create vibration and action during the fall and when shaking this bait.
Yamamoto has incorporated new designs and characteristics but, they have also stuck with some of the characteristics of their proven baits. The appendages on the Flappin' Hog are close to the body so it can get in and out of tight cover with ease. Yamamoto has also incorporated a hollow section close to the tail to allow easy hook penetration through the bait. The design of the Yamamoto Flappin' Hog makes it an ideal bait for flipping and pitching.
| | |
| --- | --- |
| Length | Quantity |
| 3.75" | 7 |
Comments: Great Craw bait! 3.75inch is the perfect size... may not be cheap nor durable but it flat out catches fish and not as expensive compared to all those JDM baits (Megabass/Evergreen/Deps/O.S.P). Try 2/0,3/0 Decoy hook (Snell Knot), Zappu Saskirt, Evergreen 1/4oz Tungsten Bullet Sinker, Decoy Punch Stop M and you got the best T-rig IMO
From: Toshiya: IL 4/19/14
Comments: Pitched this bait weightless around grass and pads in Florida for 3 months-the bass hammered this bait so hard they would knock slack in my line. they are expensive and not real durable but they sure got a lot of attention from the bass and that is what matters to me. I never go fishing anywhere without a supply of Flapping Hogs
From: Dave: USA 4/13/14
Comments: This bait really works! I caught my first Large mouth bass on it. The thing was seven and a half pounds, the silly fish broke the poll I was using! All in all, its a personal favorite.

From: Daniel: Yuma,Arizona. US

Comments: rookie anglers should try and recognize their ignorance before writing bad reviews. This bait is top shelf. I trick wizards in super clear water with the flappin hawg 2. Sorry to the haters, GYB doesn't make these in a Playskool plastic. GYB 4 life.

From: Bassdale: NJ

Comments: mike from mass. curious about your review? have you thrown both the F.H. & the F.H.2 ???(you say the exact same thing about both) I haven't thrown the original F.H. only the 2 and would say that it's great for a jig trailer. I have won piles of $ with these and caught sacks of BIG bass. these are very durable and once they do rip I just flip it over and it's usually good for at least 1 or 2 more fish. don't listen to h8trs...get some of these, you won't be disappointed. THEY WORK!

From: Jeff: LOZ, MO

Comments: these are some of the greatest flipping baits ever!! Rig them on a 2/0 or 3/0 ewg hook and BOOM! I found some early spawning fish and I couldn't stop catching them! No need for a weight at all, Yamamoto baits seem to be better weightless. A bass took off the back flaps and I still caught fish on it!

From: Ethan: Kansas

Comments: might as well throw a bar of soap on your hook. this thing has no movement at all, swims like crap. . yamamoto makes so many good soft plastics that every once in a while they can just let some piece of junk slip to the market..this is that piece of junk.

From: Mike: Mass

Comments: Great bait,picked up two keepers this weekend to help us win my local tournament. Sorry tackle warehouse I get these for free so I didn't get them from here. They do tear up easy but mend it glue does its job. Again great bait.

From: Jonathon: TN

Comments: ric roc, no need to go through a whole pack ok? i got these baits today for 2.99 =] great bait very durable like i said i fished one bait all day and hard no need to go through a whole pack.

Comments: This bait is awesome. Someone gave me one to try and now i'm hooked. Great bait!

From: Chet: London, KY

Comments: I went through a whole pack today at the California Delta. Green Pumpkin Bk Flk. Great bait! Texas rig for sure!

From: RicRoc: Tracy, CA

Comments: I absolutely love this bait, because I find that it has the actions not many others do. I picked these up a while back, and have had no bad luck. Awesome lure that has not failed to bring in fish yet. I throw it every time I fish and it always has given me success. Yamamoto knows what they are doing.

From: Derek

Comments: cool bait i like dragging it along the botom on a carolina or texas rig in lakes with little or no vegetation for both largemouth and smallmouth but i find it is hard to flip in heavy cover because of all the appendages

From: Nick: Canada
***Note: If you have questions about this product or need assistance with an order please email your questions to info@tacklewarehouse.com
Color:
B Bug Grinder
View Large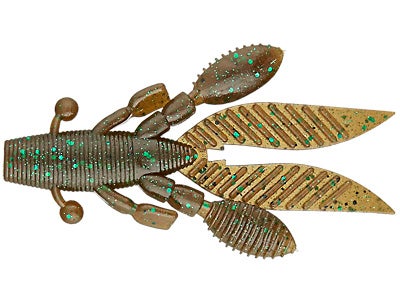 17 Available Colors