Damiki Air Craw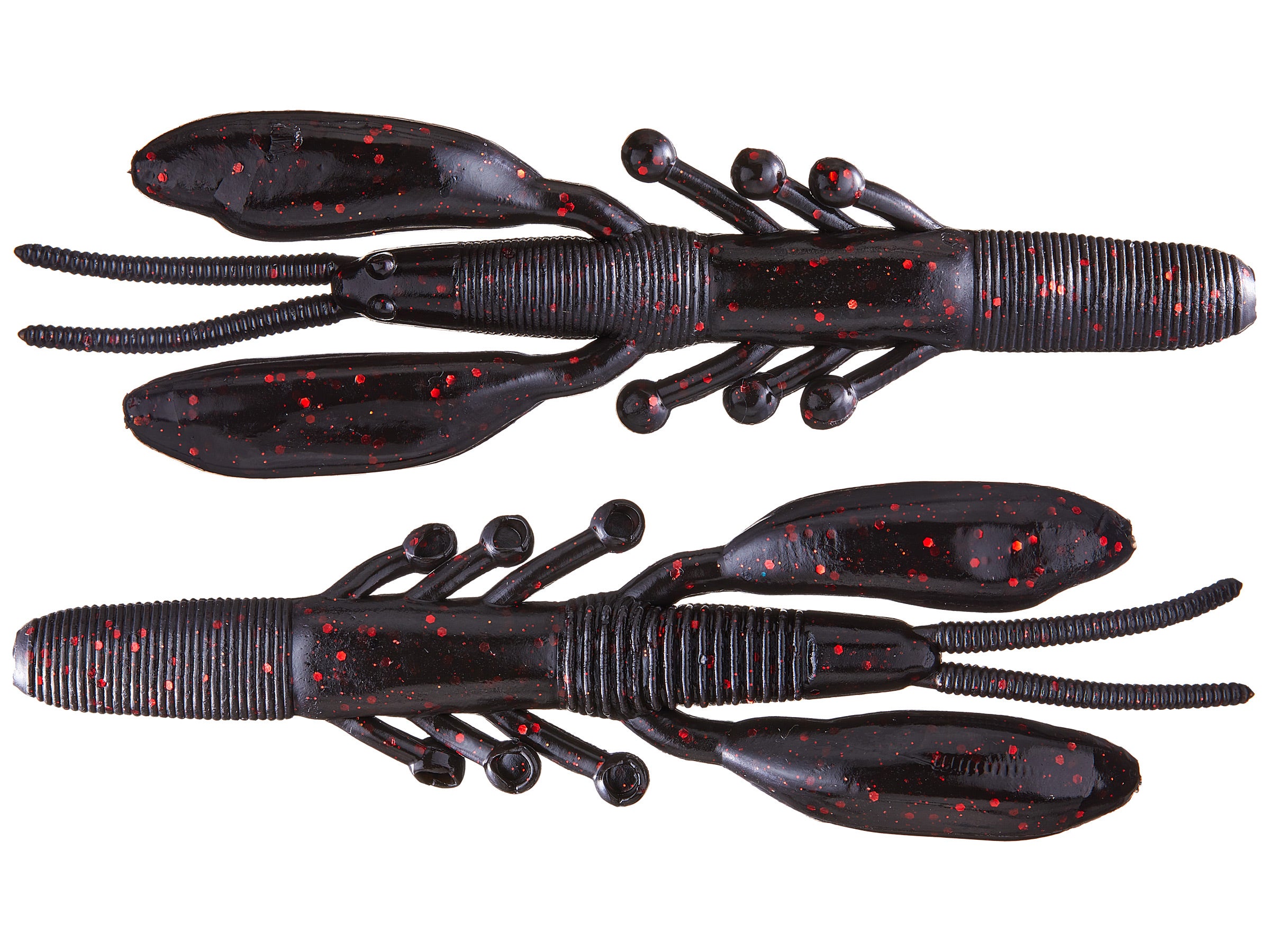 The Damiki Air Craw features innovative air pockets in each of its claws, which cause them to stand up in a defensive position no matter how you rig it. A great flip bait, it has a beefy yet streamlined body that can penetrate thick cover - then fan out once it hits open space. Its plastic formulation is also super soft so you can always get a good hook into fish, and aside from being a great flip bait, it's also an excellent choice on a shaky head, Carolina-rig, or used as a jig trailer. Available in a range of killer colors, the Damiki Air Craw is another cutting-edge offering from Damiki Baits.
| | |
| --- | --- |
| Length | Quantity |
| 3" | 10 |
| 4" | 8 |
12 Colors
More From Damiki Craws and Creatures
Customer Reviews
Comments: Floated a smallmouth stream and caught a good number of fish on the Air Craw. I used a lead jig head & fished it like a grub. I did lose a couple of claws & had to change to another bait but had good luck getting bit. Shared the baits with my son who floated with me & purchased another pack the day after we floated. I will definitely use them again.
From: Steve: AR 5/25/16

Comments: Claws are indeed fragile, but with action like no other jig trailer I've used I'll deal with it. That air pocket makes the claws stand straight up and drives the fish crazy.
From: Justin: GA 8/19/14

Comments: Fragile, but a fish catcher. Bought it to fish on the back of a jig. On a standard jig, it wasn't doing all that great. A few months later I began flipping it on a the smallest straight shank flip hook I could find. Proved itself again and again to be a killer flip bait. Then put it on a finesse jig for shallow water target fishing, bingo. its a 1 fish bait in a lot of case, sometimes you get lucky and make it to 3 before a claw goes flyin. But as a 10 pack...its about 60 cents a bait. Worth when the bite is picky.

Comments: I really like the fact that these baits will stand up with the air claws. I fish it on the jig rig and have caught many fish. The claws on the 3 inch are very fragil. Have had small fish peck the bait and come up with one or no claws. Also had a hooked fish jump and shake off both claws. This bait gets bit but expect 0 to 1 fish per bait and your lucky to get any more than that.

From: Bryan: Goleta, California

Comments: Good bait, produces fish, but not very durable. Had claws pop off after only one fish catch.

From: Ethan: VA

Comments: Nice craw plastic that's very soft; good movement and balloon-like claw buoyancy. Make sure you don't use a bare hook unless it's t-rigged as it will float off the bottom. Shakyhead also works well. I did have the claws pop off once after casting and my bail closed on me.

From: Sonny: San Jose, CA

Comments: I have had good success with all of the Damiki baits that I have tried so when these came out I was excited to give them a try. Purchased the 3'' in green pumpkin black to try on my next smallmouth outing. Haven't made it to smallmouth waters so decided to try it on the resident LM bass. Bam, caught bass on the second cast and continued to catch them on this little craw. Will stand almost vertical on a light jighead. Good action and more durable than some of the other Damiki plastics. I' m sold and have ordered some in the 4" size.

From: Chas, VA

Comments: Ok, well i ordered some (2) packs of these baits (both in 3in). White, and watermelon candy (watermelon candy is my favorite color for any bait). So I recieve these and i get some megastrike shake2 jig heads. I get the megastrike shake2 jig and a whit air craw. I put them together, and this is right after hurricane sandy hit so i didnt go outto any lake. I have a pond by my house so i got to that. This water is almost chocalate milk because of sandy's rain. I throw it out on 8lb test and hop it a few times. Then i hit some weeds and pop it free, i do this again and then i drug it and a LMB nailed it. It was awesome and without a doubt i will be using these craws FOREVER. I cant wait till next year to throw the watermelon candy, (i cant this year because of the water clarity). Bottom line- BEST CRAWS EVER!!!!!!! You should buy these!!!!!

From: Jake: Canal Futlon, Ohio

Comments: Caught lots of Spotted Bay Bass in the Watermelon candy! time to get more of these fantastic baits

From: Lawrence, CA

Comments: Incredible action - fish on 3/8 oz shakeyhead

From: Bojie: TN

Comments: Great bait!

From: Dan: Tulsa

Comments: the best cold water/finesse craw of ALL TIME!!!!!!!!!!!!

Comments: Incredible bed fishing bait.

From: Mike: Queer Pier, FL

Comments: Bomb jig trailer!